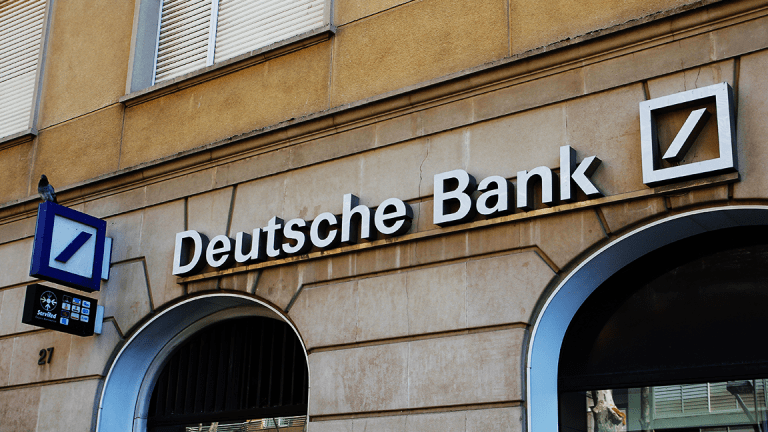 Deutsche Bank Spikes on Report of Investor Interest Following HNA Chairman Death
Deutsche Bank shares hit a one-month high Friday after a German magazine reported that two major investors, JPMorgan and ICBC, could be interested in taking a stake in the struggling German lender.
Deutsche Bank (DB) - Get Deutsche Bank AG Report shares surged past a one-month high Friday following a report that two major international investors could be looking at taking a stake in the troubled European lender.
The German business magazine, WirtschaftsWoche, reported Friday that JPMorgan Chase (JPM) - Get JPMorgan Chase & Co. (JPM) Report and Industrial Commercial Bank of China could be interested in taking a stake in the bank, which has fallen more than 37% so far this year amid ongoing concerns linked to the health of its balance sheet and the turnaround plans of new CEO Christian Sewing. Investors have also been speculating on the fate of China-based HNA Group's 8% holding in the German lender following the death of its chairman, Wang Jian, during a freak holiday accident in France earlier this week.
Deutsche Bank shares were marked as much as 5% higher during the Frankfurt session, but pared that gain to 3.5% to change hands at €9.8 each by mid-afternoon in Frankfurt after a JPMorgan spokesperson to Reuters the bank was interested in taking a stake.
HNA said earlier Friday that Wang's stake in the China-based investment group, estimated to be around 15%, will be "addressed in due course, consistent with his pledge to donate them to charity, and in accordance with all applicable legal and regulatory guidelines."
Wang died on July 3 during a holiday in France after police in Bonnieux, near Avignon, said the 57 year old fell after posing for photographs on a steep cliff edge.  
Once that stake is passed, and the group continues to pare down its estimated $50 billion in debts via assets sales, it could seek to shift its Deutsche Bank stake now that Sewing has vowed to slim the group down and focus on domestic and European markets.
Last week, Deutsche Banks' U.S. division failed the second phase of the Federal Reserve's stress tests, a decision that will likely prevent it from paying a dividend to the parent German lender.
The Fed said it had concerns with the way Deutsche Bank's U.S. division forecast future revenues in the face of a theoretical global recession, and a spike in domestic unemployment, and said there were "material weaknesses" its data capabilities and capital planning processes. The result, however, was widely expected by investors, who had taken the stock to a record low earlier this week, and thus didn't extend declines for the lender in early Frankfurt trading.
The Fed also identified "approaches and assumptions used to forecast revenues and losses arising from many of its key business lines" and in its risk-management", the central bank said.
"Together, these weaknesses raise concerns about DB USA's ability to effectively determine its capital needs on a forward-looking basis," the Fed added.
The results may hasten plans by new CEO Christian Sewing to scale-down the U.S. operations and accelerate cost cost cuts at Germany's largest lender, something investors have been demanding both before and after the departure of ousted former boss John Cryan.
Deutsche Bank said in May that its global staffing numbers would fall "well below 90,000" following the job cuts, most of which would take place in London and New York, adding that other business reductions and restructuring would reduce the bank's overall leverage by 10%, or €100 billion, by the end of the year.
The bank's overall cost base is expected to fall to €23 billion this year and €22 billion in 2019, Deutsche Bank said, although "no further significant disposals" are currently planned.
Investors have grown increasingly wary of Deutsche Bank's €48 trillion derivatives book and the risks associated with unwinding it as its global business operations scale-down under the turnaround plans first unveiled by Cryan and now supported by incoming boss Sewing.