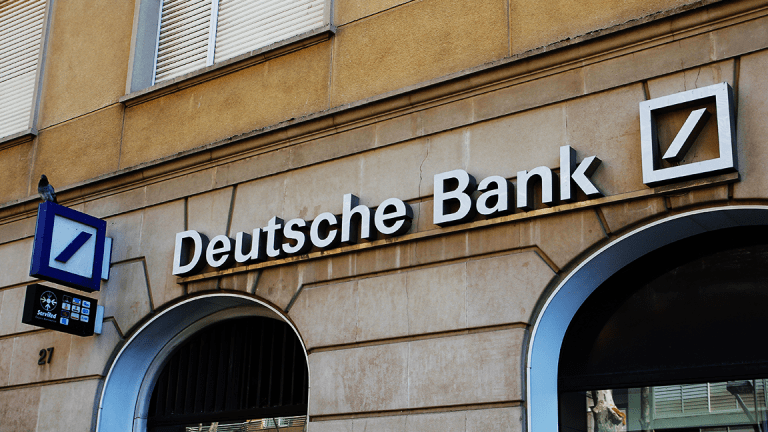 Deutsche Bank Shares Slump After Warning on $1.8 Billion U.S. Tax Law Hit
Deutsche Bank will book at $1.8 billion charge linked to the Republican-led overhaul of the U.S. tax code and cautioned that weak trading will hit its fourth quarter earnings.
Deutsche Bank AG (DB) - Get Report shares fell sharply Friday, Jan. 5, after Germany's biggest lender said it would book a €1.5 billion ($1.8 billion) charge linked to the recent U.S. tax cuts and cautioned that weaker-than-expected trading would impact its fourth quarter earnings.
The bank said that the reduction of the U.S. corporate tax rate to 21% from 35% would force the revaluation of some of the tax credits that sit on its balance sheet and reduce its core capital base about around 10 basis points.
"The reduction in the U.S. federal tax rate to 21% is expected to reduce Deutsche Bank Group's effective tax rate on average to the lower end of its previously communicated 30-35% range, based on the current mix of taxable income," the Bank said in a statement Firday. "The TCJA also introduced the U.S. Base Erosion and Anti-Abuse Tax (BEAT). While Deutsche Bank will require additional detailed analysis in order to assess its impact, and further interpretive guidance and clarifications are anticipated, Deutsche Bank does not currently anticipate any significant long-term impact from BEAT on its tax rate."
DB shares fell 5.2% in Frankfurt trading, extending declines that had kept the stock at the bottom of the DAX performance index for much of the session, to change hands at €15.60 each, the lowest since mid-November. Shares traded in New York tumbled 5.7%.
The bank also noted that "low volatility in financial markets and low levels of client activity in key businesses" will likely hit revenues in its fixed income and trading division by around 22% compared to the same period last year.
"Although Deutsche Bank expects to report positive (pre-tax income) for the full year, it expects to report negative IBIT for the fourth quarter before taking into account combined restructuring and severance costs and litigation charges that are currently anticipated to be approximately €500,000 in the quarter."
Last week, Goldman, Sachs & Co. (GS) - Get Report said it will book a $5 billion charge against its fourth quarter earnings linked to the Republican-led overhaul of the tax code, an announcement that followed similar estimations from European banking groups, including Credit Suisse Group (CS) and Barclays plc (BCS), which cautioned investors earlier this week that while they are likely to see significant gains from the $1.5 trillion overhaul of U.S. corporate and individual tax rates passed by Republican lawmakers on Dec. 22, the impact may hit the value of current deferrals that sit on their balance sheets.
Credit Suisse will take an Sfr2.3 billion ($2.3 billion) charge, the bank said, although it stressed that "the write-down is a one-time accounting adjustment and has a minimal impact on Credit Suisse's strong regulatory capital position."
The bank said it expects the reforms "will have a positive impact on the US economy and our activity levels in the US, in particular with regard to our investment banking activities in advisory and underwriting."
Barclays said it will book a £1 billion ($1.34 billion) hit to its full-year profits thanks to its deferred tax adjustment writedown, the bank said, but forecast that the "reduction in the statutory US federal rate is expected to positively impact Barclays' future US after tax earnings."
More of What's Trending on TheStreet: