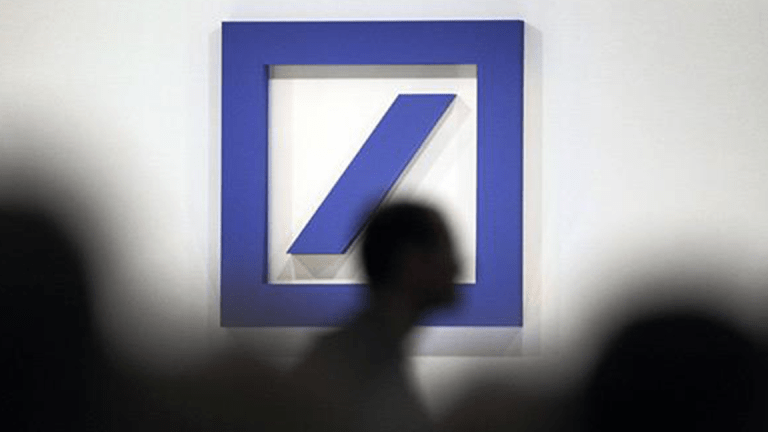 Deutsche Bank Shares Hit Record Low as Sewing Strategy Fails to Win Confidence
Deutsche Bank shares fell to the lowest level on record Monday as Germany's biggest lender continues to struggle in the face of low interest rates, a scaled-down business model and rising funding costs.
The hits just keep on coming. 
Deutsche Bank (DB) - Get Deutsche Bank AG Report shares fell to the lowest level on record Wednesday as investors continue to question the health of Europe's second-largest lender and the turnaround plans of new CEO Christian Sewing.
Shares in the group slipped below the €9 mark for the first time since September 2016 in early Wednesday trading before falling 3.8% to a record low of €8.76 in Frankfurt. The latest move lower comes amid ongoing questions over its ability to generate profits in a low interest rate environment that pressures margins while its funding and borrowing costs rise follow a recent warning from Standard & Poor's that put its credit ratings on watch for a potential downgrade.
Deutsche Bank shares were marked 2% lower at €9.02 each in Frankfurt, after hitting a record low of €8.76 each, and move that takes its year-to-date decline to around 44% and values Germany's biggest bank at around €22 billion ($25.5 billion). That compares to around $357 billion for JPMorgan Chase & Co. (JPM) - Get JP Morgan Chase & Co. Report and $187 billion for HSBC plc (HSBC) - Get HSBC Holdings plc. Report .
Investors have grown increasingly wary of Deutsche Bank's €48 trillion derivatives book and the risks associated with unwinding it as its global business operations scale-down under the turnaround plans first unveiled by former CEO John Cryan and now supported by incoming boss Christian Sewing.
Deutsche Bank said last month that its global staffing numbers would fall "well below 90,000" following the job cuts, most of which would take place in London and New York, adding that other business reductions and restructuring would reduce the bank's overall leverage by 10%, or €100 billion, by the end of the year.
The bank's overall cost base is expected to fall to €23 billion this year and €22 billion in 2019, Deutsche Bank said, although "no further significant disposals" are currently planned.
"Indifferent of top management changes, the group faces ongoing steep challenges for its multi-year business-model and activity-mix recalibration effort," Scope, a German ratings company, said earlier this month as it tweaked the outlook on its BBB+ rating on the bank to negative from stable, adding that "headline risk also remains from the legacy of past activities".
The lender is also seeing on of its key shareholders, China's HNA, reduce its stake to 7.64% from 7.96% even as the investor repeated its support for Deutsche Bank and its management team at the end of May.
The European Central Bank's signalling last week, however, that it will likely keep interest rates at record lows until at least next summer, and possibly beyond, have increased concern that Sewing can extract profits from its scaled-down business model.
U.S. dollar funding costs are also on the rise, owning to the greenback's recent rally on foreign exchange markets, as is the cost of short-term funding through the London Interbank Offered Rate, or Libor, a metric that underpins around $200 trillion in dollar-denominated assets around the world.