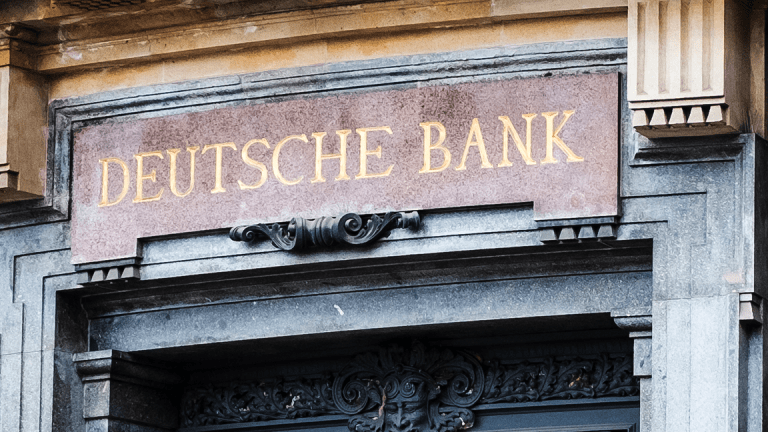 Deutsche Bank Fails 'Stress Test' as Goldman, Morgan Stanley Face Curbs
The Federal Reserve objected to plans by Deutsche Bank's U.S. subsidiary to make regular capital distributions to the parent company. Goldman Sachs and Morgan Stanley tripped regulatory minimums in the annual "stress tests" but were allowed to keep their planned shareholder payouts at the prior year's levels.
The Federal Reserve objected to plans by Deutsche Bank's U.S. subsidiary to make regular capital distributions to the parent company. Goldman Sachs and Morgan Stanley tripped regulatory minimums in the annual "stress tests" but were allowed to keep their planned shareholder payouts at the prior year's levels.
Deutsche Bank AG (DB) - Get Report , the beleaguered German lender, got a fresh rebuke Thursday from the U.S. Federal Reserve over "critical deficiencies" in its financial planning, while Goldman Sachs Group Inc. (GS) - Get Report and Morgan Stanley (MS) - Get Report face new restrictions in their planned dividends and stock buybacks.
The Fed said Thursday in a statement that it had identified "widespread and critical deficiencies" in the capital-planning practices of DB USA, Deutsche Bank's U.S. subsidiary. As a result, DB USA won't be able to pay out regular dividends to the German parent company at least until next year, and any special distributions must be approved in advance, a senior Federal Reserve official told reporters on a conference call.
The two Wall Street firms Goldman and Morgan Stanley, meanwhile, failed an annual "stress test" requiring them to maintain adequate financial strength even following a hypothetical severe recession and market downturn, according to the Fed. While they both would have passed the test prior to any payouts, they both would have failed under their original plans for dividends and stock buybacks, according to the Fed. In response, the Fed barred the firms from increasing payouts beyond the prior year's approved levels.
The decisions came as part of the Fed's annual process of approving big banks' shareholder payouts in advance. Such distributions - dividends and stock buybacks - come out of banks' capital, which is the same pool of money they're required to keep on hand to protect depositors from unexpected losses and ward off the need for government bailouts.
Under the tests, the Fed examines how well banks could withstand a severe recession in which unemployment surges, loans default en masse, investors scamper out of corporate bonds into short-term Treasuries and stock prices tumble 36%. It's considered a remote scenario, but that's how the Fed measures the biggest banks on the annual report card.
The Fed didn't object to more than 30 other capital-distribution proposals by big banks, including those of JPMorgan Chase & Co. (JPM) - Get Report , Bank of America Corp. (BAC) - Get Report , Citigroup Inc. (C) - Get Report or Wells Fargo & Co. (WFC) - Get Report .
For Deutsche Bank, the Fed's rejection marked the latest setback for new CEO Christian Sewing as he tries to improve profitability at the Frankfurt-based company following three straight years of annual losses totaling more than $10 billion. 
The Fed identified "material weaknesses" in Deutsche Bank's data capabilities and controls supporting its capital-planning process, even though it would have passed the test on a strictly numerical basis, according to the statement.
Weaknesses were also detected in the bank's "approaches and assumptions used to forecast revenues and losses arising from many of its key business lines" and in its risk-management. 
"Together, these weaknesses raise concerns about DB USA's ability to effectively determine its capital needs on a forward-looking basis," the Fed said.
In its own press release, Deutsche Bank said that it has already made "significant investments to improve its capital-planning capabilities as well as controls and infrastructure."
The bank said it will "engage constructively with regulators to meet both internal and regulatory expectations."  
According to the Fed's statement, Goldman and Morgan Stanley each would have tripped a "leverage ratio" - one test of capital that the Fed uses - in the hypothetical severe recession. The minimum for the leverage ratio is 3%, and Goldman's would have fallen to 2.6% under its original capital plan, and Morgan Stanley's would have dropped to 2.5%.
Rather than fail the firms, which would have prevented them from making regular capital distributions without prior approval, the Fed decided to allow them to keep their payouts at last year's levels. Part of the logic was that the banks will earn money at a higher level during the coming year due to President Donald Trump's tax cuts, which slashed the corporate rate to 21% from 35%. The Fed characterized its decision as a "conditional non-objection" rather than an outright failure or rejection.  
In a press release, Goldman said it would maintain stock buybacks at $5 billion over the coming year, while keeping its quarterly dividend at 80 cents a share at least through the second quarter of 2019. Combined, the payouts will total up to $6.3 billion -- less than the $6.42 billion projected by analysts with the brokerage Keefe, Bruyette & Woods in a May 17 report. According to analysts at RBC Capital Markets, Goldman had been approved for nearly $10 billion of payouts in the Fed's 2017 stress tests. 
Morgan Stanley said in a press release that its planned payouts of $6.8 billion would be "consistent" with the prior year's levels. 
The publication of the stress-test results triggered a slew of press releases from banks announcing increases in their  dividends and planned stock buybacks. 
JPMorgan said its quarterly dividend would climb to 80 cents a share from 56 cents, starting in the third quarter, while Bank of America will boost its dividend by 25% to 15 cents a share.
A big winner in the Fed's process was Wells Fargo, which was hit by regulators earlier this year with a ban on future asset growth following a series of scandals in which customers were allegedly mistreated.  
Wells Fargo received a "non-objection" to its capital plan, and in a press release the bank announced plans to increase the quarterly dividend to 43 cents a share from 39 cents, while more than doubling stock buybacks to as much as $24.5 billion. 
Some analysts and investors had speculated that Wells Fargo might fail the Fed's test on qualitative grounds, as was the case for the Deutsche Bank unit. 
Wells Fargo shares jumped 4% in after-hours trading Thursday to $55.30 a share, according to FactSet.