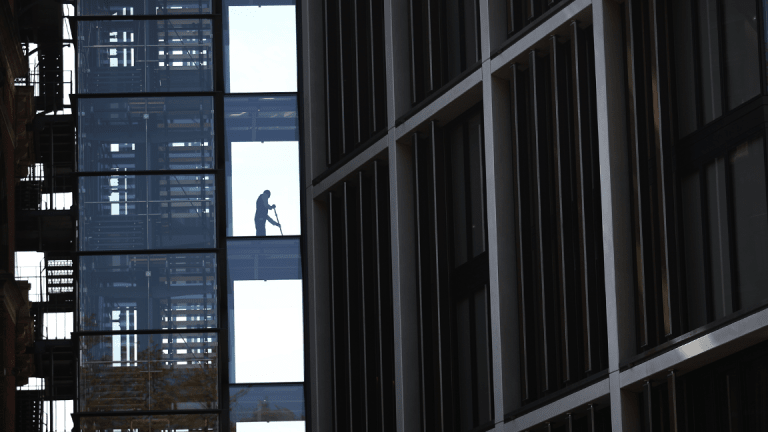 Despite Slowdown, U.S. Economy Keeps Adding Jobs and Pushing Up Wages
A report Friday from the Labor Department is expected to show that the U.S. economy added about 185,000 jobs in May - a slowdown from April's increase of 263,000 but still respectably ahead of the 100,000 needed each month to keep pace with the working population.
As indicators mount that the U.S. economy might be slowing, a key report due Friday will provide the first major glimpse of whether the labor market remained on sound footing in May -- and if inflation might be starting to creep up.
Nonfarm employers probably added 185,000 jobs in May, based on a survey by the data provider FactSet.
Such a level would represent a slowdown from the 263,000 jobs added in April, but still faster than the estimated 100,000 or so jobs per month needed to keep up with growth in the working population. 
Investors are likely to scrutinize the official report for clues about the economy's trajectory, as more Wall Street analysts and even Federal Reserve researchers warn that Trump's tariffs on China will drive up the cost of imported goods for U.S. consumers. There are also indications that some businesses are tempering expansion plans because of a lack of clarity over how the trade dispute might be resolved.
The U.S. unemployment rate, currently at 3.6%, is at its lowest in a half-century, but economists from Wall Street to the Federal Reserve have been confounded as to why the tight labor market isn't translating to faster wage increases for workers and, in turn, higher inflation. 
Prices for consumer goods and services, excluding food and energy whose costs can be volatile, rose just 1.6% over the past 12 months, well below the Federal Reserve's 2% target.  
In fact, the low inflation rate is a primary reason why traders in futures on federal funds are now assigning more than a 50% chance that the Fed will cut official U.S. interest rates at least one quarter percentage point by July. The central bank usually cuts interest rates when the economy is slowing to reinvigorate it by alleviating borrowing costs for businesses and households.
But that's tougher to do when the unemployment rate is already so low, since an ever-tighter labor market would theoretically force businesses to pay higher wages; at that point, economists say, most businesses would then try to raise their storefront prices to recover the elevated compensation costs.
Gibson Smith, founder and chief investment officer at the Denver-based money manager Smith Capital Investors, which specializes in bonds and other income-oriented investments, said he thinks the U.S. job market is still growing faster to keep upward pressure on wages.
Based on the FactSet survey, average hourly earnings probably rose by 0.3% last month, accelerating from April's 0.2% increase. Over the past year, they've probably climbed about 3.2%, the fastest pace in a decade.  
"Corporate margins have remained very, very high over the last five to seven years, and labor is in a position to start taking advantage of some of those high margins," Smith said in a phone interview. 
But Friday's report could also show that the jobs market weakened faster than many economists expected earlier in the year, despite signs even then that growth was slowing. 
A separate report Wednesday from the payrolls-processing firm ADP showed that private employers added 27,000 jobs during May, the fewest in a decade. 
"It's now clear that the economy's growth rate has slowed quite sharply from last year, and that is now starting to show up in the job market," Mark Zandi, chief economist at Moody's Analytics, told reporters on a conference call hosted by ADP.