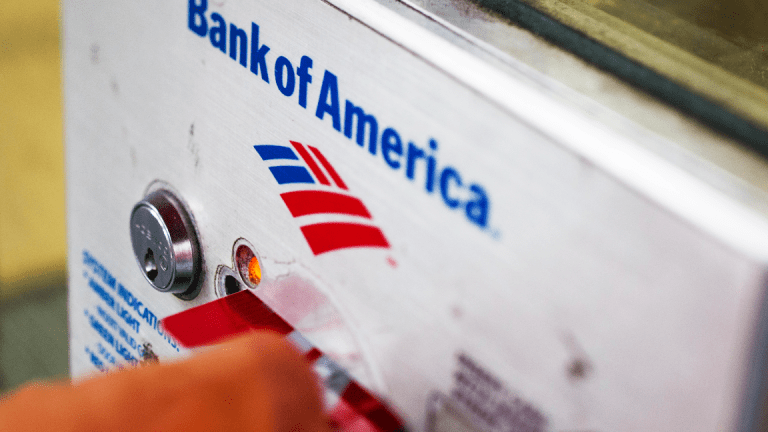 Depositors Stiffed as Bank of America Reaps Windfall From Taxes, Rates
Big U.S. banks including JPMorgan Chase and Bank of America have reaped a windfall from President Donald Trump's tax cuts and the Federal Reserve's increases in interest rates. Yet regular savers have yet to see any benefit from the fatter profits in the form of higher savings rates on deposits.
A lot of people are getting rich off of this year's profit windfall at big U.S. banks like JPMorgan Chase & Co. (JPM) and Bank of America Corp. (BAC) . Just not the banks' own customers: regular people who choose to put their money into savings accounts. 
Since late 2015, the Federal Reserve has been raising interest rates as the economy strengthened. In response, banks have increased the rates they charge on mortgages, credit cards, auto loans, allowing them to book a big boost in revenue from lending operations. The banks also are benefiting from massive tax cuts due to President Donald Trump's December reduction in the corporate rate. 
But a slew of second-quarter earnings reports over the past week shows just how stingy they've been when it comes to passing along any of the big money pot to savers.  
Since the start of the Fed's hiking cycle, for example, the central bank has increased interest rates by about 1.5 percentage points. Yet Bank of America, based in Charlotte, North Carolina, said Monday that it has increased its average deposit rate by just 0.32 percentage point since then, or roughly a fifth of the pace of the Fed increases.
And even such a meager increase hide a deeper truth about Bank of America's mix of deposits: Almost all savings-rate increases have gone to big corporate customers, financial firms that park money at the bank and wealthy individuals. Bank of America currently pays just 0.03% on a regular savings account, according to its website.
As Trump's tax cuts and the Fed has raised rates, there's been ample speculation among investors over just how much of the big banks' resulting profit windfall would be passed along to regular savers in the form of higher deposit rates. The answer is now becoming clear: almost none.
Instead the extra profit has gone mostly to the bank's shareholders in the form of higher dividends and stock buybacks, and to executives and employees in the form of higher compensation.
The current Fed rate-hiking cycle is the first since the financial crisis of 2008, when a series of emergency mergers and acquisitions among banks led to a major consolidation wave in the industry, now dominated by JPMorgan, Bank of America, Wells Fargo & Co. (WFC) and Citigroup Inc. (C) . So investors and analysts had little precedent to rely on when estimating how aggressively the big banks would compete for customer deposits.
And to hear big bank executives speak of it, they're almost surprised themselves how light the competition has been. Customers have proven too lazy - or maybe they have too few alternatives - to switch banks to obtain a better interest rate on their savings deposits.
"We're not seeing that kind of migration out of the company to online or other competitors at this point," JPMorgan CFO Marianne Lake told investors last week on a conference call. "So at this point, reprice is still not happening."
In other words, they're getting away with paying next-to-nothing.
Even the language executives use to describe their deposits reveals just how giddy they are keeping rates close to zero.
Naturally, a lot of focus for banks historically has been on the value of their loans.
But these days, bank executives freely discuss the value of their deposits - as a cheap source of funding that can be lent out at much higher rates.
On a conference call Tuesday, Bank of America CFO Paul Donofrio attributed an 8% jump in revenue in the company's consumer-banking division to the "value of our deposits."
"We've been able to maintain growth in balances while still maintaining discipline on price," CEO Brian Moynihan added. The price, in this case, is the rate paid on savings deposits, which is really just the bank's own price for borrowing cash from customers. 
Moynihan has spoken repeatedly of the value and convenience customers receive from local branches; indeed, the banks have big costs related to the operations and maintenance of their sprawling local networks. In a way, the bank passes along those costs by deducting them from the interest rates that depositors otherwise would receive.
But that doesn't fully explain why banks have passed along barely any of the benefits to customers for the increasing "value" of their deposits as interest rates rise and more lending opportunities appear. Investors and bank executives alike agree that regular retail deposits constitute the cheapest funding anywhere in the market.
And it's those cheap funds that have helped banks become so profitable just a decade after the risky practices preceding the 2008 crisis forced them all to take multibillion-dollar bailouts from the U.S. Treasury department and tens of billions more in secret emergency financing from the Federal Reserve.
One risk for the biggest banks is that their thousands of branches could become less profitable as technology advances and more customers grow content to manage their money solely through Internet-equipped computers and cell phones. Cash is becoming increasingly electronic; in a decade the banking business might go the way of Amazon.com Inc. (AMZN) . Branches could become a relic of a disrupted industry. 
Or customers might just tire of giving their money to giant banks for free -- and start to shop around. Indeed, it's become increasingly easy for customers to compare savings rates using the Internet.
Goldman Sachs Group Inc. (GS) , the Wall Street firm, has started paying a top-of-the-market savings rate of 1.8% through its online-only bank Marcus in an effort to pick off customers. There's no minimum deposit.
The big banks are eyeing such competition warily.
"We're much more sensitive to the availability of information and the ability of people to move deposits around," Shrewsberry, the Wells Fargo CFO, said in a telephone interview.
Any increase in competition for deposits could force them to rapidly raise deposit rates to keep savers from defecting, a trend that could quickly erode lending margins.
For now, it's the banks' customers who should be worried.