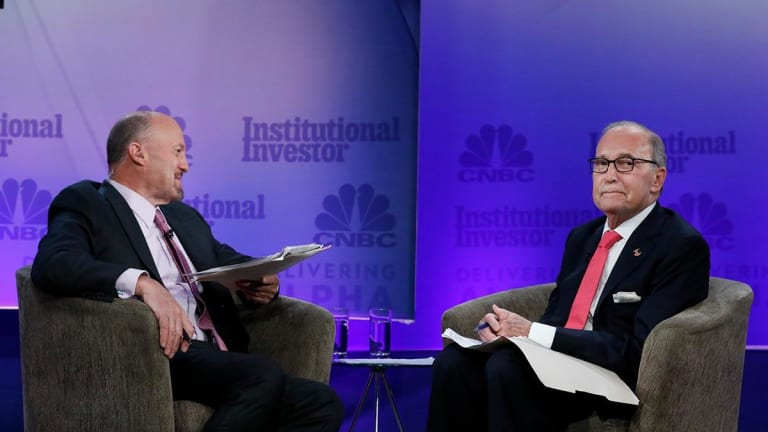 'I Don't Think the Market Always Has the Right Idea' Says Bannon
CNBC's Delivering Alpha conference is underway. Follow along for updates.
We're at war with China, Bannon claimed
"We're the declining power," Bannon said, pointing at his chest. He believes that Trump is being "mocked and ridiculed" for not being a foreign policy expert.
"For the first time in the last 25 years, they don't know what to do," said Bannon about China. "We've allowed these guys to push us around."
What is victory?
"I think you're going to see a reorientation of the supply chain," said Bannon. He believes that the supply chain out of China, South Korea and Japan will be reoriented. "What you will see is victory," he followed up.
"Tariffs are not just about manufacturing or jobs...they're about self-worth," said Bannon.
"I don't think that the market always has the right idea." Bannon also brought up that a free market is a "radical" idea.
People "ought to pay for Facebook and Google" and the data should be "kept in public trusts" according to Bannon.
"We're working on some utility tokens now," said Bannon about cryptocurrency.
Bannon referred to Ivanka Trump and Jared Kushner as "progressive globalists" when Caruso-Cabrera asked about them.
Would you ever go back to the White House? "Not a chance...it's just not me."
Steve Bannon
"The President's got a lot of stake in Russia," said Steve Bannon. 
"The mainstream media jumps on the marginal optics and they're right on the trigger," said Bannon. "The president sometimes conflates the enabling with the collusion."
"He always conflates," Michelle Caruso-Cabrera interrupted Bannon.
"The reason they [Democrats] lost was because they didn't get" the rural places, that "Donald Trump never should have won," said Bannon.
"Donald Trump is trying to save this alliance," said Bannon about NATO.
"Trump looks at the numbers under the hood," he said.
He's attracted to Putin because he's attracted to strong leaders, said Bannon. 
According to Bannon, Trump is "the least isolationist president" ever.
What is Trump trying to do? "He's trying to end the cold war," said Bannon.
Bubbles in passive investing
"I think there's been a complacency in the investor base," answered Suni Harford, head of investments at UBS Asset Management. Scott Wapner, the moderator of the panel, then asked if investors had gotten lazy. 
"Yes," Harford responded.
"I guess I would say I don't think it's a full-out trade war yet," Kristi Mitchem, CEO of Wells Fargo Asset Management, answered when asked by Wapner about the trade war. 
"This is a negotiated settlement," Mitchem said. She said that it hasn't escalated to a trade war just yet because there was no withholding of commodities. 
Advice for investors?
"Don't panic when things get rocky," warned Marc Levine, chairman of the Illinois State Board of Investment.
Healthcare activism
Biogen focuses on neuroscience. However, the company has had a lot of success in its multiple sclerosis drug, according to Alexander Denner, CIO at Sarissa.
The company broke apart the business to allow the company to focus on the neurology business. "It did very, very well," said Denner about the break-up.
Biogen currently trades for around $356 a share.
"The fundamental core business is unexciting," admitted Denner. But, he added, it's the call-out possibilities that make it worthwhile for investors. 
You should be investing in video games
"We're bullish in the entire [video game] sector, but Take Two Interactive is our favorite," said Samantha Greenberg, Chief Investment Officer of Margate Capital Management LP. 
"The video game developers are in the early stages of monetizing e-sports," said Greenberg. 
Take-Two's content pipeline is going to be the largest pipeline in the company's history, said Greenberg.

"Take-Two is a logical takeover target," Greenberg continued. Greenberg has a price target of $176 for Take-Two. The stock currently trades around $127.
Greenberg believes that Red Dead Redemption has the opportunity to become the highest selling video game in the 2018 holiday season.
"We believe that the earnings will double" in the next couple of years, said Greenberg.
Boosting the market
Should you stimulate an economy? Doctors don't give adrenaline to healthy patients, said Howard Marks, co-chairman of Oaktree Capital.
Advice for President Trump?
"If he [President Trump] asked me for advice, I would say, listen to your advisors a lot more than you already have" and stop tweeting, advised David Rubenstein, the co-executive chairman of the Carlyle Group.
James Chanos enters the room
Chanos takes the stage saying, to my dear friend Elon Musk, appreciate the help in Flint and Thailand but if you really want to help out a charitable cause, you should be helping out Wall Street short-sellers.
Chanos suggests shorting physician practice management companies. These companies include Mednax, which was trading down over 1% after comments from Chanos.
Envision Healthcare Corp., another PPM company, was trading down slightly.
Why Huntsman?
Alexander Roeper says that he believes that the stock could soar 60% in the next 12 to 18 months. 
News sent Huntsman Corp. up 4% before it settled up 3%. 
The company could also be a takeover candidate.
The one thing that doesn't outperform is Blackstone's stock, said Faber
"We were born at a difficult time," began Gray. "If you look at the earning power of business, it's pretty remarkable...we believe that, at some point, the market will recognize [our] business."
"I believe fundamentally...investors will see the power of this business model," said Gray.
The U.S. economy is "stronger than most people realize"
Employment up, S&P up all point to a strong economy according to Gray.
"You don't want to own something that's purely bond-like in nature because, if rates rise quickly, you'll be vulnerable," said Gray.
The taxi-cab business, which went up for 50 to 60 years, and then in 18 months, Uber and Lyft knocked down 90% of the taxi medallions value. "That's a cautionary tale," warned Gray.
"I think our view is that it will come, it's just a question of timing," said Gray in response to Faber about the rise of autonomous vehicles.
Jonathan Gray, COO of Blackstone 
"We think of ourselves as long-term investors. If you get caught up in the news of the day. it can be very disconcerting," said Gray when asked if Blackstone is worried about the China-U.S. trade war.
"China has historically not had as open of a market and that needs to change," said Gray. "The fight is really about...rebalancing."
Gray believes that there will "be volatility along the way."
"Looking at it from a long-term perspective, we believe that there should be a...resolution here," he said.
Is Grey hearing anything from China about the trade war? Gray says no, but "In our conference room, as we look into investments...we're thinking about slowdowns."
"Capital that creates jobs gets into this country...if a Chinese company wants to buy a hotel and hire construction workers" then that's a good thing, said Gray.
"U.S. economic growth is certainly stronger than Europe's," Gray believes.
Gray said that Blackstone believes that a "soft Brexit" would be ideal for the U.K.
Blackstone believes that warehouses are a strong investment right now because of companies such as Amazon. The reason being that these companies need large warehouses nearby to house the wares in order to ship them out quickly and efficiently. 
Whatever happened with infrastructure in this administration? Asked CNBC's David Faber. 
"The need is massive...it's a bipartisan issue. The needs are in the trillions and as a result...there will be capital put into that space," answered Gray. "We feel really confident that [infrastructure] is a good place to invest."
Next up: Edgar Wachenheim and Jim Cramer
 "The pick-up truck business, in my opinion, is a very good business," says Wachenheim. He notes that the pick-up truck business is mostly focused in North America.
"You never know what's going to happen...there's many, many variables...we do not pay attention," said Wachenheim when asked by Cramer about the tariffs.
Griffin isn't sold on cryptocurrencies
"I still scratch my head," said Griffin about crypto. He doesn't have a single manager who has pushed for crypto.
"You have to have U.S. dollars to pay your taxes at the end of the year...there's no need for cryptocurrencies," said Griffin.
He wishes that investors were instead focusing on the market, not cryptocurrencies. 
The Fed
"We're going to see the Fed follow through on the two rate increases this year" and then they'll slow down, said Griffin. "I think the Fed is going to be considerate when raising rates a third or fourth time."
"The current prognosis of the next six to nine months is that we're going to experience strong growth," said Griffin when asked about the yield curve.
According to Griffin, 2021 and late 2020 will be a lot "murkier" when it comes to growth.
Should big banks be broken up?
Griffin's belief that the big banks should be broken up is rooted in boosting competition. No institution should be considered too big to fail, said Griffin.
Google vs the EU
The EU has become more aggressive with competition than the U.S., Griffin believes.
"A larger number of banks creates more competition," said Griffin when asked whether he still supports breaking up the big banks.
Citadel CEO Kenneth Griffin
Andrew Ross Sorkin is sitting down with Kenneth Griffin.
"The EU is going to have a huge issue," said Griffin. "We very carefully [limit] our exposure to Italy and Southern Europe."
"The president unquestionably has the right position," said Griffin. He continued to say that, after World War 2, the U.S. took on a lot of trade compromises. 
"Over the years, we've generally left the table" with less than U.S. should in trade talks with China, according to Griffin.
"We as a world want to get back to more stability and trade policy...tariffs discourage investment and reduce productivity," says Griffin. "We do not want to be here for a long period of time," Griffin continued. The U.S. doesn't want to be saddled with tariffs for prolonged periods.
Delivering Global Alpha panel
"Time to take a summer look at your portfolio," said Mary Erdoes.
"As an investor, you want issues, you want problems," said Marc Lasry, CEO of Avenue Capital Group. 
"We're long-term investors and our clients are long-term investors," said Cyrus Taraporevala, CEO of State Street Global Advisors. He suggested that investors "weather-proof" their portfolios. 
Taraporevala suggested that retail investors "keep calm and carry on."
The American economy is "in very good shape," according to Kudlow
"There's no recession in sight right now," said Kudlow.
"I'm told through sources that Merkel is [working towards no tariffs]," said Kudlow. "The President has put things on the table and the Europeans are looking at them."
If not a deal, then at least negotiations, Kudlow said about the talks between President Macron, Angela Merkel, Justin Trudeau and President Trump.
Moving on from China
Cramer moves the conversation towards the Fed and the 10-year yield curve.
More people working does not cause inflation. The fed is independent. I support what Jay Powell's doing...by itself, economic growth...that's not inflationary," said Kudlow.
"I think their gradual approach is good," Kudlow praised the Fed.
Kudlow on China
"Lower your tariffs and we will export like crazy...give us a chance," said Kudlow about the amount of tariffs from EU and China. 
"We've had Republican and Democratic presidents in the past make these complaints about China, but they never follow through. This guy, President Trump, has the biggest backbone. He will not give up this point." Kudlow said he supports President Trump. 
"The tit for tat business...They [China] can end that by giving a more satisfactory approach." 
"President Trump inherited this...he sees himself as a free-trader. Don't blame Trump, blame China." said Kudlow. "Let's have no tariffs...let's have a tariff-free view."
Going off of China for a moment, Kudlow says that Jerome Powell is doing "a great job in my opinion."
Jim Cramer speaks with Larry Kudlow
"It's not so much a job, it's an honor," said Kudlow about his new position. "It's probably the most fun I've ever had."
"President Trump has been very open and very accessible to me. I see him quite a bit during the day," said Kudlow "He's just been great. He's open and in meetings with five or six, or eight other people, he'll go to me."
The best way I can help the country is to get the economy back on track, Kudlow says.
"We had quite a good meeting yesterday on that very subject," Kudlow hints at a new tax bill. "We're mulling over a number of options, it'll be very" good.
"Number of people on the hill who would like to make the individual tax cuts permanent," said Kudlow when asked about the tax bill 2.0. 
Cramer asks, are we in a trade war with China?
"I think it's a significant trade dispute," Kudlow laughs.
The conference has begun
Diane Alfano, CEO of Institutional Investor, kicked off the Delivering Alpha conference. She spoke briefly about being in the longest bull market before moving on to recognizing the trade war. 
When introducing the panelists, Alfano brought up Kudlow and Stephen Bannon, the ex-Trump advisor. Both are present at the conference Wednesday.
"We will go out with a bang," said Alfano about the conference closing with Bannon. She recognized Bannon's political polarity, saying that whether or not people respect or hate him, he is part of "Trumpism."
Delivering Alpha line up
CNBC's annual investor conference kicked off on Wednesday, July 18. The conference features speakers such as Larry Kudlow, the director of the United States Economic Council, Mary Erdoes of JP Morgan, Kenneth Griffin of Citadel and Blackstone's COO, Jonathon Gray.
Jim Cramer will be interviewing Larry Kudlow and Edgar Wachenheim, CEO of Greenhaven Associates.