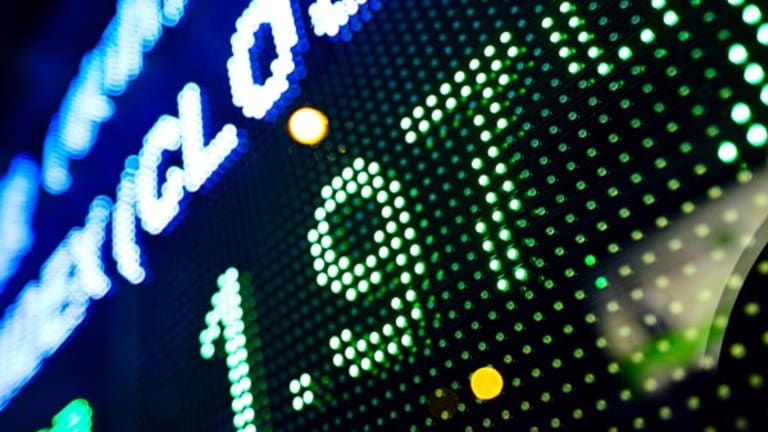 Deals Fire Up Stocks
The market bounces after a string of mergers and buyouts.
The market bounces after a string of mergers and buyouts.
Updated from 4:12 p.m. EDT
Wall Street started the week in an upbeat mood Monday as a new round of proposed private-equity buyouts and corporate mergers drove stocks higher.
The
Dow Jones Industrial Average
advanced 115.76 points, or 0.96%, to 12,226.17, and the
S&P 500
rose 15.11 points, or 1.09%, at 1402.06. The
Nasdaq Composite
climbed 21.75 points, or 0.92%, at 2394.41.
Roughly 2.80 billion shares changed hands on the
New York Stock Exchange
. Advancers beat decliners by a 3-to-1 margin. Volume on the Nasdaq reached 1.70 billion shares, with winners outpacing losers 2 to 1.
Among market subsector winners was the Amex Oil Index, which rose 1.7% despite a drop in oil prices. The Amex Airline Index added 1.7%, and the Philadelphia/KBW Bank Index climbed 1%.
On the losing side, the Philadelphia Semiconductor Sector Index eased 0.6%, pressured by a 2.1% loss in
Advanced Micro Devices
(AMD) - Get Report
.
Stocks were propelled by a number of big deals that are either confirmed or believed to be in the works. The largest would combine
Barclays
and
ABN Amro
( ABN), two European banking giants.
Together, the unified firm would have a market cap of roughly $130 billion, if a merger is in fact announced in the coming days. ABN Amro rose $5.12, or 14.1%, to $41.36.
Elsewhere, Blackstone Group and Carlyle Group could enter as a rival bidding group for
TXU
( TXU), the utility that is already set to go private in the biggest LBO ever. Currently, Kohlberg Kravis Roberts and Texas Pacific are planning to buy TXU. The stock finished higher by $1.81, or 2.9%, at $64.56.
Another private-equity takeout firm, Clayton Dubilier & Rice, is set to pay $5.5 billion, including debt, for
ServiceMaster
(SVM) - Get Report
, a company that provides pest control, cleaning and lawn-care services. ServiceMaster jumped $1.68, or 12.5%, to finish at $15.15.
Community Health Systems
(CYH) - Get Report
said it will acquire fellow hospital operator
Triad Hospitals
(TRI) - Get Report
in a deal worth $6.8 billion, or $54 a share. The deal tops a previous leveraged buyout offer for Triad valued at $50.25 a share. Triad shares were up $2.59, or 5.3%, to end the session at $51.95.
Lastly,
Take-Two
(TTWO) - Get Report
closed 8.4% higher after the video-game maker said it is considering a sale of the company as a new strategy. Take-Two, which is fighting a shareholder group looking to change the company's board, added $1.76 to $22.61.
The market's jump comes a day before the beginning of the next scheduled two-day
Federal Reserve
policy meeting. It is expected the Fed will leave interest rates unchanged at 5.25% for the sixth-straight meeting when it issues its statement on Wednesday.
"Today's inflation rates are above those desired by the Fed, so expectations are still high for still-higher rates to keep inflation under wraps," said Paul Nolte, director of investments with Hinsdale Associates. "However, inflation rates are still well below those of 2000."
Marc Pado, U.S. market strategist with Cantor Fitzgerald, believes this week's news could ultimately favor the bears. "A technical failure would have the bulls on the defensive," he said.
The major indices each are still in negative territory for 2007. The Dow is now down 1.9% for the year. Meanwhile, the S&P 500 has fallen 1.1%, and the Nasdaq has given back 0.9%.
Among commodities, the front-month April crude contract lost 52 cents to $56.59 a barrel. Natural gas fell 8 cents to $6.84 per million British thermal units.
Precious metals rose. Gold tacked on 40 cents at $654.30 an ounce, and silver was higher by 2 cents at $13.23 an ounce.
In the absence of any economic data, Treasuries declined. The 30-year bond was lower by 10/32 in price to yield 4.71%, and the 10-year note was down 6/32, yielding 4.57%.
In ratings moves, Piper Jaffray upgraded
AnnTaylor
(ANN)
to market perform from underperform, citing better-than-expected guidance for fiscal 2008. The stock was higher by 18 cents, or 0.5%, to $38.78.
Goldman Sachs upped
DaimlerChrysler
( DCX) to neutral from sell, and JPMorgan raised its rating for
Walgreen
(WAG)
to overweight from neutral.
DaimlerChrysler gained $2.76, or 3.8%, to $74.70. Walgreen climbed 27 cents, or 0.6%, to $46.53.
Equities were stronger overseas. Frankfurt's Xetra DAX added 1.4% at 6671, while London's FTSE ended up 1% at 6189. Tokyo's Nikkei rose 1.6% overnight to 17,009, and Hong Kong's Hang Seng gained 1.7% to 19,266.