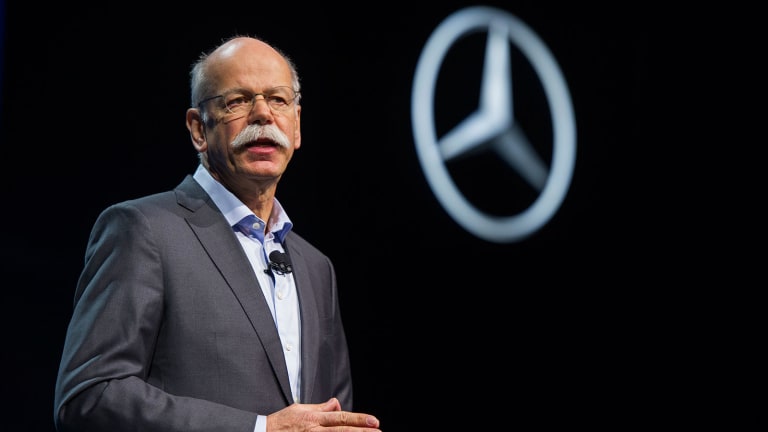 Daimler Slumps After Profit Warning Cites 'Import Tariffs' in US-China Trade War
Mercedes-Benz maker Daimler traded at the lowest level in nearly two years Thursday after the luxury carmaker said import tariffs and emissions issues would hit full year profits.
Mercedes-Benz maker Daimler traded at the lowest level in nearly two years Thursday after the luxury carmaker said import tariffs and emissions issues would hit full year profits.
First victim in the trade war? 
Daimler AG  (DMLRY) shares traded near a two-year low Thursday after the luxury carmarker issued a surprise profit warning late last night, citing trade tensions and the ongoing diesel emissions scandal.
Daimler said fewer-than-expected Mercedes SUV sales, as well as higher costs that can't be passed on to customers, need to be factored in to its new 2018 earnings projections "because of increased import tariffs for US vehicles into the Chinese market." Daimler now sees full-year group earnings that are "slightly below" 2017 levels and full-year Mercedes-Benz Vans earnings that are "significantly" lower. 
"As another decisive factor, a negative effect on earnings is to be expected in the second half of the year in connection with the new certification process WLTP (Worldwide Harmonized Light Vehicles Test Procedure)," the company said in a statement late Wednesday. "Furthermore, earnings at Mercedes-Benz Vans are affected in connection with the recall of diesel vehicles. Additionally, earnings at Daimler Buses are negatively affected by the declining demand in Latin America."
Daimler shares were marked 4.43% lower in early Frankfurt trading and changing hands at €57.77 each, near to the lowest levels since July 2016 and extending the stock's year-to-date decline to 18.35%. Domestic rival BMW AG shares (BMWYY) were also under pressure, falling 2.4% to €81.67 each, the lowest since September 2017. Volkswagen AG (VLKAY)  shares were marked 1.98% lower at €151.38 each while Fiat Chrysler Automobiles NV (FCAU) - Get Report share were marked 3.1% lower in Amsterdam.
The new profit outlook marks a stark contrast to Daimler's early 2018 optimism, when it said worldwide car demand "continued to develop favorably in the first quarter and increased slightly" and noted that U.S. demand for cars and light trucks rose 2% from the same period last year.
Since then, however, U.S. President Donald Trump has consistently referenced the European auto sector as a potential target for tariffs in his effort to reduce what he has called "unfair" trade agreements between the United States and its largest economic partners.
The average EU tariff on U.S. goods imported into the bloc is 3%, according to Export.gov data, although non-EU automobiles are subject to a 29% tariff when brought into the bloc, of which 19% is a value-added tax and 10% is a tariff based on current World Trade Organization (WTO) rules.
Cars imported into the United States from countries that don't have existing pacts with Washington are subject to a 12.5% levy, while pickup trucks are subject to a 25% tariff.
That said, some of the largest production facilities of Europe's biggest carmarkers are located in the United States, with plants in Vance, Al. and Spartanburg, S.C. and Chattanooga, Tn., that assemble around a third of the German cars sold domestically.
Daimler has also been swept-up in Germany's damaging 'dieselgate' scandal, with Germany's Transport Ministry saying it will meet with CEO Dieter Zetsche following reports that alleged as many as a million of the Mercedes Benz maker's diesel-powered vehicles were fitted with emissions-evading devices.
The renewed focus on so-called cheat devices comes just as Germany's automakers attempt to put the 2015 Volkswagen "diesel-gate" scandal, which cost the world's second-largest automaker around $30 billion, behind it as it moves towards faster production of clean-energy vehicles in overseas markets and adjusts to the banning of diesel-emitting cars in some of its biggest domestic cities.