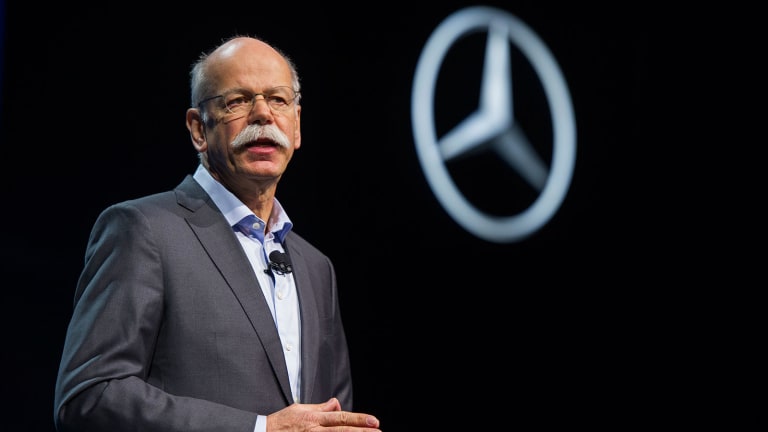 Daimler Shares Rise After Record Mercedes-Benz Sales, Bullish Profit Outlook
Daimler, the world's biggest luxury carmaker, said record sales and improved profitability at its Mercedes-Benz division should help the group post "slightly higher" full year earnings.
Daimler AG  (DMLRY) shares rose firmly in early Friday trading after the world's biggest luxury carmaker posted record quarterly sales for its Mercedes-Benz division and forecast slightly higher full-year profits.
Daimler said it first quarter earnings fell 11.5% from the same period last year to €3.335 billion, a figure that missed analyst' forecasts of €3.455 but was impacted by account changes that boosted the carmarkers bottom line in the first quarter of 2017. Daimler also said it sold a record 594,300 Mercedes-Benz cars in period, its best ever start to the year, and noted that profitability rose 10 basis points to 9%, surprising analysts and helping the Stuttgart, Germany-based group to forecast "slightly higher" earnings for the full year.
"We are sustainably continuing along our profitable growth course," said CEO Dieter Zetsche. "We aim to continue building on this and will systematically implement our strategy" to boost sales while adapting to industrywide technology shifts."
Daimler shares were marked 1.11% higher from their Thursday close in early Frankfurt trading and changing hands at €65.75 each, a move that trims their year-to-date gain to 9.9% compared to a 2.5% gain for the Stoxx Europe 600 Automobiles and Parts index.
Daimler said worldwide demand for cars "continued to develop favorably in the first quarter and increased slightly", noting that U.S. demand for cars and light trucks rose 2% from the same period last year.
Overall sales rose 7% to 806,905 units, the company said, helping take revenues 3% higher (again adjusting for some accounting changes) to €39.8 billion. Mercedes-Benz sales topped the list at 592,299, while Daimler Trucks shifted 113, 846 units.
Daimler said sales in China, the world's biggest carmaket, rose 19% to €5,171 billion, but also noted that "tax incentives for car buyers were discontinued at the beginning of the year, with a consequential dampening effect on demand in the first quarter."
U.S. sales fell 4% to just over €9 billion, Daimler said, while European sales edged 2% higher to €16.4 billion.