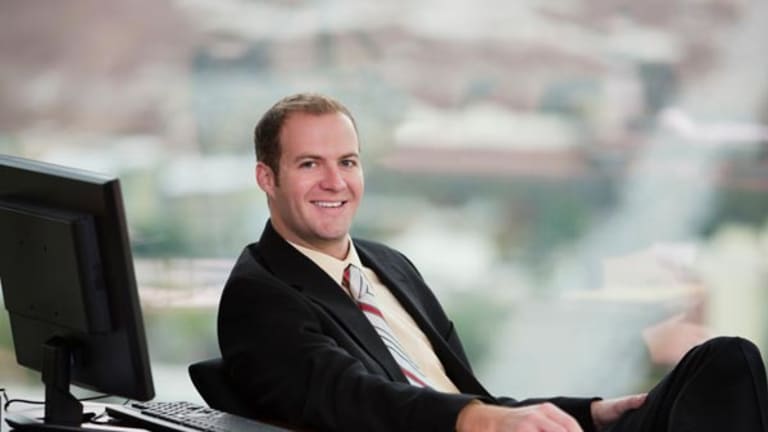 Cut Your Teeth on Paper
Paper trading offers a way to painlessly perfect entry methods and stop placement.
Paper trading offers a way to painlessly perfect entry methods and stop placement.
This column was originally published on RealMoney on May 26 at 11:09 a.m. EDT. It's being republished as a bonus for TheStreet.com readers.
Novice traders are often encouraged to start out with simulated trading to learn how the markets work without paying a large price for the experience. It would seem that paper trading provides a huge leg up to those who treat it like an upper-division class rather than just a free, riskless game.
After all, professional and amateur pilots alike will complete a significant amount of their training in a flight simulator. It's cheaper than flying heavy metal, and you have the luxury of learning to pull out of a flat spin without worrying about the consequences if you don't get it right the first time.
Trading is quite a bit different from flying. You'll hear many critics rightly say that the toughest thing about trading is dealing with emotion. Paper trading doesn't help to develop emotional discipline, because no money is involved. Short-term price movement can be significantly influenced by the emotions of the crowd. Crowd emotions are different during a steep rally, a sharp decline or a boring consolidation. Can you really get a sense of this if you are only using paper money? I doubt it.
However, I think it's wrong to dismiss paper trading on these grounds. Isn't the aim of a good trader to divorce himself from the emotions of the crowd and look at the market objectively? Good traders know that they'll be wrong often, so they cut a losing trade quickly. This idea of cutting losses quickly can be easily developed and reinforced if it is used as an integral part of paper trading.
Develop a discipline that you feel will be profitable. It doesn't really matter what it is, so long as you develop it completely. If you are a breakout buyer, then paper trade under very strict criteria. Decide exactly what you need to see before taking a trade. That's just the first step. Decide the criteria for money management: position size and stop placement. Then ruthlessly incorporate those criteria into your paper trading.
This is what most novice traders neglect in paper trading. They simply see paper trading as a way to learn whether they are right or wrong. That's silly, because you already know you'll be wrong a lot. The goal should be to learn whether your entries and stops are working for you or against you. If you are taking imprudent entries but using tight stops, you'll be continually stopped out of potentially good trades at the wrong time. If you are taking very disciplined entries but failing to use stops, you'll find that those inescapable times that you are wrong will kill your performance, because you have no way of cutting your losses.
If you fail to establish strict criteria for paper trading, you'll do yourself more harm than good. You'll boldly hold a paper position through a 40% pullback without feeling even a slight urge to sell. This position might ultimately prove profitable when the stock reverses and advances by 100%. But has the experience been helpful? No. It has taught you to be brave and to persevere through the nastiest decline. You can't do that with real money.
If you are having trouble in this market, why not try paper trading for a while? But treat it as a lesson rather than a diversion. Test your ability to integrate your entry methods with your stop placement. You might learn something valuable without having to pay a dime.
Let's look at some charts that incorporate stops with entry levels.
A tag of the trend line on the weekly chart of
USG
(USG)
provides good entry criteria. The stop goes just a bit below the trend line. If the trend line breaks, cut the paper trade short for a small loss. If it holds, work on your trailing stop discipline.
OptionsXpress
( OXPS) more than doubled over the past year, but this double top looks a bit ominous. But let's say you like the fundamentals of the company and want to buy the stock. I'd take a fall below $26 as confirmation that the stock has topped out and that lower prices are ahead. I'd set my stop slightly below $26.
This weekly chart shows a very strong pattern in
Sterling
(STRL) - Get Report
. The prolonged bowl pattern led to recent consolidation. This week, however, the stock is breaking higher on heavy volume. I believe the new trend will be sustained, so I set up a paper trade with a buy on the breakout. But I'll keep my stop just below its 2005 peak of $27.50. If the stop is hit, the breakout was likely a fake-out.
The correction on the weekly chart of
Thor Industries
(THO) - Get Report
appears to be finished. Last week's decline was on heavy volume, but this week's reversal saw much more trading activity. The stock is currently higher than last week's high. That's encouraging, so I'd buy the stock with a stop set just below this week's low around $45.
Cameco
(CCJ) - Get Report
is at a characteristically favorable entry position. Each tag of the middle Bollinger Band has marked the end of the pullback. That's what we see here. I'd wait for a breakout to buy, and I'd protect the position with a stop below the trend line.
I'll revisit these stocks in a few weeks to see how the trades would have gone had the stated entries and stop levels been implemented. We'll also look at how the stocks would have done without stop placement. Assuming that I'm wrong on some of these charts, a comparison of "stops vs. no stops" should give us some insight into money management without risking a dime.
Be careful out there.
P.S. from TheStreet.com Editor-in-Chief, Dave Morrow:
It's always been my opinion that it pays to have more -- not fewer -- expert market views and analyses when you're making investing or trading decisions. That's why I recommend you take advantage of our
to TheStreet.com's
RealMoney
premium Web site, where you'll get in-depth commentary
and
money-making strategies from over 50 Wall Street pros, including Jim Cramer. Take my advice --
Dan Fitzpatrick is a freelance writer and trading consultant who trades for his own account in Encinitas, Calif. He is a former co-manager of a hedge fund and teaches seminars on technical analysis, options trading and asset-protection strategies for traders and business owners. Fitzpatrick graduated from the McGeorge School of Law and was a fellow at the Pacific Legal Foundation, a nonprofit public interest firm specializing in constitutional law. He also practiced law in the private sector before pursuing trading as a full-time career. Under no circumstances does the information in this column represent a recommendation to buy or sell stocks. While Fitzpatrick cannot provide investment advice or recommendations, he appreciates your feedback;
to send him an email.