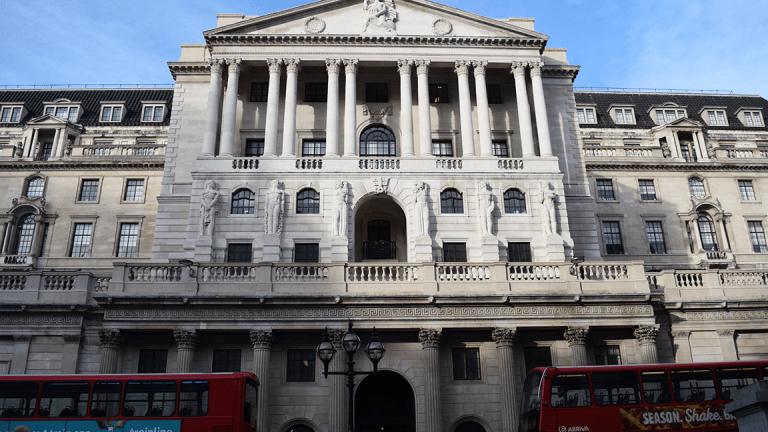 Watch U.K. GDP Data for Clues on Where the British Pound Is Going
The British pound could sell off again if third-quarter GDP disappoints.
The British pound could sell off again if third-quarter GDP disappoints.
This past week did not go all that well for Britain's negotiations with the European Union on the terms of its departure. Despite Prime Minister Theresa May putting a brave face on it and German Chancellor Angela Merkel's positive spin, the talks are behind. There will be no moving on to the next stage, which is the most important for the U.K.: the future trade relationship.
Investors should brace for some more volatility for the British pound as well as for U.K. government bonds (known as gilts) and U.K. equities next week, when preliminary gross domestic product data for the third quarter are released on Wednesday, Oct. 25.
So far, the play has been clear: When the British pound is weak, U.K. equities, and more precisely the FTSE 100 index, are going up. Gilt yields have been remarkably stable for a country that is about to crash out of its biggest trade market with no agreement not just on tariffs, but also on technical standards, services and myriad other things that depend on the European Union.
The expectations are for U.K. GDP growth to remain flat at 0.3% quarter on quarter and 1.5% year on year. As long as the data that will be released on Wednesday matches those expectations, the pound should be fine. But if GDP growth is weaker, expect the British pound to depreciate versus the dollar and the euro again, possibly rather sharply.
The Bank of England meets on Thursday, Nov. 2, to decide on interest rates, and Governor Mark Carney already has suggested that an interest rate rise is in the cards. This has put a floor under the British pound for now, because investors were extremely short the currency and some short positions have been trimmed back.
But if the GDP data disappoint, the governor may need to go back on his words. The central bank cannot raise rates if the economy is weakening dramatically, even if inflation came in at a five-year high of 3% in September, well above the 2% official target.
Carney must do a very complicated dance right now. He needs to reassure people that interest rates will remain low for a prolonged period of time, but he also needs to ward off currency speculators by bringing sufficient unpredictability in the markets to make speculation difficult.
Interest rates need to remain low because confidence is waning as people begin to realize the consequences of leaving the EU without a trade deal. If until now the default position had been to assume that a deal would be in place, the failure of the two sides to agree on the three first things -- citizens' rights, the Irish border and the divorce bill -- is bringing the prospect of a "hard Brexit" much closer.
Carney has been saying since the referendum that the U.K. relies "on the kindness of strangers" because its current account deficit is too high and Britain needs to borrow from foreign investors to finance it.
A hard Brexit would make this problem worse. Under World Trade Organization rules, the trade in goods with the EU would still proceed, albeit with tariffs imposed on them, but the trade in services, where Britain actually has a surplus, would grind nearly to a halt.
Those who warned about these dangers before the EU referendum that took place in June last year were dubbed by the Leave campaign "Project Fear" and their concerns have been dismissed. Of course, leaving the EU will not exactly unleash Armageddon; it is not too late, even now, for things to turn out less badly, if the two parts do reach a deal.
In the words of analysts at Societe Generale, "kind strangers and capital inflows are likely to persist as long as everyone else has super-low bond yields and the U.K. economy is growing at a reasonable rate." We will see next week when GDP data are released if the kindness of strangers will be extended.
More of What's Trending on TheStreet:
Editors' pick: Originally published Oct. 21.