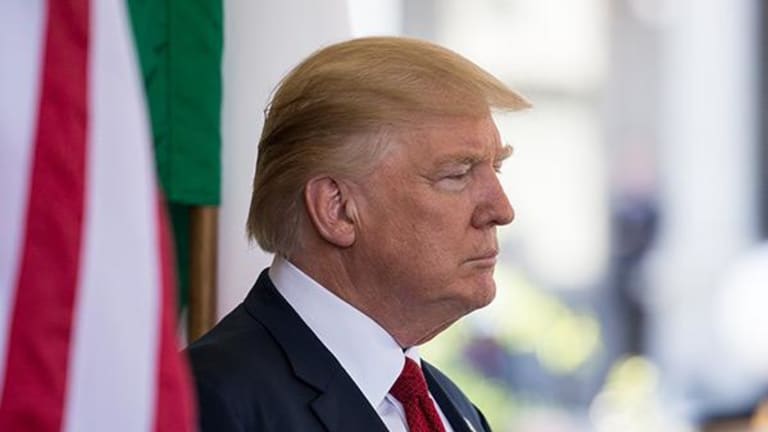 U.S. Dollar Extends Declines Amid Report Trump Exploring Pardoning Powers in Russia Probe
Can the President pardon himself?
The U.S. dollar extended declines past a one-year low on foreign exchange markets after reports indicated that Donald Trump's legal team may look at ways to allow the President to pardon himself amid ongoing probes into Russia's election meddling.
The New York Times and the Washington Post reported that Trump's team is "scouring" the personal and professional backgrounds of investigators working for Special Counsel Robert Mueller in an effort to thwart his expanding probe into alleged links between Russia and the President's business empire. The Post cited sources that said Trump has asked his advisers "about his power to pardon aides, family members and even himself in connection with the probe."
The dollar index, which measures the value of the greenback against a basket of six global currencies, was marked 0.23% lower at 94.09, the lowest since May 2016, in early European trading as the reports spread. The dollar is also trading at a near two-year low of 1.1645 against the European single currency.  
The greenback has fallen more than 0.6% over the past two days following the release of a transcript from the President's recent interview with the New York Times, during which he excoriated his Attorney General, Jeff Sessions, for recusing himself from the multiple Russia investigations and hinted that he may fire Mueller for looking into his business dealings.
"I think that (expansion of the probe) is a violation," Trump told the paper. "Look, this is about Russia ... I don't think we're under investigation," he said. "I'm not under investigation. For what? I didn't do anything wrong."
Trump also alluded to the "many other conflicts" he alleged Mueller had with regard to the probe and said he would make them public "at some point."
The quickly escalating affair has unsettled financial markets, particularly given the President's inability to deliver on his two main policy objectives of healthcare and tax reform, and there is growing concern that his administration will be rendered ineffective or worse if the ongoing investigations unveil new or substantial ties to Russian officials.