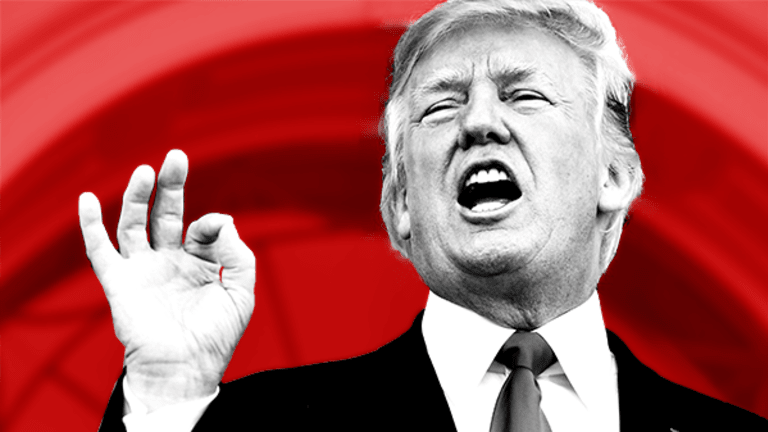 Trump's Waning Popularity Sharpens Government-Shutdown Risk, Goldman Says
President Donald Trump's falling approval rating is a warning sign to Goldman Sachs that a government shutdown might be tough to avoid next month.
Goldman Sachs Group Inc., the Wall Street firm that's produced three U.S. Treasury secretaries over the past two decades, is now warning clients that President Donald Trump's plummeting popularity has dramatically increased the risks of a U.S. government shutdown next month.
Trump's approval rating -- the lowest for any first-term president in his first year in office -- means that he may try to shore up core political supporters by embracing controversial positions as the deadline approaches for raising the legislative limit on the national debt, Goldman Sachs analysts wrote in a note to clients on Friday. The president's popularity has fallen even though the economy and consumer confidence remain on solid footing, according to the report.
J.C. Penney CEO Just Bought 100,000 Shares After One Unimaginable Rout
There's now a 50% chance of a brief government shutdown, the analysts predicted. Last week, analysts at the brokerage firm Keefe, Bruyette & Woods predicted that the debt-ceiling would be resolved by the second or third week of September, but possibly after a period of heightened market volatility and a big decline in bank stocks. 
"Low approval ratings raise legislative risks," the Goldman Sachs analysts wrote. "Gaps of this magnitude between confidence and presidential approval have persisted for a year or longer in prior cases, and more often end only when the president leaves office."
Best Buy Could Lose You More Money
The analysts wrote that their "conviction is low" in the ability of Congress to eventually pass big tax cuts, a Trump campaign pledge that helped drive U.S. stock markets to new highs earlier this year.
The president's approval ratings are so low now that Democrats are likely to pick up seats in the House of Representatives in 2018 elections, potentially taking the majority from Republicans who have supported proposals to slash taxes.
Of course, Trump has defied expectations before.
"The president was able to win last year's presidential election with a favorability rating of 39%, so these metrics might have less predictive power than they once did," the report noted.
More of What's Trending on TheStreet:
Like Rats Off a Sinking Ship, Steve Bannon Out at White House
10 of the Most Worthless And Expensive Olympic Venues of All Time