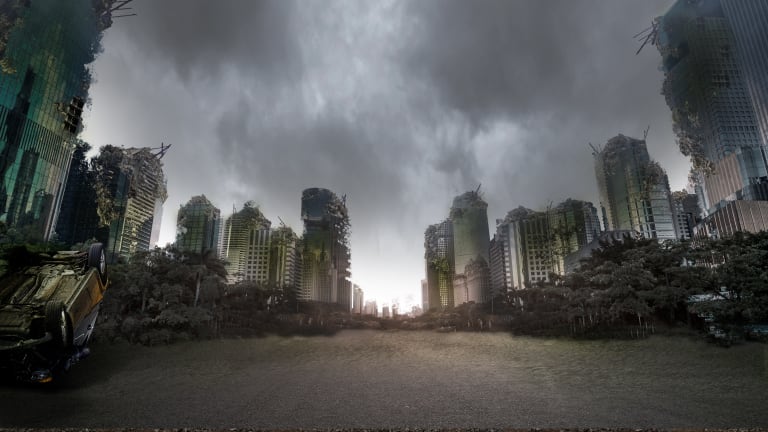 Why the World Isn't Ending: Market Recon
The Trump administration's agenda has either never mattered less, or never mattered more.
"Bravery is the capacity to perform properly even when scared half to death." -- Omar N. Bradley
No Reason to Panic
Picture yourself out there. Way out there. Pre-GPS. Light and fast. Just a map and a compass. Everything looks the same. Trees in every direction prevent shooting an azimuth very far. No landmarks. No roads. No buildings. Just those trees. Oh, and the bugs, the snakes, and the wet undergrowth of the rain forest. Not quite sure that you're really lost. Well aware that your team is running out of water. You find an animal trail. It's either not on the map, or you are not where you think you are. Radio? Nope, radio silence. You're on your own. The team is depending upon you. They have no idea that you are unsure. Sounds like a long-range reconnaissance patrol? Could also be the current financial landscape.
Then you catch a break. It's Friday. Weekends are like timeouts. In the current environment, you need to stop and think, think really hard about where you are trying to go and how to get there. Does a direct route take you right into hostile terrain? If so, just how much tolerance do you have for this hostile terrain? You'll have to use angles, count your steps, find anything to use as a landmark. Your trip from point A to point B may end up including stops at points C, D, and E. This will be difficult -- but then again, you have always thrived when challenged. You can do this. You know you can.
There is no reason to panic. In fact, there never is. There is, quite simply, only reason to reason. Political uncertainty hit you in your broadside? Took losses? Where are you now? Adapt, move on. There are really only two paths that financial markets may follow now, and that, in effect, simplifies the game for those of us navigating through this dangerous landscape, as well as for those that we'll defend.
More or Less
The Trump administration's agenda has either never mattered less, or never mattered more. Confusing? No, simple. With approval ratings, political support, and the support of business leaders withering to embarrassingly low levels, the only possibilities are really either utter collapse, or significant rebound. When do you want to buy a market? At the lows. When do you get out? At the highs. Easier said than done, but that's the plan. Everyone's plan.
The immediate headwinds are there, like a tropical storm. The geopolitical threats are permanent. Deal with them. We still need to see some action on a budget for next year. Let's not forget that the government's fiscal year begins with October, so we really need to see movement in less than six weeks' time, or -- count them with me -- 12 working days for Congress (those titans of old-fashioned work ethic). This sad crew drags their feet, and the government will shut down on Oct. 1. The economy also faces a central bank looking to further tighten, or normalize monetary conditions this fall. That includes managing their balance sheet, which has to be done, but there will never be the right time for.
So, now we understand that volatility has returned and will remain a theme throughout autumn. Deal with that.
+
Why Be Hopeful?
Don't look now, but the Atlanta Fed is tracking third-quarter GDP at 3.8% growth (SAAR). Are things perfect? No. Are they improving? Undeniably so. The macro is spotty, but that is much better than it was even a year ago. Investors must ask themselves: "Has political uncertainty slowed down capital spending plans and layouts for increased hiring?" If so, that's where your future construction spending and wage growth are going to come from. You do understand that everything boils down to the velocity of money, right? Seems so easy, yet so difficult.
Are the executive and legislative branches of government to focus on the fact that they have squandered what may have been their best chance in a generation to significantly shape policy in a preferable way to the status quo? What if, because their collective backs are truly against the wall, tax reform actually makes progress? What if investors can believe that $2.0 trillion in cash stashed abroad can come home? What if domestically based companies can believe in a 20% corporate tax rate? What if there will be an eventual infrastructure build, increased military spending, and yet another attempt at improving American healthcare? This is a long and winding trail, but this group has no choice. They have to move forward.
Everything for a Reason
Are these simply the daydreams on an immature schoolboy? Maybe. The entire Trump agenda has now been priced out of the marketplace. Markets have reached the levels that they have reached based on earnings and fundamentals. Not everyone got there together. For the rest of the year, quarterly earnings comparisons should become that much tougher to beat. This market needs a new catalyst. A political environment trading at the sentimental lows likely provides such an opportunity. Is it quicksand? I've seen quicksand. You usually don't know it's there until somebody steps in it. Keep your eyes on each other.
My book is already considerably lighter than it was 10 days ago. I am not a genius. I simply thought that Mario Draghi might throw the markets a curve ball this Friday. Right move. Wrong reason. Still, as I move forward, I am not looking to run for this hills. I am looking to strike. I know what I want to be long, and where. Do you? Patience. Wait for what feels right. Your gut (along with the hours of homework that you put in, right?) will tell you. A missed opportunity is far better than a transaction made in haste. Everything for a reason, gang.
This veteran forecaster is bearish on the market. 
Sarge's Trading Levels
These are my levels to watch today for where I think that the S&P 500, and the Russell 2000 might either pause or turn.
SPX: 2447, 2439, 2431, 2422, 2411, 2404
RUT: 1376, 1369, 1362, 1353, 1341, 1335
Today's Earnings Highlights (Consensus EPS Expectations)
After the Close: (NDSN) ($1.68), (PINC) ($0.52), (ZAYO) ($0.14)
Get Morning Recon delivered directly to your inbox each market day. Click here to sign up for e-mail delivery of Stephen "Sarge" Guilfoyle's Morning Recon, Jim Cramer's Daily Booyah! or other great free newsletters from TheStreet.
At the time of publication, Stephen Guilfoyle had no positions in the stocks mentioned.