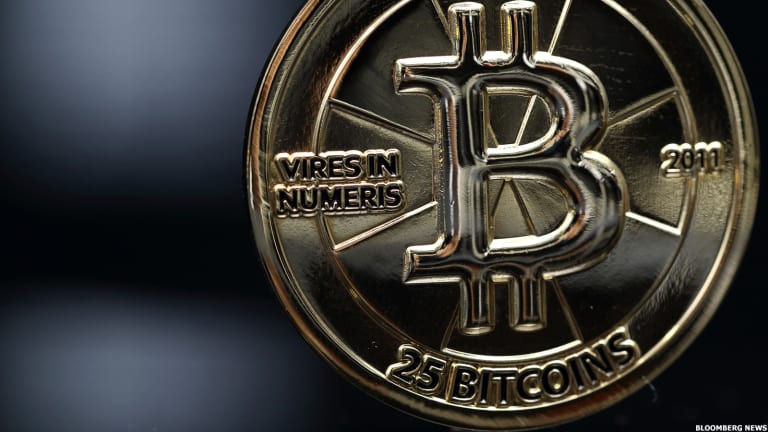 The Price of Bitcoin May Be Rising Because of This One Factor
Citrix Systems CEO Kirill Tatarinov discusses what some companies are doing as a preemptive strike.
Some companies in the U.K. are "bulking up" on Bitcoin currency so they can pay ransomware extortionists when they strike, a move that likely has contributed to the recent run up in price for the digital currency of choice for cybercriminals.
That was a point raised by Citrix Systems ( (CTRX) ) CEO Kirill Tatarinov on Monday in response to a question from TheStreet's founder Jim Cramer at a panel on cybersecurity concerns for boards at The Deal's 2017 corporate governance conference.
At issue are so-called ransomware attacks, like the WannaCry outbreak that ravaged companies across the globe last month, which put companies in a difficult position. With ransomware, companies and individuals are asked to pay up in Bitcoins or suffer from lost data and crippled networks. Cybercriminals like Bitcoin due to its untraceable and anonymous features.
"We've seen people pay up after ransomware attacks," said Tatarinov. "We've seen people who are proactively bulking up on bitcoin anticipating those attacks. We've seen companies proactively, we saw a couple examples in the U.K., where companies are proactively building up their Bitcoin to excesses so they can pay up. This is happening."
Citrix Systems, a twenty-eight-year old company with 400,000 customers, seeks to deliver cloud services for secure digital workspaces, essentially enabling people to connect their work environment to any device securely.
The WannaCry ransomware attacks have their roots in an April posting by a group called the Shadow Brokers, which released information about a weakness in Windows that the U.S. National Security Agency allegedly discovered.
The corporate purchases may have something to do with the price of Bitcoin jumping from $1,692 on May 12, when the WannaCry hit, to recently trade at $2,785.
While some of the Bitcoin craze may be driven by speculation, there is reason to believe there are real buyers out there looking to secure Bitcoins for ransomware attacks, Cramer reasoned. "Now I know why bitcoin went up so much," Cramer said.
—Chris Nolter contributed to this report.