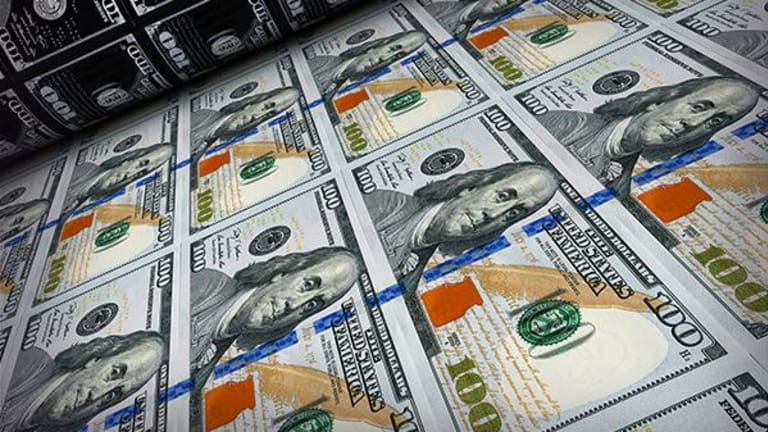 The Dollar Index Signals Gains: Jim Cramer's Off the Charts
Recent weakness in the U.S. dollar isn't likely to last, Carolyn Boroden told Jim Cramer.
A strong U.S. dollar may be great for U.S. tourists abroad, but it's a pain for U.S. companies doing business overseas. That's because a stronger greenback translates into fewer dollars, when or if companies repatriate international profits.
Jim Cramer turned to Carolyn Boroden for his Off the Charts segment on Mad Money to get a better sense of where the dollar's been and where it's headed. Boroden runs the FibonnacciQueen.com website and is a contributor to RealMoney.com.
To start with, Boroden looked at a weekly chart of the dollar index, which measures the value of the greenback against a host of major foreign currencies.
After its pullback in recent weeks, Boroden sees number of signs that the dollar could be ready to resume its longer-term rally. The index has been making a pattern of higher highs and higher lows for quite some time. As long as the dollar index holds above its lows from a little over a year ago in May of 2016, which came in the low 90s, Boroden believes it will ultimately resume its march higher. Boroden sees three major floors of support for the dollar index, all of which run from 95 to 96 and change. Given that it's currently at 97, there's no question those support levels are holding.
Boroden says the dollar is actually due for a bottom because of the symmetry with past moves. When it comes to the dollar index, Boroden points out that its recent decline has lasted for 20 weeks since its peak. That's very similar in duration to the past five declines, which have lasted from 21 weeks at the shortest to 24 weeks at the longest.
On top of that, there's Boroden's signature methodology, based on a series of ratios discovered by Leonardo Fibonacci, the medieval godfather of mathematics. These ratios repeat themselves over and over again in nature, and for some reason they also tend to show up in the charts. So Boroden looks at the size or the duration of past swings, runs them through the prism of these Fibonacci ratios, and then finds prices or dates where a decline is most likely to turn into a rally, or vice versa. In terms of the dollar index, she's spotted a bunch of Fibonacci time cycles that come due in the early weeks of June, particularly next week. She's not saying the dollar will absolutely bottom next week, but she is saying that if it's going to change trajectory, it will probably happen in the near future.
Boroden says it's entirely possible that the dollar index already bottomed last week. So if this long-term uptrend in the greenback remains intact, she wouldn't be surprised if the dollar index can go from 97, where it is now, up to 105.
Looking at the shorter-term daily chart of the dollar index, Boroden's spotted another cycle here that reinforces her view that the greenback is probably headed higher.
If you look at the data from the past year, you can see that it tends to take the dollar 37 to 40 trading days to make its way from one to low to the next. If we assume that the dollar index bottomed last Monday, that would be 40 days from the previous low. In short, either it's already finished going down, or the decline will exhaust itself over the next few weeks. As long as the key support levels hold, Boroden's willing to be patient and bet that the dollar's prepared to rally.