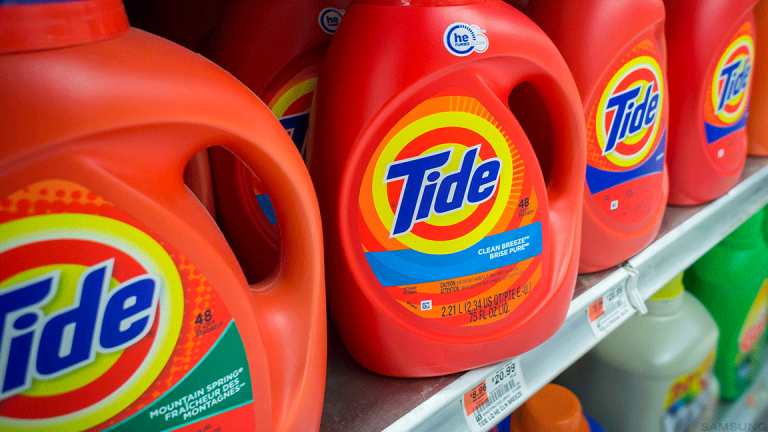 P&G Tops Forecasts in Early Q3 Earnings Release Following Merck KGaA Deal
Procter & Gamble narrowly beat Street forecasts in an early release of its third quarter earnings following its biggest acquisition in years and the first in concert with activist investor Nelson Peltz.
Procter & Gamble Co. (PG) - Get Procter & Gamble Company (The) Report posted stronger-than-expected third quarter Thursday, one day earlier than scheduled and just hours after its biggest acquisition in years and the first deal since activist investor Nelson Peltz joined the board last month.
P&G said core earnings for the three months ending in March, its fiscal third quarter, came in at $1.00 per share, topping Wall Street forecasts of 98 cents a share and rising 4% from the same period last year. Total group sales also rose 4% from the same period last year to $16.3 billion, just ahead of the Street forecast of 16.245 billion. P&G also affirmed its full-year organic sales guidance of 3% growth, a figure that would imply a full-year topline of just under $67 billion.
"We delivered modest top- and bottom-line growth in a challenging macro environment in the third quarter," said CEO David Taylor. "We have large businesses in several difficult markets. The ecosystems in which we operate around the world are being disrupted and transformed. We will change at an even faster rate -- winning through superiority, cost and cash productivity and a strengthened organization and culture."
P&G shares were marked 0.24% lower in pre-market trading in New York following the earnings release, indicating an opening bell price of $78.00 each, a move that would year-to-date decline to 14%. The has lost about 15% of its value since Peltz revealed a $3.5 billion holding in February of last year.
The earnings followed news that Cincinnati, Ohio-based P&G paid €3.4 billion ($4.21 billion) for the consumer healthcare unit of Germany's Merck KGaA (MKGAY) in the first major purchase for the group since Peltz won a seat on the board late last year.
The acquisition will improve P&G's OTC geographic scale, brand portfolio and category footprint in the vast majority of the world's top 15 OTC markets, the company said, and will replace a joint venture between P&G and Teva Pharmaceutical Industries (TEVA), which will be terminated on July 1, pending regulatory approvals. 
Peltz's campaign began in February 2017 when his Trian Fund Management LP disclosed a $3.5 billion position, which was followed in July by a presentation citing "suffocating bureaucracy" at the iconic packaged goods company. The proxy war concluded with Peltz receiving the backing of roughly half of shares voted in a director fight that took place at the company's annual meeting in October but didn't really end until the two sides settled in December to bring the dissident onto an expanded 13-person board.
Subscribe to our Youtube Channel for more videos ' Listen our latest Podcasts on Soundcloud