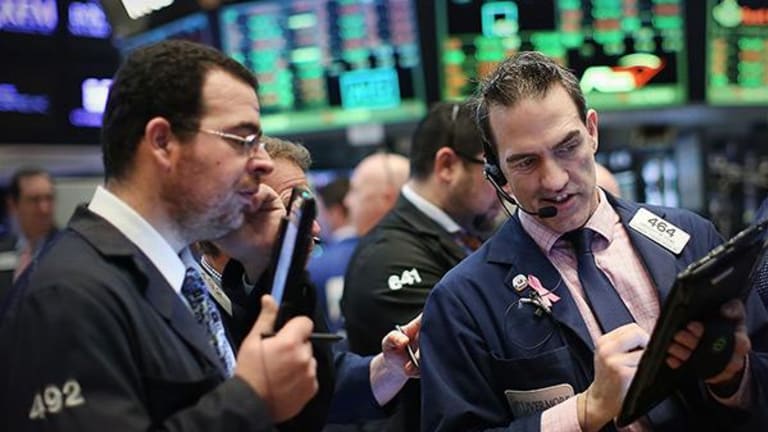 Market Recon: The World Is Agog With 'Risk-on' Behavior
But also remember that this week earnings will run wild, with nearly 200 members of the S&P 500 reporting.
"In reading the lives of great men, I found that the first victory they won was over themselves. Self-discipline with all of them came first." -- President Harry S Truman
Voila!
Planet Earth is simply agog with "risk-on" behavior since the outcome of last night's voting in France became apparent. Traders from Asia through Europe and also in U.S. equity index futures are riding a wave of relief following the first round of that French presidential election. The assumption (and you know what they say about assumptions...) is now that the centrist, pro-EU Emmanuel Macron will easily take the second round of this process on May 7 when he squares off with Marine Le Pen in a one-on-one showdown. Oh, take 'em! Take equities, take the euro, take U.S. equity index futures ... and sold! to U.S. Treasuries, gold, the yen and the U.S. dollar.
In Hordes
We just had this election in France. Traders must also deal with North Korean saber rattling, potential tax reform plans, potential healthcare reform plans, and a possible government shutdown. Enough? No! Not close. You'll also get a first look at first-quarter GDP, a European Central Bank policy decision, and then also a Bank of Japan policy decision. It will be easy to take your eye off the ball, or to focus on too much. The global reaction to the French election is nice, very nice if you came into the weekend net long, but what truly matters to equity investors above all else will continue to be earnings. Earnings and the guidance that comes with them.
News of that ilk, we will come at you in hordes. The beast will run wild, with nearly 200 members of the S&P 500 spitting out their quarterly information. That's right, almost 40% of the main U.S. broad market index. Especially heavy will be the Tuesday through Thursday period. You will be buried over those three days. Focus only on what you know you can handle. If you are not sure how many situations you can handle at once, this is a discipline-inspired metric that must be developed in quieter markets, but one that you probably do need to know about yourself. If the answer is one, then manage one. If the answer is none, that's why they created equity index funds.
What to watch for? Not only the year-over-year increase in earnings, which is running hot over the first couple of weeks of the "season", but for the renewed out-performance of small-caps. That group suddenly lunged ahead of broader market indices last week. After struggling to keep up for most of the year, the Russell 2000 moved 2.6% higher last week, vs. a gain of 0.9% for the S&P 500. Small-caps were immediately put in the catbird's seat after the U.S. election in November. Most small-cap names suffer from higher effective corporate tax rates than do their larger peers, and most are also U.S.-centric, meaning that they would suffer less in a protectionist, strong dollar environment. As some of the hopes for a quick implementation, or even the eventual implementation of these Trump campaign policy issues have faded, so has the performance for these types of securities. The dollar is softer today and protectionism seems to be fading, but tax cuts are very much in the headlines. Risk-on performance is apparent this morning. I expect that this group will likely face more than its usual level of volatility this week.
Big Talk ...
It would appear that no one is taking the prospects of a government shutdown all that seriously. We will see how that develops. What will be taken very seriously, if it actually happens, would be a potential announcement regarding tax reform that the U.S. president indicated would be coming forth as soon as this week. On Friday, the president said in an interview with the Associated Press that both businesses and individuals could expect a "massive tax cut" under a White House tax plan that would be released this "Wednesday or shortly thereafter."
... Is Just Talk ...
Budget Director Mick Mulvaney said on Friday: "You might see us floating some principles before then", "But in terms of a piece of paper you can look at and say "Here is our bill.' I don't think it will be ready by May" Say what? ... but, he just said ...??
... Unless You're Backing It Up
Now, the White House appears to be indicating that a broad outline of what it's trying to accomplish via its own version of tax reform will be made available this week. The White House also stressed the "shortly thereafter" part of what the president was quoted as saying. This would allow for some room for movement in making a big, splashy announcement.
Let's not forget what's important here, and why the White House is being forced to come up with something on its own. Basically, the Ryan-led House of Representatives has been unable to come up with a tax reform plan that is not reliant upon a border adjustment tax, or healthcare reform.
The catch here is that, in order to be considered permanent, any tax law passed by the Senate must be revenue-neutral, and could then be passed with a 51% simple majority. Any bill that adds to the deficit, even if passed, would expire after nine years. So what, you say? What's nine years, you say? Well, Gary Cohn (White House National Economic Council Director) feels strongly that for there to be a substantial improvement in business investment, that any bill passed into law would have to be considered permanent in nature. Big talk? We'll see.
Macro
10:30 - Dallas Fed Manufacturing Survey (April):Expecting 15.5, March 16.9. Expectations are for continued strength in manufacturing expansion from this data-point today. Last week, we saw expansionary trends continue for both the New York and Philadelphia regions, though the slowing pace of expansion for New Orders, at least in New York, was mildly alarming to me.
11:30 - Fed Speaker:Minneapolis Fed Pres. Neel Kashkari
15:15 - Fed Speaker:Minneapolis Fed Pres. Neel Kashkari will speak twice today. First, Kashkari, who is a voting member of the FOMC, will speak from Los Angeles and then from Claremont, California. Both speeches will cover "Too Big to Fail", as well as opportunity and growth. Both appearances will also allow for questions from the audience. A recent dove, Kashkari publicly opined just last Friday that fiscal policy was far more important right now than were interest rates.
Sarge's Trading Levels
These are my levels to watch today for where I think that the S&P 500, and the Russell 2000 might either pause or turn.
SPX: 2390, 2384, 2378, 2370, 2362, 2356
RUT: 1422, 1414, 1405, 1389, 1383, 1376
Today's Earnings Highlights (Consensus EPS Expectations)
Before the Open: (HAL) ($0.03), (HAS) ($0.38), (ITW) ($1.45), (KMB) ($1.55)
After the Close:
(AA)
($0.48),
(AMP)
($2.52),
(ESRX)
($1.32),
(HMN)
($0.55),
(OI)
($0.53),
(TMUS)
($0.36),
(UIS)
($0.22),
(WHR)
($2.66).
At the time of publication, Stephen Guilfoyle had no positions in the stocks mentioned.