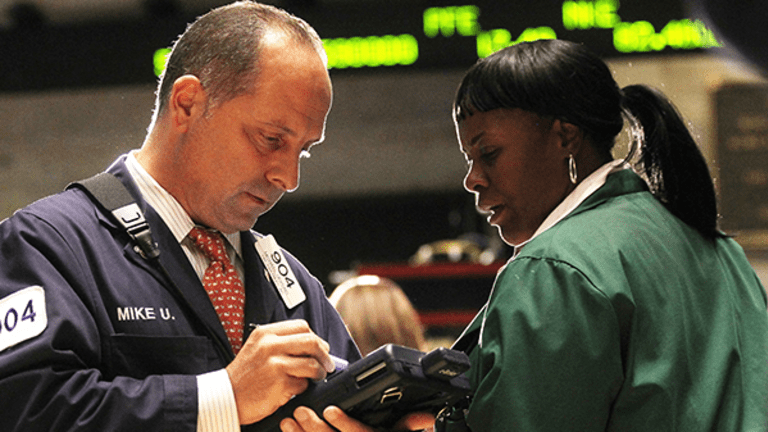 Market Recon: Shorting the Broad Market Here Could Leave You With Lasting Scars
If that's your game, do it synthetically, not through equities. At least that way you can control your risk.
"It is foolish and wrong to mourn the men who died. Rather we should thank God that such men lived." -- General George S. Patton, Jr.
"Bear in mind why you are off on Monday." -- Your old pal.
Trader Focus
WTI crude does seem to have found a bid this morning, and has wiggled its way back above $49 a barrel. Energy stocks did not rally with oil going into the OPEC meeting, so I don't know how much you can trust the sector to bounce with the commodity this morning. If already long the space, you may be looking to add to your positions on weakness, but there does come a point where dollar cost averaging becomes quite simply an act of "throwing good money after bad". I would rather buy oil stocks with otherwise sound fundamentals when WTI trades at $47, than I would here. I could be wrong, but I think it will. I am long a few oil names, and speaking about my personal dough, so this is not more drivel from some talking head with no skin in the game.
The S&P 500 broke through the 2405 level with a certain kind of violence yesterday, a violence that left the market in a difficult spot to hold well above the 50 (2371), and 200 (2261) day simple moving averages. The index would, at least for me, look prettier if it would first test 2405 prior to moving on. That said, on a six-month chart, several common technical indicators are illustrating a market that is readily accepting more upside investment. I see that moving average convergence divergence (MACD) crossover suddenly turning bullish. I see a relative strength index (RSI) that is not yet flashing warnings about an overbought condition in the broader marketplace, but also comfortable rests in the low $60s. I also see a Chaikin Oscillator that is suddenly spiking again this week, and has not been negative in almost four weeks. Yes, we may test the local trading level. In fact, I would feel better if we did, but shorting the broad market here could leave a kid with lasting scars. If that's your game, do it synthetically, not through equities. At least that way you can control your risk.
Unimpressed
I think it's fairly safe to say that commodities traders came away from OPEC's decision to move ahead with a nine-month extension of last November's 1.8 million barrel a day production cut quite unimpressed. We did warn against a "sell the news" event here in this space, and that is surely what was dealt. Traders were looking for further cuts into production, and had obviously priced those deeper cuts into crude markets going into these Vienna meetings.
Bang! Crude prices slid 5%.
Bang!The energy sector retreated 1.8%.
Bang! Down went the "commodity currencies" versus the U.S. dollar.
The Aussie, the Loonie, the Ruble and the Krone all gave up more than half of a percent against the greenback. Yes, the same U.S. dollar that had surrendered a rough 2% in May, and 5% year to day as measured by the DXY basket. Oh, it wasn't all ugly. In fact, equities for the most part, had a nice day.
Winners
Consumer discretionary names led the way higher, and the sector was led by the "left for dead" retailers. Best of all, that boost was indeed earnings-related. The outperformance of Best Buy (BBY) was obvious, but Ulta Beauty (ULTA) , Dollar General (DG) , Staples (SPLS) , AutoZone (AZO) , Kohl's (KSS) , TJX (TJX) and Lowe's (LOW) , and Tractor Supply (TSCO) all helped lead the group out of the land of the "uglies". I'll bet that some of you had intentionally avoided some of these names. I know that I had. The airlines and the rails also roared. Turns out, lower overhead is actually good for business. Who knew? Unfortunately, while lower fuel cost can be expected to boost the transports, a bevy of weaker-than-expected macroeconomic data points have left the small caps on the outside looking in, as far as equity market rallies are concerned.
Full Employment
Every day, you will hear someone tell you how this domestic economy is coming along nicely. Well, at least we're not fighting over canned beans in the streets and hunting our neighbors' pets just yet. I guess that's a positive. However, in just the last two weeks we have seen startlingly disappointing data for consumer level inflation, retail sales, manufacturing (Empire State & Richmond), housing (housing starts, building permits, new home sales & existing home sales), and inventory building at both the wholesale and retail levels. Outside of all of that, though, believe me ... we are cooking with gas.
Some of our well-known economists will argue that this economy is humming along near full employment. I'll argue that maybe they should stop speaking, start paying more attention, and crawl back into their little holes for a few days. No economy still in a state of recovery coming out of broad-based hardship with participation rates, and capacity utilization both still three to four percentage points below where they were prior to the last recession is at or near full employment. Got it? Stop wishing that your sleeping bag wasn't full of snakes, and be honest. I think we deserve that, and I think the bond market has vetoed your opinion.
Macro
08:30 - Durable Goods Orders (April):Expecting -1.2%, March +0.7% m/m.
08:30 - Ex-Transportation (April): Expecting +0.4%, March -0.2% m/m.
08:30 - Ex-Defense (April): Expecting +0.3%, March +0.1% m/m.
08:30 - Core Capital Goods (April):Expecting +0.2%, March +0.2% m/m. The headline number was carried by orders for new aircraft in March. An improvement in the ex-transportation line is both paramount and expected. The print to watch, though, for the markets is for growth in core capital goods. Corporate investment is what we want to see. Unfortunately, that meager 0.2% growth seen in April missed expectations badly, and is expected to merely be matched for April.
08:30 - GDP (Q1-rev):Expecting 0.9%, Prior 0.7% q/q SAAR. The hope is that the anemic preliminary print for the first quarter was just too low, and in need of upward revision. That expectation will fall directly on consumer spending. That component came in at a paltry 0.3%, which just happened to be the worst number in that space since 2009. Look for a mild bump higher both there, and at the headline.
10:00 - U of M Consumer Sentiment (May-rev): Flashed 97.7. This survey missed expectations as April came to a close, then took back much of the lost ground in the advance print for May two weeks ago. Regardless, this survey and almost all soft data-points have been running at surprisingly high levels ever since the election in November. Will the less than stellar macro eventually catch up, or will it drag all of the enthusiasm back to planet earth? We'll know soon enough.
13:00 - Baker Hughes Rig Count (Weekly):Last Week total 902, oil 720. The likelihood is that the number of U.S. oil rigs in operation keeps on rising, and I see absolutely no reason to expect that to have stopped this week as Crude prices rode high going into yesterday's OPEC meeting.
Sarge's Trading Levels
These are my levels to watch today for where I think that the S&P 500, and the Russell 2000 might either pause or turn.
SPX: 2439, 2426, 2417, 2405, 2397, 2387
RUT: 1399, 1392, 1386, 1380, 1372, 1367
Today's Earnings Highlight (Consensus EPS Expectations)
Before the Open: (BIG) ($0.99)
__________________
Meet the Millennial Media Moguls
Planning to be in New York on Tuesday, June 13? You're invited to join us for an evening of cocktails and conversation with three dynamic young CEOs whose companies have found big news audiences and good markets. How have they done it? What have they learned? Meet Chris Altchek, CEO and co-founder of Mic; Shafqat Islam, co-founder and CEO of NewsCred; and Kathryn Minshew, the CEO and co-founder of TheMuse. Our panel discussion will be led by Ken Doctor, media analyst and columnist for TheStreet. The event, from 6 to 8 p.m. is free, but space is limited and reservations are required. Please click here to RSVP and get more information.
Read More Trending Articles:
Why Alibaba's Founder Jack Ma Thinks You Will Eventually Only Work Four Hours a Day
Here's How Fast Tesla's Model 3 May Be -- Doesn't It Seem Really Slow?
Now We Have an Idea When the iPhone 8 Will Launch, Thanks to Vacationing Apple Employees
At the time of publication, Stephen Guilfoyle had no positions in the stocks mentioned.