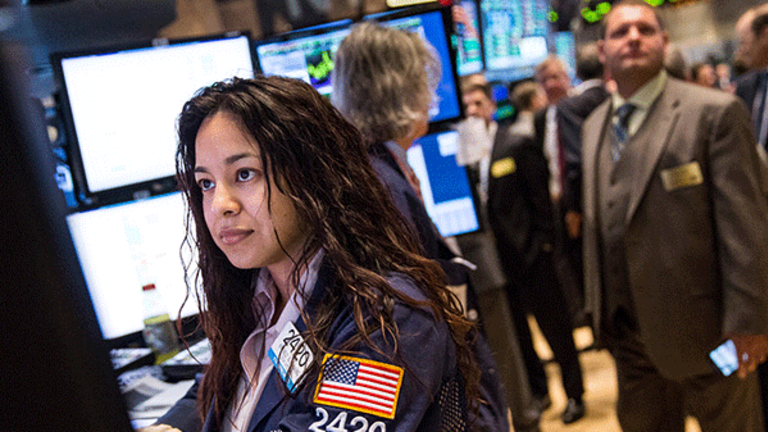 Market Recon: Markets Are Pricing in a Growth-Inspired Goodness
Janet Yellen's hawkish tone no longer scares market participants.
"The road to success is always under construction." -- Lily Tomlin
Road Trip
Ever take your family, or a friend on a long road trip? You see something interesting on the side of the road. It could be a funny billboard, a natural landmark, a dirt road that leads somewhere. The point is that you soon forget whatever it is that held your interest for six or eight seconds, and you keep on moving. It suddenly dawned on me yesterday that although I have been a successful trader, particularly over the last three months, I have made mistakes, and a few of them at that.
Oh, to be sure, several news events have held our attention for a few seconds. Congressional squabbling over health care reform, a military raid that either went very well, or very poorly depending on who you listen to, rioting in the streets, an "on again-off again" temporary ban on immigration, and now Lt. Gen. Flynn, and Kellyanne Conway. Know what? Markets just kept on keeping on. I have nothing to complain about since the election. It dawns on me that any sales I've made on long positions, though born of time tested disciplines, now look like mistakes from here.
"You never make any money if you never ring the cash register", and "Never second guess a profit" are adages that I have stuck with since I was a kid. We know that in theory they still ring true, but is this market different? Nearly every sale made over three months was premature, and nearly every long considered, but not taken, a missed opportunity. The only thing left to say on that is "animal spirits." May they last forever.
Nest of Hawks
The Fed Chair took center stage yesterday before the Senate Banking Committee. The Chair is clearly optimistic about the economy. She sees monthly nonfarm payroll prints of close to 200,000 and the slightly improved pace of wage growth as positives, though business investment has remained soft. Perhaps it's the fear of coming inflation. Perhaps first-quarter growth is about to truly pop. (The Atlanta Fed is currently tracking the first quarter at 2.7%.) The fact of the matter is that the Fed Chair seems in her vaguest way possible to prefer getting another increase in the fed funds rate under her belt, and to see how the economy digests such a shift, even before the uncertainty of the new administration's economic agenda takes any specific shape.
The good doctor, in her prepared remarks, stated that "waiting too long to remove accommodation would be unwise". Such a scenario, in her words "could risk disrupting financial markets and pushing the economy into recession." Janet Yellen was not even close to the only Fed official rattling cages yesterday. Dallas Fed President Robert Kaplan, a voting member of the FOMC, reiterated in a speech from Houston his opinion that "rate increases should happen sooner rather than later".
Richmond Fed President Jeffrey Lacker, speaking in Delaware, was even more aggressive. Lacker is quoted as saying "significantly higher rates are warranted". He also said that "there's quite a compelling case for a March increase" Lacker does not vote this year. The CME's website showed an increase in the probability of a March hike at 13% yesterday morning. Those odds were up to 18% by late afternoon. Markets used to fear such talk, now it's all good. A "growth-inspired" goodness. The U.S. dollar took off, yields took off, equities took off (again led by the financials, which again were led by the banks). About the only ones not loving this market behavior were the bond proxies.
I was disappointed in the Chair's treatment of the balance sheet. As we all know, the Fed is currently reinvesting principal payments, and proceeds from maturing bonds. This keeps the balance sheet stable at an approximate $4.5 trillion. I have long advocated tightening monetary conditions through some balance sheet reduction prior to direct interest rate manipulation. It is now obvious that the Federal Reserve's leader is not aligned with my thinking. Then again, she (and her predecessors) almost never have been. Maybe she fears this would drain on liquidity at a bad time. I think a move like this would be more easily reversible than would be a rate hike if it failed.
Oil Under Pressure
U.S. crude inventories have shown an aggregate build of 29.5 million barrels over the last five weeks, according to the Energy Information Administration. The American Petroleum Institute put a 9.94-million-barrel build to the tape last night, much larger than professional expectations for today's EIA number, which from top to bottom seems to be between 3.0 million and 4.0 million additional barrels. Though crude has come under some pressure in response, the $52.75 level, which has been this week's support, has held throughout the overnight.
OPEC may be adhering to the deal that they made with each other, as well as with others. Right now, this is to the benefit of the opportunity seekers, and those seekers are American. One look at this consistent drumbeat in crude inventories and another glance at climbing rig counts are enough to tell you that OPEC has a problem. The only way to shake these guys out would be to allow crude to fall to unprofitable pricing levels. We all saw how well that worked out. OPEC and friends may just have to get used to a smaller slice of the pie, a slice that more likely to shrink than it is to grow.
Macro
08:30 - CPI (January):Expecting 0.3%, 2.4%. December 0.3% m/m, 2.1% y/y.
08:30 - Core CPI (January):Expecting 0.2%, 2.1%. December 0.2% m/m, 2.2% y/y. With monetary policy seemingly in and out of play, there is almost nothing more important in this marketplace than data on developing consumer level inflation. We already know that the PPI came in hot on a month over month basis for January. That's both at the headline, and at the core. Producer prices don't rattle cages as do consumer prices. The number to watch more than any other today will be the core year-over-year print. We already expect the headline number to roar somewhat due to rising gasoline prices in the month. Aside from those energy prices, what to watch for within the report today, will be medical costs which have run very hot, and apparel prices which have been a serious drag on prices. Yields, fed funds futures, equity index futures, and dollar valuations will all move on this release.
08:30 - Retail Sales (January):Expecting 0.1%, December 0.6% m/m.
08:30 - Core Retail Sales (January):Expecting 0.4%, December 0.2% m/m. If there is an item in our universe nearly as important to the markets as inflation, it's probably retail sales. We expect the headline print to look fairly soft as we already know that vehicle sales were weaker in January from where they had been at year's end, However, ex-autos, the number is expected to make its strongest showing since October.
08:30 - Empire State Manufacturing Index (February):Expecting 7.2, January 6.5. As usual, New York will bat leadoff as far as our regional Federal Reserve district manufacturing surveys are concerned. Though this item printed in headline expansion in January, every regional districts has done so since November, and the Empire State was arguably the weakest of the group in January. Last month, for this report we actually saw contraction in several significant sub-components such as unfilled orders, delivery time, number of employees, and average workweek. New orders, the most important single item within any manufacturing report, did grow, but the pace of such growth slowed considerably. Looking for a rebound there will be our key focus upon this release -- after looking at the CPI and retail sales, obviously.
09:15 - Industrial Production (January):Expecting 0.1%, December 0.8% m/m.
09:15 - Capacity Utilization (January):Expecting 75.5%, December 75.6%. After several months of better manufacturing data across the nation, December finally brought with it what could be considered a fairly strong month-over-month print for industrial production. Never mind that almost all of that December strength came from the utility sector, while production in manufacturing grew just 0.2% m/m. Capacity utilization brought more good news, edging to its highest level since August, while still remaining at pitifully low levels historically. Pre-recession, utilization regularly printed above 81%.
10:00 - Business Inventories (December):Expecting 0.4%, November 0.7% m/m. This item, which is a very high impact item in terms of GDP, but not so much for the marketplace given its somewhat dated release, in November displayed the most aggressive month-over-month inventory build across all business lines since October 2013. The strength of that report came from both wholesale and retail lines, while manufacturing inventories were weak. We already know that wholesale inventory building was just as strong in December, but the likelihood of less of a retail build during a holiday season that had its troubles should see headline number growth slow from that November print.
10:00 - NAHB Housing Market index (February):Expecting 68, January 67. This item has been red hot for a couple of months now. What this item measures is really homebuilder optimism. This survey looks forward six months asking questions regarding economic conditions and housing market conditions such as traffic. Until December, we had not seen this index at these levels since 2005.
10:00 - Fed Speaker:Federal Reserve Chair Janet Yellen testifies before the House Financial Services Committee one day after the same prepared remarks before the Senate Banking Committee. The questions and answers should provide a few different quirks, however. We all know by now that yesterday's testimony sent the dollar higher, yields higher, equities higher, and of course the probabilities for a March rate hike higher, at least according to the CME's website. This is still your most important economic event of the day. That said, this morning's data should have some influence on the questioning. Then again, that assumes some flexibility, and the ability to think on one's feet by the members of the committee. You have seen these guys, haven't you?
10:30 - Oil Inventories (Weekly):API +9.94 million , Last Week +13.8 million barrels.
10:30 - Gasoline Stocks (Weekly):API +720,000 , Last Week -869,000 barrels. Another massive inventory build for headline Crude is in store today according to the American Petroleum Institution (API). Crude reacted at first by moving lower after the API release, but appeared to hold its ground at the nearest support level around $52.75 a barrel.
12:00 - Fed Speaker:Boston Fed Pres. Eric Rosengren will speak on the U.S. economy from New York City. Rosengren, throughout 2016 as a voting member of the FOMC, went from being one of the Fed's more dovish officials to one of its more hawkish. He also was the only voter of record that flipped his preference for a hike in rates or not around the national election. Rosengren does not vote this year.
12:45 - Fed Speaker:Philadelphia Fed Pres. Patrick Harker speaks from Philadelphia on the outlook for the U.S. economy. Harker, a voting member of the FOMC this year, has opined as recently as last week that March would be a live meeting as far as monetary policy goes. Both the media, and the audience will be invited to participate in a Q&A session following the event.
16:00 - TIC Net Long Term Purchases (December):Expecting $26 billion, November $30.8 billion. Cross border investment has resulted in positive numbers in four of the last five monthly reports. Chinese accounts reduced their Treasury holdings by a whopping $66.4 billion in November, while Japanese accounts cut their holdings by $23.3 billion. The "good news" if you want to call it that is that U.S. accounts sold foreign bonds even faster, while there was significant demand from abroad for government agency bonds. Obviously, this item is dated, and will not impact today's trade, this stuff is just so darned interesting.
19:15 - Fed Speaker:New York Fed Pres. William Dudley is set to speak at an economic predictions event in New York City. We have not heard from Dudley in about a month. That was when he very famously said "Whatever the timing, a return to a reasonable pattern of home equity extraction would be a positive development for retailers, and would provide a boost to economic growth". I know that I often knock the Fed, but you really can't get more reckless, or out on a limb (and out of touch with those living across the mote) than encouraging home owners, who obviously are not going there on their own to tap built up home equity in order to improve the retail situation. There will be a Q&A session at the conclusion of this appearance tonight, and I truly hope someone makes him answer for that statement. Dudley is a permanent voting member of the FOMC.
Sarge's Trading Levels
These are my levels to watch today for where I think that the S&P 500, and the Russell 2000 might either pause or turn.
SPX: 2371, 2358, 2345, 2336, 2327, 2319
RUT: 1414, 1405, 1397, 1392, 1387, 1378
Wednesday's Earnings Highlights (Consensus EPS Expectations)
Before the Open: (ADI) - Get Free Report ($0.74), (HLT) - Get Free Report ($0.66), (HUN) - Get Free Report ($0.24), (PEP) - Get Free Report ($1.16), (SHOP) - Get Free Report (-$0.02), (USFD) - Get Free Report ($0.49)
After the Close: (CAR) - Get Free Report ($0.18), (ABX) ($0.19), (CBS) - Get Free Report ($1.11), (CHH) - Get Free Report ($0.53), (CSCO) - Get Free Report ($0.56), (CW) - Get Free Report ($1.48), (IFF) - Get Free Report ($1.21), (KHC) - Get Free Report ($0.87), (MAR) - Get Free Report ($0.84), (PKD) - Get Free Report (-$0.38), (WMB) - Get Free Report ($0.19)
At the time of publication, XXX had no positions in the stocks mentioned.