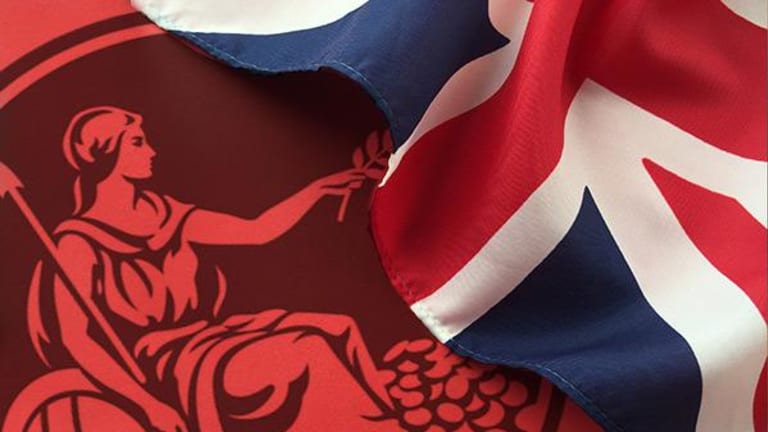 Publish date:
Market Recon: How to Play Brexit Divorce Proceedings
The pound, having repeatedly hit £1.25 resistance in recent months, is priced for pain and has increased the anticipation of some domestic inflation.
The pound, having repeatedly hit £1.25 resistance in recent months, is priced for pain and has increased the anticipation of some domestic inflation.
"A divorce is like an amputation: You survive it, but there's less of you."
--Margaret Atwood
Divorce
So, now it begins. Last night, U.K. Prime Minister Theresa May signed the letter that will, later today, trigger Article 50. In other words, this gets divorce proceedings between the U.K., and the EU started. No more maybes after today, gang. Now, Brexit is a hard reality. Will there be a hard breakup?
Since the June referendum (What a great night of trading that was !!), the British economy has refused to roll off of a cliff. That's positive, but it hardly means that everything is A-Okay. U.K. equities have underperformed their international counterparts this year, and the pound itself remains valued sharply lower than where it was prior to Jun. 23.
There certainly are risks moving forward. Then again, how can one even measure the risk in allowing one's flag to exist subordinate to another? Honor does have a price.
What matters now? I think first and foremost would be a free-trade agreement or the lack thereof. How much access will the U.K. have to the larger free market? How will immigration end up being handled. There are plenty of nationals from other EU countries in the U.K., and vice versa. Negotiations over these points and others are why the process will take at least two years, and will decide how painful this is.
How does an outside investor tackle this space? Good question. Do you even want to? Now, I'm not some kind of genius, but it appears to me that the pound, having repeatedly hit £1.25 resistance in recent months, is priced for pain, which has put the whammy on U.K. small-caps and the FTSE 250 mid-caps, and increased the anticipation of some domestic inflation.
I would think, given his rather hawkish performance when he ran the Bank of Canada, that Mark Carney may be the right guy to run the Bank of England at this dangerous, and possibly inflationary time. The ability of the BOE to react responsibly, as layers of uncertainty are peeled away going forward will probably allow the British pound to increase in value. As that happens there will likely be some rotation out of British exporters, and into those smaller names that do business largely within the U.K.. Keep in mind, we're playing horseshoes here, not throwing three inch groups downrange at 500 yards.
You can avoid the space completely for now, and it may not cost you a whole lot. My opinion is that a minor allocation based on the medium-to-long-term prospects for the currency could end up being profitable.
Hogwash
Meanwhile, the take 'em crowd showed up on Wall Street yesterday. They bought Energy, they bought Financials, they bought Materials. In fact, 10 of the 11 S&P 500's sectors shaded green by day's end. What sold off is what you might have expected to sell off. Gold, Utilities, and yes, Treasuries headed lower as the Trump trade re-established itself -- at least for one day.
Most impressive was the recovery of the U.S. dollar, and the march of the Transports (+1.8%) on the day. We go nowhere without the transports, and the airlines, the rails, and delivery services all out-performed the broader marketplace.
Why did the market take off? Some say window dressing. Some say Federal Reserve Vice Chair Stanley Fischer's anticipation of two more rate hike this year. I say "hogwash." This market rocked because the macro rocked, and that's what we needed to see.
We all know that the Atlanta Fed's GDPNow model has been running on empty for the first quarter, and honestly, how likely would the FOMC be to raise rates in an economy that provides them no cover, no justification for their hawkish mandate? Enter sizable beats for the February Goods Trade Balance, and the February Wholesale Inventory build. Boring, right? Yeah, boring stuff that will force those first-quarter GDP forecasts higher when they run the model again on Friday.
After that data, we also saw multi-year highs for home prices and a sixteen year high for consumer confidence. Not to mention, the Richmond Fed's completion of yet another monthly sweep for the regional manufacturing surveys.
Yes, the economy looks a little stronger right now than it did 24 hours ago. This made Fischer's words more meaningful. The woods that we must pass though are still filled with peril.
The Guy With the Hockey Mask
On to tax reform, maybe. Our Speaker of the House, Paul Ryan seems almost ready to make another attempt at health-care reform. There is no doubt that tax reform would have been a lot easier had some kind of a health-care bill been passed first. Without the savings, and lower taxes that would have automatically resulted from the scrapping of the ACA, the future on any "go it alone" tax reform legislation would have to be less aggressive in nature. Will a lighter tax cut package, or a smallish attempt at an infrastructure build suffice for investors?
If not a less aggressive picture of the Trump agenda, then only a larger fiscal deficit will suffice. Unless Paul Ryan puts his helmet back on and climbs back into the arena. It appears to me that the choices will be between:
1) A slower process;
2) A less aggressive agenda;
3) A much larger national debt.
I would like to say that the choice is yours, but it is not. The choice you have is how to proceed as an investor. There be squalls ahead.
Macro
09:20 - Fed Speaker:Chicago Fed Pres. Charles Evans will speak on capital markets this morning from Frankfurt, Germany. Evans does vote on policy this year, and seems to go back and forth on how hawkish he wants to be from one speech to the next. Evans has the potential to rattle the markets.
10:00 - Pending Home Sales (February):Expecting 2.4%, January -2.8% m/m. On a month over month basis, two of the last three months have gone very poorly in this space. February has been a good month for housing, if a bit mixed. New Home Sales ripped, but Existing Sales disappointed. The expectation for today, if realized, would be the strongest growth seen since last April. After yesterday's bounty of strong macro, this would be taken well by the marketplace.
10:30 - Oil Inventories (Weekly):API +1.91M , Last Week +5.0M barrels.
10:30 - Gasoline Stocks (Weekly):API -1.1M, Last Week -2.8M barrels. Ahead of today's oil inventory data to be released by the Energy Information Administration (EIA), the American Petroleum Institution (API) released their own numbers, as they do every Tuesday evening. For both crude and gasoline, the numbers came in very close to expectations. WTI found support above the $8 level in response last night.
11:30 - Fed Speaker:Boston Fed Pres. Eric Rosengren, who does not vote this year, will speak on the economy from Boston. Rosengren, the one who famously changed his dissent around the election last year, has most recently been warning about the dangers of a hot real estate market.
13:15 - Fed Speaker:San Francisco Fed Pres. John Williams will speak on turning sustained recovery into sustained growth from New York City. Williams is not a voting member of the FOMC this year, but as I have said in the past, he is considered influential, and close to the Fed Chair herself. Williams has become one of the more hawkish officials at the Fed of late. He will take questions from both the media and the audience at this event's conclusion.
Sarge's Trading Levels
These are my levels to watch today for where I think that the S&P 500, and the Russell 2000 might either pause or turn:
SPX: 2376, 2367, 2361, 2351, 2345, 2337
RUT: 1389, 1380, 1370, 1364, 1358, 1351
Wednesday's Earnings Highlights (Consensus EPS Expectations)
Before the Open: (PAYX) - Get Report (0.54)
After the Close: (LULU) - Get Report (1.01)
At the time of publication, Guilfoyle had no positions in the stocks mentioned.