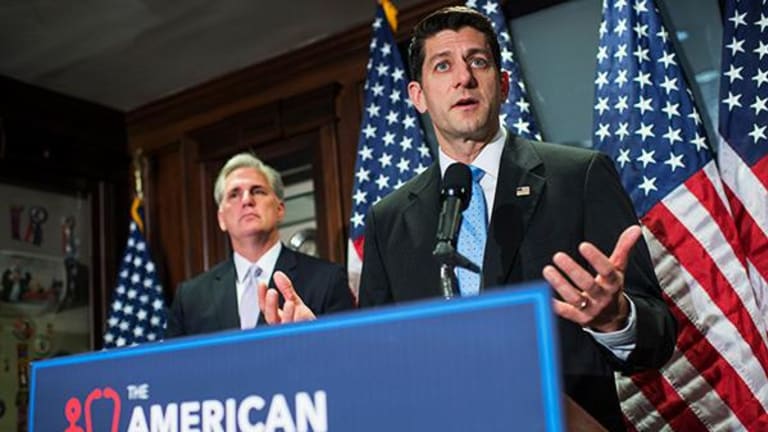 Publish date:
Market Recon: Focus on Capital Preservation Ahead of Health Care Vote
I have moved to a slightly less aggressive, if not defensive stance going into this vote.
I have moved to a slightly less aggressive, if not defensive stance going into this vote.
"In our system of government, an opposition party doesn't have the ability to pass legislation, but it has the ability to massively screw things up." -- Alex Pareene
"I'm not sure we need the opposition party in order to screw things up" -- Your old buddy, Sarge
Will They, or Won't They?
What traders are looking for is a vote in the House of Representatives on the new health care bill (Trump-Ryan Care) by this afternoon. Passage of a bill could serve to place the growth agenda that traders seem to now doubt, back on track. A failure to pass the bill and send it to the Senate, or even to put the bill to a vote, would be a political blow to the president, to the party, and likely be taken poorly by the marketplace. With that in mind, the president, the vice president and many of those legislators worked deep into the night in an attempt to re-shape the new health care reform bill in a way that would satisfy the more conservative side of the party.
The problems are several. First off, many were concerned over the viability of the new bill to remove the ACA's (Obama Care's) requirement that insurance policies cover 10 "essential health benefits" that include expensive items such as mental health services and maternity care that every paying customer might not need. There are many components of the bill that may or may not evolve in an effort to get a bill through the House today. Among them could be the age-based tax credit system, Medicare expansion, and its eventual phasing out. Not to mention that the lack of an overt penalty would leave more folks uninsured.
As traders, the finer points are neither here nor there. We may be health insurance customers when guarding our family's interests, but our primary mission during trading hours will always be a mix of profiting from a developing environment and capital preservation. That preservation sometimes becomes important in a hurry. As I have already stated in my notes earlier this week, I have moved to a slightly less aggressive, if not defensive stance going into this vote. Sitting on this year's sizable gains without taking any action seemed a bit foolish. In other words, I partially rotated out of my financial holdings into what has been beaten up the most in recent weeks.
The Mighty Euro
At one point during yesterday's trade, the euro reached a point that left it up 2.6% vs. the U.S. dollar for the month. Of course, some dollar weakness is due to fears that the president's pro-growth, pro-business agenda will end up on the back burner. Gold, Treasuries and Utility stocks have all also acted in such fashion. That said, is maybe some of this dollar weakness also, in fact, euro strength? The European economy is certainly less awful than it has been in recent years, at least on paper. Suddenly, across the region, unemployment is down, there is some inflation, and there is even some growth.
On top of the improved European macro, the immediate political risk also seems to be abating somewhat. Now, past the elections in the Netherlands, the election in France seems to be winding away from a Marine Le Pen victory. Should that election keep moving in that direction, such risk will be put off into 2018, when Italy votes.
Now, with an improving situation economically and at least from the currency's point of view politically, the ECB will be left in a position to tighten monetary policy while they can. The U.S. dollar reacted way back when the Federal Reserve started talking about tapering their quantitative easing purchases. Now that the ECB goes through their tapering process, similar behavior would not totally surprise. I am sure that purists at the ECB are thrilled to get that expected tapering started next month, and lift guidance for the benchmark minimum bid rate off of the floor. We'll see.
Dreams of Inflation and Full Employment
A research paper prepared by economists at the Federal Reserve's Board of Governors that came to light last night implies that headline inflation should be permitted to run at 3% annually, so that 2% inflation may be achieved and sustained. Oh, if only it were that easy. The Fed Chair herself, who speaks again today after having spoken last week, has made plain that the FOMC would not attempt to stop consumer level inflation at 2%, but possibly only take action if such inflation became "persistent".
Other Fed officials have backed the idea that 2% as a target is not a ceiling. The unfortunate reality is that such projections are made by a Federal Reserve that believes the economy is either at, or approaching "full employment". While the economy no longer feels truly awful, I for one refuse to believe that an economy trudging along near multi-decade lows for labor market participation, production, and running at still elevated levels for under-employment on a personal level could be nearing its true potential. Sometimes you have to cross the moat and talk to the people.
Not to mention that growth, at least according to the Atlanta Fed, is screaming along at an annualized 0.9% this quarter in the wake of that very "robust" 1.9% for the fourth quarter of 2016. It's as if this gang at the Fed doesn't understand why the pro-growth, pro-business agenda is so darned important. They never did understand why the Phillips Curve didn't work out the way it does in Econ 101, even though every kid trading a P/L understood. Don't forget that although year-over-year CPI checked in at 2.7% for February, the comparisons become much tougher starting with April. On top of that, oil seems to have just rolled off a cliff.
Macro
08:30 - Initial Jobless Claims (Weekly):Expecting 240,000, Last Week 241,000. The most tame, most predictable, and ultimately least meaningful slice of labor-related data that we have will not likely attract the attention of the marketplace. Folks are not being laid off in size these days. On top of that, managers don't lay off part-time employees, making this data-point less relevant in the modern labor market environment than it was prior to the ACA, which encourages employers to limit employees to less than 30 hours a week.
08:45 - Fed Speaker:Federal Reserve Chair Janet Yellen is expected to speak from Washington. We just heard from the Chair last week, and I don't know how much she can add to last week's press conference. She obviously feels that the economy is improving, and is on track to raise the fed funds rate two more times in 2017. I think even making those kinds of predictions is foolish, but I am not the Fed Chair.
10:00 - New Home Sales (February):Expecting 559,000, January 555,000 SAAR. This particular item may get even more notice than it normally would after the disappointing print for February existing home sales hit the tape yesterday. The largest slice of the housing pie came in at its weakest levels since September. Though not the largest slice, new homes come with a wide assortment of associated spending in what is known as a multiplier effect, so this item does carry some serious weight economically.
11:00 - Kansas City Fed Manufacturing Index (March):Expecting 14, February 14. After already seeing the New York and Philadelphia manufacturing surveys come in strong in March, Kansas City goes for a seventh consecutive month in a state of headline expansion. In fact, no regional Federal Reserve district manufacturing survey has shown headline contraction since October.
12:30 - Fed Speaker:Minneapolis Fed Pres. Neel Kashkari, who may be the only member of the FOMC willing to speak freely, will speak from Washington. As a dissenter from last week's decision to hike the benchmark interest rate for the third time this cycle, Kashkari has doubts about the pace of improvement seen across the economy. There will be a Q&A session with both the media and the audience at the conclusion of this event.
19:00 - Fed Speaker:Dallas Fed Pres. Robert Kaplan, who does vote this year, will speak on his outlook for the U.S. economy and monetary policy from Chicago. Kaplan is on board with the expected path of interest rate policy, and will take questions from both the audience and the media today.
Sarge's Trading Levels
These are my levels to watch today for where I think that the S&P 500 and the Russell 2000 might either pause or turn.
SPX: 2366, 2358, 2352, 2345, 2337, 2327
RUT: 1263, 1356, 1349, 1342, 1333, 1327
Thursday's Earnings Highlights (Consensus EPS Expectations)
Before the Open: (ACN) - Get Report ($1.30), (CAG) - Get Report ($0.44)
After the Close: (GME) - Get Report ($2.29), (KBH) - Get Report ($0.14), (MU) - Get Report ($0.81)
At the time of publication, Stephen Guilfoyle had no positions in the stocks mentioned.