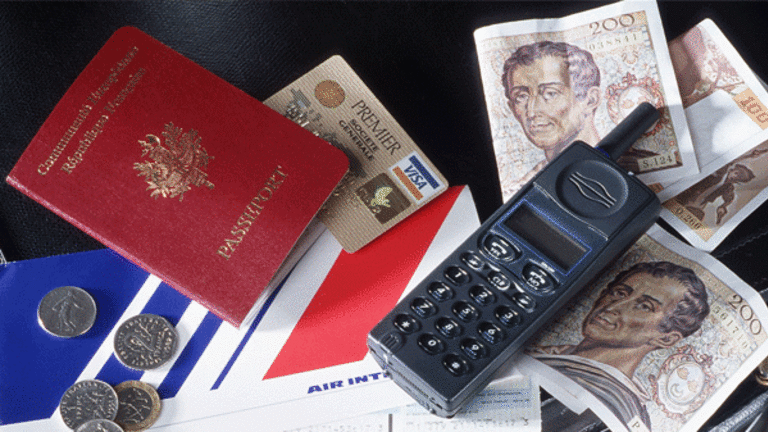 Lower Growth Outlook Hits Euro
The dollar falls against the yen.
The euro hit another all-time high in overnight trading Friday, but quickly gave up all the gains on news that Europe's economy will grow less than previously expected.
One euro would buy $1.4682, down from a record high of $1.475 reached before New York trading began. Late Thursday, the euro was trading at $1.4680.
The European Commission lowered its economic growth forecast for the 13 euro-using countries to 2.2% for 2008, down from 2.5%.
Speculators who had previously sold short the low-yielding yen and had invested the proceeds in the euro, where interest rates are higher, were unwinding their positions in the wake of broader market volatility, explains Marco Spaltro, currency economist at IDEAglobal in London.
The result was relative strength in the yen and weakness in the euro. Over the medium and long term, differentials in paces of economic growth and interest rates tend to drive the values of currencies, Spaltro says.
In other dollar-positive news, the Commerce Department reported a lower-than-expected trade deficit as exports surged because of the low value of the U.S. currency.
Elsewhere in the foreign exchange market, the British pound was slipping. One pound was selling for $2.097, down from $2.1104 a day earlier. The dollar was trading for 110.64 Japanese yen, down from 112.69 yen previously.
One Australian dollar would buy 91.65 U.S. cents, down from 92.71 cents. The Canadian dollar would buy $1.0618 vs. $1.0684 previously.
The exchange-traded funds that track the value of the yen,
CurrencyShares Japanese Yen Trust
(FXY) - Get Invesco CurrencyShares Japanese Yen Trust Report
and the
iPath JPY/USD Exchange Rate
(JYN)
, were up 1.9% and 1.6%, respectively.
The
PowerShares DB G10 Currency Harvest
(DBV) - Get Invesco DB G10 Currency Harvest Fund Report
, which seeks to benefit from interest rate differentials between the world's major currencies, was sliding 1.6% in recent market action.