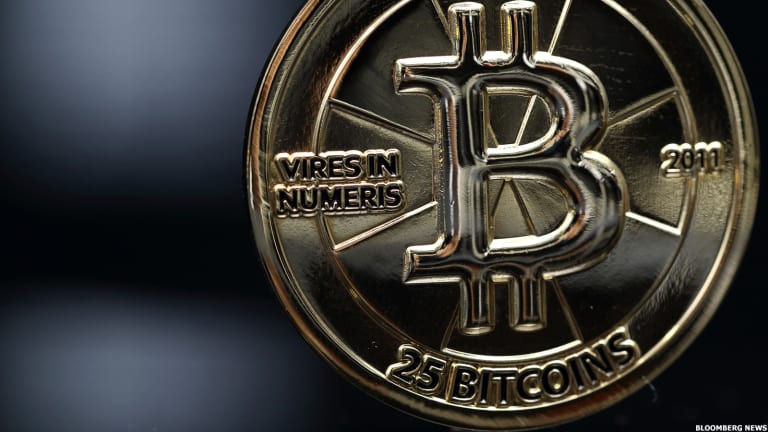 Looking to Invest In Bitcoins? You Should Check This Out!
Here are few ideas for investing in bitcoins other than buying them on an exchange.
The journey of bitcoin so far, has been anything but boring.
The digital currency has undergone extreme price volatility, regulatory scrutiny, cases of theft and the implosion of exchanges.
Today, after more than seven years since the bitcoin network came into being, bitcoin isn't just surviving but thriving. It has fervent critics and fans, though many remain ignorant about the idea of a digital currency.
Concerns about global economic growth and aggressive stimulative monetary policies by central banks -- and their eventual effects on their respective countries' currencies -- have spurred some investors to look at alternative investment options, such as bitcoin and gold. 
Bitcoin is emerging as an asset class and a great way to diversify a portfolio. 
"Bitcoin is the leading currency of the Internet and is very deflationary because of its limited supply of 21 million coins," said Geir Solem, chairman of Cryptor Trust, a think tank and investment group that focuses on bitcoins and related technology. 
"Bitcoin has the potential to disrupt markets like e-commerce, gold, remittance, etc. If Bitcoin takes over one-third of the world's remittance market, the price of the bitcoin would conservatively go to more than $20,000," Solem said.
A bitcoin investment made about a year ago would have risen about 160%, going from slightly more than $240 to about $628 now. Of course, this doesn't guarantee the future price trend, and there may be temporary setbacks along the way, but the fundamentals of bitcoin remain strong.
Here are a few ways investors can gain exposure to bitcoin without mining or buying the currency on an exchange:
1.  Bitcoin Investment Trust (GBTC)
The Bitcoin Investment Trust sponsored by Grayscale is a private, open-ended trust that allows investors to gain exposure to the price movement of bitcoin through a traditional investment vehicle. The investor is free from the challenges of buying, storing and safekeeping bitcoins.
This trust's investment objective is to track the bitcoin market price.
The product has an annual administrative and safekeeping fee of 2% with assets under management of $95.36 million as of Aug. 31. The product requires a minimum investment of $25,000 by accredited investors.
Individuals with an annual income of least $200,000 for the last two years or $300,000 together with spouse or $1 million as net worth, qualify as accredited investors. The condition of being an accredited investor restricts the investor base for the trust.
However, other than accredited investors, it is being added to the portfolio of exchange-traded funds or other investment products.
2. Active ETFs
Last September, the ARK ETF Trust (ARKW)  from ARK Investment Management became the first ETF to invest in bitcoins. It did this by buying shares of Bitcoin Investment Trust.
Nevertheless, ARK ETF Trust's investment in the trust accounts for just 2.7% of its portfolio. The fund has an expense ratio of 0.75% and a weighted average market capitalization of $90 billion. 
3. Bitcoin individual retirement account

Investors who wish to invest in bitcoins for the long-term can consider adding them to their retirement account through a self-directed IRA which offers a tax-efficient, low-cost and easy way to invest in real bitcoins. The mechanism to invest in bitcoins is simple and starts with a minimum investment of $5,000 for a small upfront purchase fee and without annual charges.
An individual needs to open a self-directed IRA and then fund it either through a transfer or rollover. This is followed by the completion of the investor's bitcoin allocation order.
BitcoinIRA gives investors a chance to benefit from bitcoin's long-term potential rise while insulating one's portfolio from conventional capital market-related risks. Investors must note that the rules for a bitcoin IRA are similar to any regular self-directed IRA.
Thus, money can't be withdrawn without penalty until the holder of the account is 59 1/2. Since the launch of BitcoinIRA in June, the inflow of investment has crossed $500,000.
The increasing acceptance and rising user base of bitcoin along with its uncorrelated price movement with the capital markets makes it a good investment option. Investors can allocate a small amount to bitcoins to diversify their portfolios and gain from its evolution.
Although the outlook for bitcoin remains positive, cryptocurrencies are in a nascent stage, and thus a clear direction about their future is hard to predict.
Bitcoin as an investment can be perfectly summed up in the words of Barry Silbert, founder of Bitcoin Investment Trust: "It is pretty much the highest-risk, highest-return investment that you can possibly make."
This article is commentary by an independent contributor. At the time of publication, the author held no positions in the stocks mentioned.