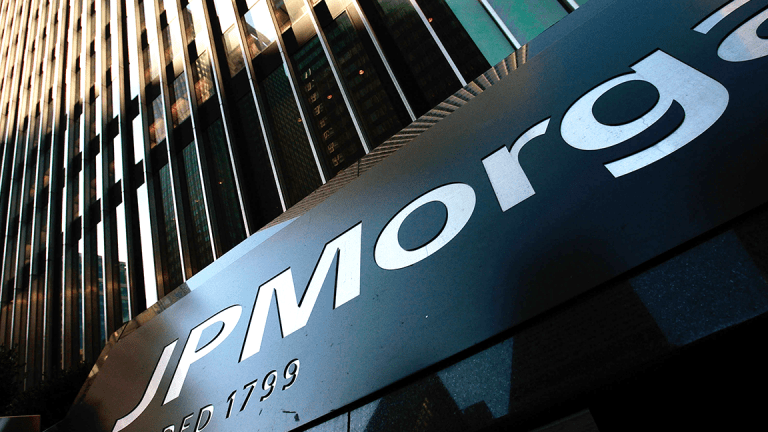 JPMorgan Profit Tumbles on Slump in Bond Trading, Loss of Tax Credits
Big Wall Street bond-trading houses like JPMorgan have been plagued over the past year by a spell of unusually low price swings in fixed-income and commodities markets.
JPMorgan Chase & Co. (JPM) - Get Report , the biggest U.S. bank, said fourth-quarter profit tumbled the most in at least three years, as a prolonged slump in bond trading compounded the impact of big charges stemming from the U.S. tax law passed in December.
Net income fell by 37% to $4.23 billion, the New York-based bank said Friday in a statement. Earnings per share slid to $1.07, or $1.76 excluding one-time gains and charges, the bank said. According to FactSet, the average analyst prediction of analysts was $1.69.
JPMorgan shares rose $1.36, or 1.2%, to $112.16 in Friday morning trading.
Big Wall Street bond-trading houses like JPMorgan have been plagued over the past year by a spell of unusually low price swings in fixed-income and commodities markets, partly explained by the bounty of money pumped into global financial markets over the past decade by the Federal Reserve and other central banks. The fourth-quarter's doldrums contrasted with those in late 2016, when President Donald Trump's surprise election victory sent investors scrambling to reshape their portfolios for the prospect of big tax cuts.
JPMorgan CEO Jamie Dimon has expressed optimism on the global economy while predicting that looser regulations and Trump's tax cuts will spur growth in lending and other banking businesses. Yet fixed-income trading -- in government bonds, corporate bonds, commodities and foreign exchange -- accounts for more than a tenth of the company's total revenue, and it's been mired in a slump.
On a conference call with investors on Friday, JPMorgan CFO Marianne Lake said the bank expects an effective tax rate of 19% in 2018 as a result of the new law, down from 32% in 2017. 
That rate was even lower than the 22% level predicted by analysts at Keefe, Bruyette & Woods, according to a report Friday from the brokerage firm. The difference represents an additional 36 cents a share of earnings, the analysts wrote.  
Mike Mayo, an analyst at Wells Fargo Securities, estimated that the lower rate would save JPMorgan some $4 billion on taxes this year, even assuming no growth to the 2017 level of pre-tax earnings. By itself, that amount represents roughly a 16% automatic benefit to the bottom line. 
Lake, the CFO, said on the conference call that the bank would detail its plans for spending the additional money "down the road" while cautioning that some of the benefits might be "competed away" -- passed on to customers or employees -- since rival banks also will benefit from the tax cuts. 
In the meantime, she said, "We would expect this to be a net positive for capital markets" and be supportive for lending.
The bump doesn't appear to be helping in the short term -- at least in the beleaguered bond-trading business.   
Revenue in JPMorgan's fixed-income division fell 34% in the quarter to $2.22 billion, JPMorgan said.
The business was driven by "continued low volatility" as well as a narrowing in the difference in yields between U.S. Treasuries and corporate bonds, as well as a $259 million charge related to the Tax Cuts and Jobs Act.  
The total results included costs of $2.4 billion, or 69 cents a share, related to the tax bill.
Dimon said that the tax law was a "significant positive outcome for the country" that would make U.S. companies "more competitive globally, which will ultimately benefit all Americans."
"The cumulative effect of retained and reinvested capital in the U.S. will help grow the economy, ultimately growing jobs and wages," Dimon predicted. 
The company said it plans to increase and accelerate some "investments" in employees, customers and communities, he added. 
JPMorgan's consumer-banking revenue climbed by 10% to $12.1 billion, "predominantly driven by higher deposit margins and strong deposit growth," as well as from higher credit-card loan balances and lending margins, the bank said.
Commercial-banking revenue increased by 10% to $2.35 billion, according to the company statement. Revenue in the asset and wealth management division increased 9% to $3.37 billion. 
Total trading revenue was down 22% to $4.43 billion, including results in the fixed-income unit as well as stock-trading proceeds that were flat with the levels from the prior-year period.
Excluding the costs related to the new tax law, net income would have been down 1% to $6.7 billion.    
JPMorgan Chase is a holding in Jim Cramer's Action Alerts PLUS Charitable Trust Portfolio. Want to be alerted before Cramer buys or sells the stock? Learn more now.
More of What's Trending on TheStreet: