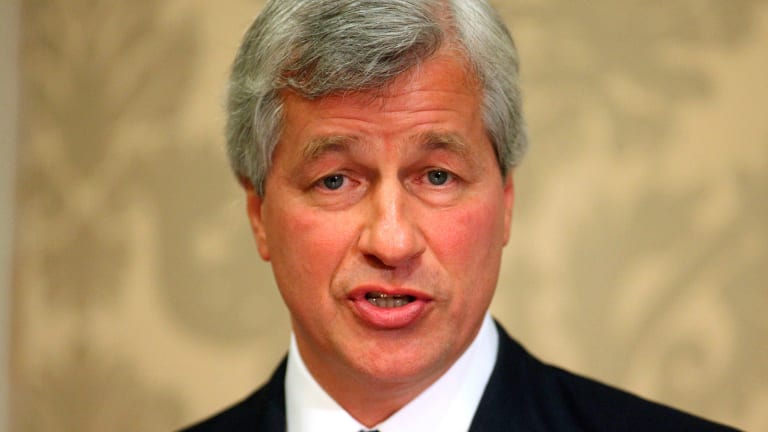 Publish date:
JPMorgan CEO's Plan to Stay Five Years Shows He's Up for Another Crisis
Under JPMorgan CEO Jamie Dimon's own formula, a financial crisis happens every five to seven years. It's now been a decade since the last crisis.
Under JPMorgan CEO Jamie Dimon's own formula, a financial crisis happens every five to seven years. It's now been a decade since the last crisis.
Money and power. They're hard to give up.
That appears to be the case for JPMorgan Chase & Co. (JPM) - Get JPMorgan Chase & Co. (JPM) Report Chairman and CEO Jamie Dimon, 61, who has headed the largest U.S. bank for a dozen years, the longest tenure among sitting Wall Street chiefs. On Monday, he said in a statement that he and the board of directors have agreed he'll stick around for another five years - a stint that would earn him almost $150 million at his current pay level.
As part of the disclosure he named Daniel Pinto, 55, head of New York-based JPMorgan's corporate and investment bank, and Gordon Smith, 59, head of consumer banking, as co-presidents and his top deputies. The announcement was cast in the light of "management succession planning," but in practical terms it may mean little given Dimon's plan to stay for another five years.
Some executives who previously were presumed to be in the running to succeed Dimon ultimately departed, including Jes Staley, now CEO of the London-based bank Barclays Plc (BCS) - Get Barclays PLC Sponsored ADR Report ; Bill Winters, now CEO of Standard Chartered Plc (SCBFF) , another London-based bank; and Charlie Scharf, who previously served as CEO of San Francisco-based Visa Inc. (V) - Get Visa Inc. Class A Report Matt Zames, the most recent vintage of Dimon's heir apparent, departed JPMorgan last year, reportedly to pursue a top job elsewhere.
In Monday's statement, JPMorgan noted that "other outstanding" leaders at the bank include Mary Erdoes, 50, head of asset management; Doug Petno, 52, head of the commercial bank; and Marianne Lake, 48, chief financial officer. 
"Management succession planning is the highest priority of the firm's board of directors, and the board knows the firm's senior leaders well through unfettered access and significant interaction," according to the statement. "The board and Dimon both believe that under all timing scenarios, whether today or in the future, the company has several highly capable successors in place."
For now, the main scenario that matters is Dimon's plan to stick around. After all, a lot can happen in five years on Wall Street.
The son of a stockbroker, Dimon famously served as protégé to Citigroup Inc. (C) - Get Citigroup Inc. Report co-founder Sandy Weill before the pair had a falling out in the late 1990s. Since then Dimon has established himself as the dean of Wall Street, underscored by his status as the highest-paid banker among his peers. Last year, he got a raise in total compensation of 5.3% to $29.5 million, even as average pay for JPMorgan's roughly 250,000 workers stayed flat.
Dimon's declaration that he'll remain at the helm well into 2020s shows that, at least from his perspective, the rewards of the job, in pay and prestige, are worth the risks to his wealth and reputation.
After his abrupt departure from Citigroup in 1998, he took a job as CEO of Bank One in 2000. Four years later he sold Bank One to JPMorgan. And rather than parachuting out of the industry with a big compensation package, as executives often do, he chose instead to secure a spot as the heir apparent to then-JPMorgan CEO Bill Harrison. Dimon was named CEO the following year.
The financial crisis hit in 2008, and by many accounts JPMorgan fared the best among the Wall Street giants. Dimon led acquisitions of Bear Stearns, as the brokerage firm collapsed, and Washington Mutual, a big thrift. That said, JPMorgan, like its peers, had to take a multibillion bailout from the U.S. Treasury Department, along with tens of billions of dollars more in emergency loans from the Federal Reserve.
At least five Wall Street CEOs lost their jobs amid the crisis, so Dimon was riding high afterward as a survivor - that is, until 2012, when reports surfaced in Bloomberg News and later the Wall Street Journal that a single trader at the bank was placing massive bets on derivatives linked to corporate bonds. Dimon initially dismissed the matter as a "tempest in a teapot," only to later schedule an impromptu conference call in May 2012 to announce a multibillion-dollar loss on the trades, known as the "London Whale" scandal.
It turned out that Dimon himself had authorized the hedging strategy that led to the losses.
In 2014, Dimon was diagnosed with throat cancer and underwent treatment. He recovered. 
Last year, he slammed bitcoin as a "fraud," only to temper his comments as the exchanges CME Group Inc. and Cboe Global Markets Inc. won approval from U.S. regulators to offer trading in bitcoin futures.
Just last week, he announced a plan to spend or invest $20 billion over the next five years in such things as higher employee wages, charitable contributions and increased lending in low-income communities. The amount was, perhaps not coincidentally, roughly the amount JPMorgan expects to save on taxes following the recently enacted cuts in the U.S. corporate rate to 21% from 35%.
So what's next for Dimon? It's likely to involve another financial crisis, based on Dimon's own formula.
Testifying before lawmakers in Washington in 2010, Dimon said that his daughter once asked him what a financial crisis was. "Well, it's something that happens every five to seven years," Dimon said he replied.
It's now been a decade since the last financial crisis, and many commentators say a big market correction could come later in 2018.
So the clock is ticking. Dimon knows this. Thus, in signing up for another five years, he's signaling he's up for the challenge. It's a chance to shore up his legacy in textbooks on the history of finance. Oh, and make another $150 million.
Jim Cramer and the AAP team hold positions in JPMorgan Chase and Citigroup for their Action Alerts PLUS Charitable Trust Portfolio. Want to be alerted before Cramer buys or sells JPM or C? Learn more now.
More of What's Trending on TheStreet: