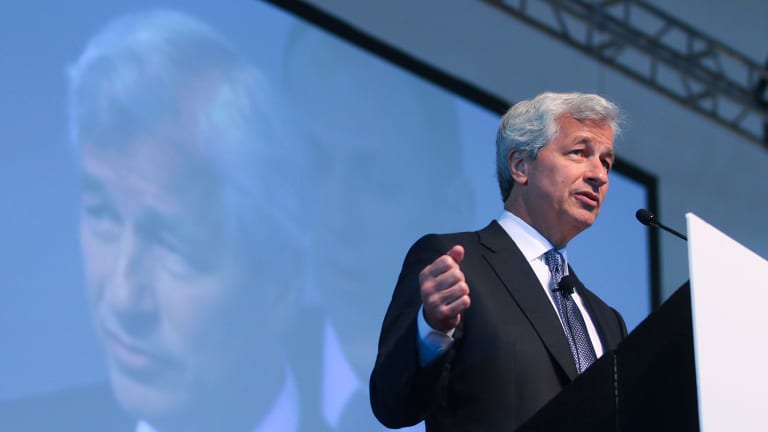 For JPMorgan's Dimon, It's a Waste Not to Spend the Tax Windfall
JPMorgan and rivals in the banking industry are drooling over the billions of dollars they'll save on taxes this year. But whereas rivals like Bank of America and Citigroup want to give a lot of the money back to shareholders, JPMorgan's CEO wants to spend the bank's extra cash or use it to make new loans.
Two banks are in line to reap billions of dollars of savings on taxes due to a new law. One bank plans to spend the money. The other will hand over most of the windfall to shareholders.
Which stock is likely to outperform?
It's an easy choice, according to Vertical Group analyst Dick Bove, a five-decade Wall Street veteran: the bank that plans to spend it.
As U.S. banks salivate over this year's cut in official U.S. corporate tax rates, following President Donald Trump's signing of the new law in December, JPMorgan Chase & Co. (JPM) - Get Report CEO Jamie Dimon said this week he plans to spend $20 billion over five years to raise wages for employees, lend more in low-income communities and increase philanthropic donations. He also wants to open 400 branches in new markets where the bank doesn't currently operate, including big cities like Washington, Boston and Philadelphia.
By contrast, Bank of America Corp. (BAC) - Get Report CEO Brian Moynihan says he'll channel most of the extra tax savings directly to investors via higher stock dividends and share repurchases. While Moynihan may make "modest" investments to accelerate growth or other improvements, he says the bank has been investing in its franchise at an adequate level for years. Shareholders, meanwhile, have waited patiently as the bank implemented a turnaround plan following a multibillion-dollar U.S. taxpayer bailout during the financial crisis of 2008. So why shouldn't they have the first call on all that extra profit?
The problem with the reasoning, in Bove's opinion, is that the bank is signaling to shareholders it doesn't know what to do with a few billion dollars of extra money.
Think of it like this, says the analyst: Money is the raw material of a bank. When banks have money, they can generate profits - by lending the money out, buying trading assets, guaranteeing import-export payments or even underwriting stock and debt sales for companies. Returning a lot of money to shareholders might make sense for an industrial company with limited growth options; but according to Bove, it doesn't make sense for a bank, which by its very definition should be able to make money from, well, money.
The analogy would be if Exxon Mobil Corp. (XOM) - Get Report decided to give some of its oil reserves - crude that's hundreds or thousands of feet below ground - to its shareholders. The implication would be that executives believed shareholders could deploy the reserves more profitably than Exxon's vast corps of petroleum engineers and drilling experts.
It's not a random theory; Bove has done his own number-crunching to show that stock buybacks don't really boost a bank's share price over the long term. It makes even less sense now, following a steep rally in bank stocks over the past year. If the economy sours, banks might have to raise more capital to meet regulatory requirements - by selling new shares.
"Banking is a highly cyclical industry so that it is quite likely that if management buys back stock in good times it will resell this stock in bad times at 25 cents on the dollar," Bove wrote in a report back in October 2016.
Many bank analysts subscribe to the idea that stock buybacks are a quick and easy way to enrich investors. The assumption is that by reducing the number of shares outstanding, earnings per share will instantly increase. But it doesn't really work in the case of banks, because they are essentially giving up the capital they need to invest for future growth, Bove says.
"When this fad dies, just as all fads in banking eventually die, it will be seen that all these people spending the money to buy back their stock have been grievously harming their shareholders," Bove said in a phone interview this week.
JPMorgan is expected to save almost $4 billion a year due to the tax cuts, even assuming zero growth in pre-tax profit from 2017 levels. That works out to about $20 billion over five years. The bank's effective tax rate will drop to an estimated 19% in 2018, from 32% last year. 
That $20 billion of savings is - perhaps not coincidentally - on par with the amount the company's planned additional spending and investments over the next five years. 
The extra spending "may very well bite into some of that" tax savings, Dimon told investors on a Jan. 12 conference call. "So be it. That's what's we're supposed to do. We're a bank. We're supposed to help support and grow communities. And it will enhance our growth in the future, too, by the way. So this isn't like a giveaway." 
It's possible that JPMorgan was planning to make those investments already, analysts at the brokerage firm Keefe, Bruyette & Woods wrote Tuesday in a report. Some $15 billion of the $20 billion of planned outlays will be in the form of loans, the analysts wrote. In other words, theoretically that money that should come back, with interest.  
The remaining $5 billion "expense component" could be "neutral to modestly negative depending on the timing of expense and loan-origination assumptions, the analysts wrote.
"JPM will not be giving all the tax benefit to shareholders," the KBW analysts wrote. 
To Bove, however, JPMorgan's spending plan looks pretty straightforward.
New branches, plausibly anachronistic in an era where increasing numbers of customers are banking online or via mobile phones, still make sense to Bove. For example, in Hillsborough County, Florida, where Bove lives and works (near Tampa Bay), JPMorgan had 25 branches with a combined $1.4 billion of deposits as of June 30, up from two branches and $9.5 million of deposits a decade earlier, according to the Federal Deposit Insurance Corp.
"In the beginning there were no cars outside these branches, and now all the parking lots are full," Bove said. "Even though a large portion of the population wants to operate without going into a branch, there's just as large a population that wants to go in and talk with someone face-to-face."
What about the philanthropic investments? It's essentially good marketing, Bove says.
"If everywhere you go, you see JPMorgan people involved in the Little League, they spread goodwill," according to the analyst. "The philanthropy puts them in contact with people in a very positive environment, which is good for the business of the bank."
It's important to note that JPMorgan's Dimon isn't doing the job out of the kindness of his heart. Last week, the bank disclosed that Dimon, who also serves as chairman of the board of directors, got a 5.3% raise last year in total compensation to $29.5 million, even as the company's workforce on average got no pay increase.
Rival big banks Citigroup Inc. (C) - Get Report and Wells Fargo & Co. (WFC) - Get Report have yet to detail their plans for the tax savings.
Citigroup CEO Michael Corbat told investors on a conference call last week that his New York-based bank wants to use some of its extra capital to increase share buybacks.
Wells Fargo CEO Tim Sloan has said the San Francisco-based bank plans to increase philanthropic donations by roughly 40% in 2018 to $400 million, and in March 2018 the minimum hourly rate for employees will increase to $15 from $13.50. CFO John Shrewsberry added that while the bank plans to make more loans if customers want them, rising profits "should lead to attempting to return more of that to shareholders."
Bove says he's a big fan of Moynihan's at Bank of America, due to the CEO's unwavering focus on upgrading the company's in-house technology and computer systems. The bank has successfully pushed many of its customers to do more of their transactions online.
There's also this: The Motley Fool, an investing website, reported on Jan. 21 that Bank of America holds 43 U.S. patents pertaining to blockchain, the computer-programming technology underpinning so-called cryptocurrencies like bitcoin. That's the most of any company - more than payment specialists like MasterCard or computer companies like IBM.
Moynihan told shareholders on a conference call last week that the bank is constantly investing in things like technology and new branches - as well as wage increases. In recent years the company has opened new locations in Denver and Minneapolis, and it plans to expand in Pittsburgh, Indianapolis, Cincinnati and Salt Lake City, according to a bank spokesman. New technology investments will go to "continued electronification" of the company's stock- and bond-trading operations.
Most of the extra profit due to lower taxes likely will be given back to shareholders, Moynihan said. The bank's adjusted effective tax rate will drop to about 20% this year, from 29% in 2017. That works out to about $2.629 billion of savings, based on 2017's level of pre-tax earnings.
"The vast majority of any increased after-tax cash flow would go to the shareholders," Moynihan said on the conference call.
To be fair, Bank of America's stock price has outperformed peers lately, with a 40% return over the past 12 months, versus 36% for JPMorgan's.
That said, according to Bove, Moynihan's plan to funnel the bank's tax savings to investors is a serious miscalculation.
"He's deep into the fad," Bove said. "His position here is outrageously incorrect."