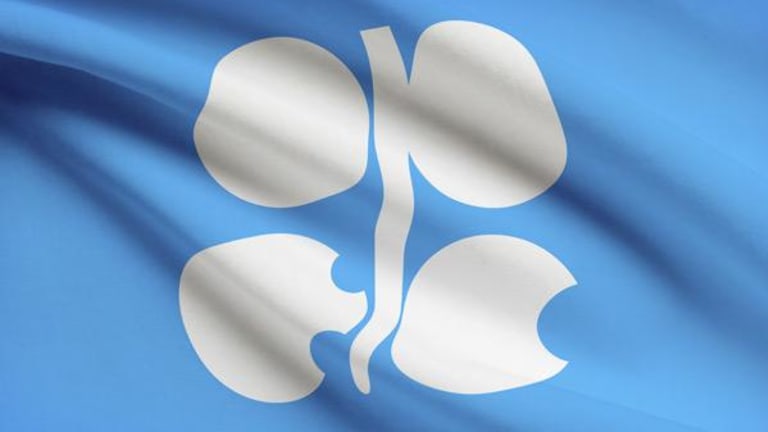 Is the Pound Sterling a Sell in the Run-up to OPEC Deal?
Dump the Quid, buy the Loonie is touted as a defensive strategy by some in the event OPEC gets its oil production cut.
Dump the Quid, buy the Loonie is touted as a defensive strategy by some in the event OPEC gets its oil production cut.
Forex volatility is on tap this week in the run-up to OPEC's attempt to agree on cartel-wide production cuts. If OPEC's 14-member cartel reach an accord, the Canadian Dollar could go on a run and, according to the Royal Bank of Canada's currency strategist Elsa Lignos, become a flight-to-safety destination for pound sterling investors. If OPEC can agree to pump less, those bets likely are off.
The pound sterling opened at 1.2418 against the U.S. Dollar for December contracts, reaching a high of 1.2495 by midday and a low of 1.2422 on the CME Globex. The Canadian dollar opened 0.74625 against the Yankee Buck, down 0.0025 for December contracts, hitting a high of 0.74635 and a low of 0.74190.
In recent weeks, attention has been drawn to the USD/EUR pair as the Euro fights to avoid parity with the surging Greenback.
Most observers believe an OPEC deal is anything but done. "Oil-producing nations have pledged to cut production but investors have very little confidence that a substantial deal will be reached by a cartel that is known to backpedal on its promises," said Kathy Lien managing director of forex strategy at BK Asset Management.
Critics contend that OPEC can't effectively enforce production benchmarks and tensions between Saudi Arabia and Iran could kill the deal.
RBC's Lignos called last week's autumn statement "disappointing" for the pound sterling. Negligible new fiscal easing and a spike in borrowing point to lower growth projections, she said. The autumn statement is a pre-budget report by Her Majesty's Treasury to Parliament.
The U.K. Chancellor of the Exchequer Phillip Hammond had a rosier scenario, touting an increase in high value government investments, specifically infrastructure--shades of a Trump administration--and innovation. He told Brit MPs last week that "raising productivity is essential for the high wage, high skill economy that will deliver higher living standards for working people." He also said that the Brit vote will force the May government to borrow 1229 billion pounds more than planned and delay the government's attempt to balance the books.
RBC's Lignos's expectation was for higher U.K. inflation in 2017, a view not universally shared. "Most British consumers have so far remained surprisingly insulated from the inflationary winds whipped up by the weak pound, said David Lamb, head of dealing at FEXCO Corporate Payments. "As CPI slips further away from the Bank of England's 2% target, the chances of an inflation-checking interest rate rise this year have moved from remote to non-existent."
"With no imminent need to rein in inflation," Lamb added, "the Bank's rate-setting grandees will have no appetite to pull the interest rate trigger until well into 2017."