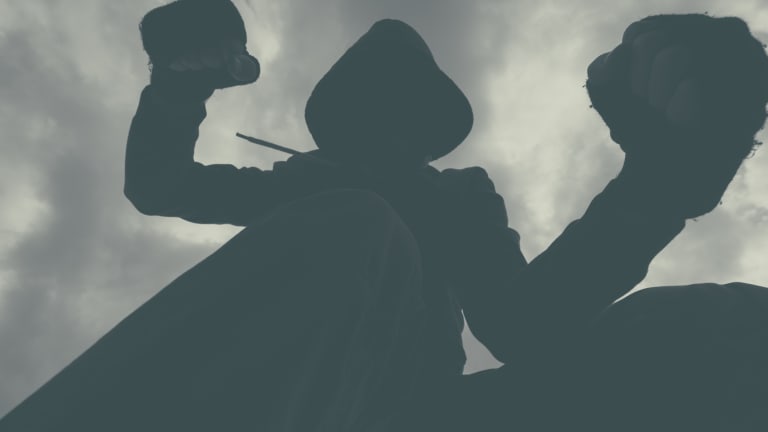 "Don't talk to me about aesthetics or tradition. Talk to me about what sells and what's good right now. And what the American people like is to think the underdog still has a chance." -- George Steinbrenner
Not Today, Tough Guy
The most exciting story in business news right now has to be the ongoing battle between Amazon (AMZN) - Get Amazon.com, Inc. Report and Walmart (WMT) - Get Walmart Inc. Report . The latest chapter of which, the news that Walmart would team up to a degree with Action Alerts PLUS charity portfolio Alphabet (GOOGL) - Get Alphabet Inc. Class A Report to enter the world of voice-controlled retail sales, just gives me chills. This news broke while Whole Food (WFM) shareholders were preparing to approve the sale of their firm to Amazon in this story that just keeps developing.
For one, I love a good fight. Yankees/Dodgers, Frazier/Ali, Army/Navy ... Enter AMZN/WMT. I don't know about you, but I am long AMZN, long WMT, and long GOOGL. Know what? I hedge my bets, but I am rooting for WMT in this fight. It's hard not to root for the kid who stands his ground when the bully gets around to him, and says "Not today, tough guy".
For some background, we have all witnessed the near death of retail, which seems to have centered precisely on your local shopping mall. Stand-alone stores not dependent upon a trip to that mall do appear to have fared better. So have large scale discounters. Speaking of scale, there's also the power that a national powerhouse like Walmart can bring with suppliers, not just in terms of pricing, but also in terms of turning them against the competition.
At this point, we are all familiar with WMT's $3.3 billion purchase of Jet.com last years, and the multiple other internet-based businesses that Walmart has acquired in order to extend the definition of what might have been considered to be their typical target customer. Then there's Store Number 8, which is a whole new ballgame built for the experimentation in, and the incubation of, new concepts in retail. Simply, as would be wise when facing down Banastre Tarleton's dragoons, there will be no quarter asked for, because none will be offered.
As Walmart tries to attack Amazons' dominance in e-commerce, Amazon attacks Walmart's dominance in groceries with this Whole Foods takeover. It did not take Walmart very long to respond by testing the delivery of groceries through Uber. Gang war.
I'll Have More of That
For retailers, e-commerce is where it's at these days. Growth there matters more within an earnings release than do same-store sales these days. Voice-activated ordering is currently just a tiny fraction of the overall e-commerce picture, but it is growing and is considered to be the future. This is particularly true for household staples that one needs to keep in supply throughout the course of one's lifetime. Think toothpaste, toilet paper, laundry detergent. Your audio assistant, a space where Amazon has taken on early dominance, knows what brands you like, and how fast you go through your household supply thanks to artificial intelligence. (By the way, AI is why I remain long Nvidia (NVDA) - Get NVIDIA Corporation Report , and simply adore that stock. That, however, is not part of this story.)s
Amazon reports that more than half of Echo users have made their first voice-activated purchase, and three in 10 now order something almost weekly. Think about that potential. Now, Google and Walmart join forces to compete effectively. WMT will join Google Express, Google's online shopping marketplace, and enable voice-activated purchases through that virtual assistant, which can be found both in smartphones and in devices that sit in the home.
We may be a long way from home here, but think of an eventual internet powerhouse that can compete with the likes of Amazon on its own turf, with an already established national brick- and-mortar presence that comes with a huge and loyal customer base. Can Amazon compete with that? Did you ever think you'd hear a trader wonder if Amazon could compete? Not sure, but does this put a business such as Target (TGT) - Get Target Corporation Report in play? I may be wrong, but the only way I see to play this is to be long all sides. If I do decide to take a profit anytime soon on any of my longs that I mentioned here, it will not be WMT, GOOGL, or NVDA.
Jackson Hole
The Kansas City Fed's annual economic symposium at Jackson Hole, Wyoming is upon us. The theme this year is running with the title "Fostering a Dynamic Global Economy". For a little history, this annual shindig's origins begin in 1978, a time when disco was in full swing, and moved to Jackson Hole on a permanent basis in 1982. By then, disco was dead.
Anything you hear today will likely be considered inconsequential, and possibly ignored by the marketplace. The main event, or should I say main events, are scheduled for tomorrow. That's when both Federal Reserve Chair Janet Yellen and European Central Bank President Mario Draghi will make their respective presentations. Few expect to see any change in policy direction to be telegraphed by either of these key central bankers.
The Fed, already several miles ahead of the rest of the planet on the path to some kind of policy normalization, is clearly focused on the September meeting when it is expected that there will be a solid statement on the implementation of a balance sheet management program. The ECB, on the other hand, appears to be sitting on the most robust economy seen on that side of the Atlantic Ocean in many years, and is now going to be forced to deal with the removal of some accommodation at some point. For now, the ECB continues to devour assets to the tune of €60 billion ($70.7 billion) a month while keeping interest rates pinned to ultra-low levels.
Both will walk the tightrope. Yellen will try not to sound too dovish, even if she expects the trajectory of increases for the fed funds rate to flat-line for the rest of the year. This would drive yields lower. She does not need more of that. Draghi has the opposite problem. Sound a bit too hawkish, and poof! You'll have yourself another mini-taper tantrum. The game won't be easy to play, and will be most visible in the debt and currency markets before equity traders ever see it coming.
Lions, Tigers, ... Bears?
It was a bit difficult to overlook the performance of the Dow Transports on Wednesday. That slice of the industrial sector badly underperformed the broader marketplace. With the S&P 500 sliding 0.35%, the DJTA surrendered a bruising 1.25%. This leaves that index up less than half of one percent for the year, which, by the way, is even worse than the small-cap Russell 2000. The rails fared poorly, thanks to the president's talk of scrapping NAFTA, and shutting down the government on Tuesday night. (By the way, the day we scrap NAFTA, or the day when that threat is greatest is when you probably do want to buy the rails.)
The airlines, though ... whoa. The airlines took a beating for the ages. Not only have the domestic carriers lost control over pricing to some degree, but the news that Iceland-based WOW Air would start servicing routes between the U.S. Midwest and Europe next year did not sit well. On top of this, concerns are not fading away that terrorism in Europe will erode tourism in Europe. Best trade I've made recently was dumping my Delta (DAL) - Get Delta Air Lines, Inc. Report long back in July. The worst? Probably hanging on to Southwest (LUV) - Get Southwest Airlines Co. Report . Didn't expect to have to manage risk this summer for this one. Makes life interesting though, doesn't it? Rock on.
Meanwhile, someone won Powerball. 
Macro
08:30 - Initial Jobless Claims (Weekly):Expecting 237,000, Last Week 232,000. I want to tell you that this data-point matters. I really, really do. It simply does not, at least not when measured in market impact. The four-week moving average now stands at 240,500, which is actually above the high end of a consensus range that spans all of 6000. You read that right. Six thousand. Nobody I see is below 234,000, nor above 240,000 for this item today. Next.
10:00 - Existing Home Sales (July):Expecting 5.56 million, June 5.52 million SAAR. Coming off of yesterday's odd new home sales release that included both what looks like a severe disappointment for July and a significantly higher revision to June, we slid into the largest slice of the housing pie. This series, with just a couple of surprises, has been running sideways for two years. That is not likely to change today, but given the quirkiness of yesterday's numbers, there will be some focus on these. Don't forget that while both new and existing home sales are seasonally adjusted and then annualized, they are drawn from different sources. This data-point is put to the tape by the National Association of Realtors, while Wednesday's show was run by the U.S. Census Bureau.
10:30 - Natural Gas Inventories (Weekly):Expecting +28 billion, Last Week +53 billion cubic feet. Nat Gas is trading higher than it was at this time last week. That said, this commodity has not been able to hold the $3 level since the spring, despite a U.S. currency that has weakened over that time. One reason could be the 20, going on 21 consecutive weekly builds in this space. I have noticed that my expectation is on the low side today, meaning you could see an upside surprise today.
11:00 - Kansas City Fed Manufacturing Index (August):July 10. Kansas City has printed in headline expansion for 11 consecutive months, meaning that if KC can put one through the hoop today, they'll complete a year in a state of constantly expanding manufacturing. That's actually quite impressive. Among regional Federal Reserve district manufacturing surveys, only Philadelphia has a longer winning streak. That streak reached 13, with last week's report.
Sarge's Trading Levels
These are my levels to watch today for where I think that the S&P 500, and the Russell 2000 might either pause or turn.
SPX: 2463, 2456, 2448, 2440, 2431, 2420
RUT: 1391, 1385, 1376, 1369, 1362, 1352
Today's Earnings Highlights (Consensus EPS Expectations)
Before the Open: (ANF) - Get Abercrombie & Fitch Co. Class A Report (-$0.33), (BURL) - Get Burlington Stores, Inc. Report ($0.51), (CM) - Get Canadian Imperial Bank of Commerce Report ($2.66), (DLTR) - Get Dollar Tree, Inc. Report ($0.87), (HRL) - Get Hormel Foods Corporation (HRL) Report ($0.37), (SJM) - Get J.M. Smucker Company (SJM) Report ($1.63), (MIK) - Get Michaels Companies Inc Report ($0.16), (SHLD) (-$2.48), (SIG) - Get Signet Jewelers Limited Report ($1.09), (SPLS) ($0.12), (TIF) - Get Tiffany & Co. Report ($0.86), (TTC) - Get Toro Company Report ($0.58)
After the Close: (AVGO) - Get Broadcom Inc. Report ($4.03), (GME) - Get GameStop Corp. Class A Report ($0.15), (ULTA) - Get Ulta Beauty Inc Report ($1.78), (VMW) - Get VMware, Inc. Class A Report ($1.15)
Get Morning Recon delivered directly to your inbox each market day. Click here to sign up for e-mail delivery of Stephen "Sarge" Guilfoyle's Morning Recon, Jim Cramer's Daily Booyah! or other great free newsletters from TheStreet.
Don't miss these top stories on TheStreet:
At the time of publication, Stephen Guilfoyle was long AMZN, GOOGL, LUV, NVDA, WMT although positions may change at any time.