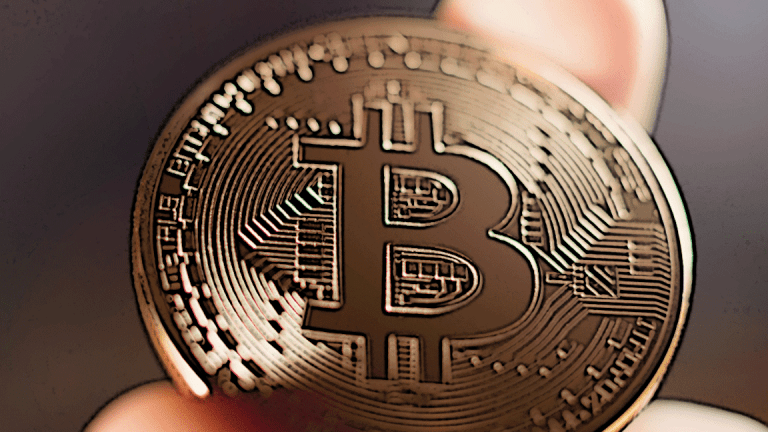 In Rapidly Changing World of Cryptocurrencies, There's a New Contender
AML Bitcoin is the latest development among rapidly changing cryptocurrencies.
The following was sent to Trifecta Stocks subscribers at 11:56 a.m. ET today.Click here to learn about this dynamic portfolio and market information service.

There has been much discussion on the topic of cryptocurrencies so far this year. Expect the conversation to accelerate with the deployment of a new version of digital currency that may provide a safer and more commonly accepted version of the block chain technology. A new coin slated to launch later this week in Hong Kong called AML Bitcoin is aiming to mainstream what has been considered a Wild West-like market for this payment method for goods and services. 
It is quite possible this new coin could disrupt the disruptors. Cryptocurrencies have revolutionized the way people pay and this new coin may take cryptocurrencies into the mainstream so one can buy a variety of goods, ranging from a home to a car or even a cup of coffee at Starbucks (SBUX) - Get Free Report . If efforts under way in Congress regarding coin-friendly legislation succeed, we could see this disruptive payment technology become a currency of choice at financial institutions alongside the dollar. 
So what's with all the controversy and conversation over these coins? 
When it comes to the many flavors of cryptocurrencies, the hullaballoo is understandable given that this disruptive digital format lacks middlemen as well as transaction fees and offers anonymity. Those features have garnered many a headline over its use by terrorists and other nefarious organizations, but it is also accepted by Overstock.com (OSTK) - Get Free Report , Expedia (EXPE) - Get Free Report , DISH Network (DISH) - Get Free Report , Microsoft (MSFT) - Get Free Report , Intuit (INTU) - Get Free Report and even PayPal (PYPL) - Get Free Report . That's just scratching the surface for back in November 2013, Shopify (SHOP) - Get Free Report merchants received the option to accept bitcoin payments with the help of bitcoin service provider BitPay, which has apps on both the Apple (AAPL) - Get Free Report App Store and Alphabet's (GOOGL) - Get Free Report Google Play. 
Why would retailers adopt bitcoin given the number of other different payment modalities that already exist? The answer is not as surprising as one might think when viewed from a company's perspective -- it tends to be about cost savings. That was the perspective offered by Overstock CEO Patrick Byrne when he said: 
"What people are realizing about block chain is that you can take out about 90% of the back-office costs of all kinds of mechanisms and banks and stock markets and such. That's why Overstock has been sort of pioneering the application of block chain to Wall Street. You cannot only take out the cost, but you can also create a version of Wall Street where no one can cheat." 
That growing acceptance has fueled a rocket-ship-like ride for bitcoin's value over the last five years, and the same can be said in shares of Bitcoin Investment Trust (GBTC) - Get Free Report . This recently prompted JPMorgan Chase (JPM) - Get Free Report CEO Jamie Dimon to double down on his negative view of the digital currency by calling it a "novelty" and "worth nothing." Dimon's criticism is not new; in November 2015 he shared his view that bitcoin would not survive at a time when the digital currency was around $400. Instead, it's done nothing but surge as more retailers have embraced it, pushing its value near $5,000 in early September. More recently, the coin has slipped in value, likely due in part to Dimon's comments, but it remains well above the $4,000 level. 
Investors have seen enthusiasm for disruptive technologies in the past, and at times the companies bringing them to market can see their share prices get overheated from time to time based on thoughts of "what could be." For those not around during the internet bubble, some stock valuations were justified not based on P/E multiples or other firm financial metrics, but rather on "eyeballs." Of course, eyeballs were really financial jargon for customers, but as many an investor learned, just because a company has a customer at some point doesn't mean that customer will spend consistently with that company. I may have once shopped at the Gap (GPS) - Get Free Report , but I no longer do -- am I still a Gap customer? Not in my eyes, but the eyeball metric may indicate otherwise. 
Here's the thing: As these disruptive technologies evolve and improve, new features tend to emerge that foster their adoption. We're seeing that today with organic light-emitting diode displays that are replacing LCD-backed displays that are backed by light-emitting diodes in TVs and, increasingly, smartphones. As we've discussed, the adoption by Apple signals a likely tipping point is at hand for the adoption of OLED displays. 
The pattern of disruptive technologies shows us time and time again that, as they tend to gain acceptance, there is a flood of would-be contenders looking to pile on and make hay. In the case of digital coins following bitcoin's growing acceptance, we've seen the arrival of TulipToken, BananaCoin and even Jesus Coin, among others. So, on one hand, it does seem that bubble-like qualities have emerged. On the other hand, much like the internet, which is now seeing the arrival of Web 3.0 (widely referred to as collective intelligence) following the Web 2.0 days that emerged after the dot-com crash, this growing competitive landscape is forcing companies to bring new features to the coin in order to differentiate themselves and drive not only adoption, but market share gains. 
Looking at bitcoin, one of the biggest criticisms has been the rise of "pseudo-anonymous cryptocurrencies such as bitcoin, capable of obscuring the identities of those transacting, and efficiently and verifiably funneling finances around the world." According to a report by Foreign Affairs, however, "the use of digital currencies among terrorists is not widespread -- yet." 
That concern is a pain point to adoption, in part because of the possibility that governments might use regulatory pressure to crack down on cryptocurrencies. Past the use by early adopters, are Joe and Jane Normal likely to use cryptocurrencies that may not be around one day? How would they get cash out? It's like having a chip from a casino that went out of business -- a nice reminder, but hard to exchange into dollars or some other currency. That perspective is understandable as a number of nations -- including India, Sweden, Thailand, Ukraine, Bolivia and Ecuador -- have or are in the process of banning the old bitcoin. 
Pain points, however, tend to give birth to solutions, and in the case of bitcoin one such solution could be from AML Bitcoin. What separates it from the growing pack of other coins is it's compliant with U.S. banking laws, and is powered by patent-pending anti-money-laundering and know-your-customer algorithms that prevent terrorists, criminals and rogue nations from using its digital currency. As one might suspect, its very name -- AML Bitcoin -- refers to its anti-money-laundering properties. This has prompted ports in the United States and Latin America, as well as banks and various governments, to contemplate deploying AML Bitcoin in their payment systems. Even various members of Congress are "working on legislation that would provide protections to currencies if they meet certain minimum conditions on preventing the currencies from being used by terrorists, drug traffickers, and others engaged in unlawful business practices." One of the coins being considered is AML Bitcoin. 
With any new product, newly public stock or digital currency, investors need to be mindful of not only the potential upside to be had but the downside risk as well. We even saw Facebook (FB) - Get Free Report shares struggle soon after going public until the company was able to really figure out its mobile strategy. (Starbucks, Apple, Alphabet and Facebook are part of TheStreet's Action Alerts PLUS portfolio.) 
As the landscape of the digital currency world shifts, and if AML Bitcoin is accepted by governments and in the mainstream economy, it could be a leader in what may one day be called "bitcoin 2.0." For investors, especially those whose investment strategy includes currencies, AML Bitcoin is, at a minimum, worth watching. As they do, they may wish to consider the implications on Bitcoin Investment Trust shares and others tied to older digital coins.
This column originally appeared Friday on Real Money, our premium site for active traders. Click here to get great columns like this from Bruce Kamich, Jim Cramer and other writers even earlier in the trading day.
At the time of publication, Versace had no positions in the stocks mentioned.