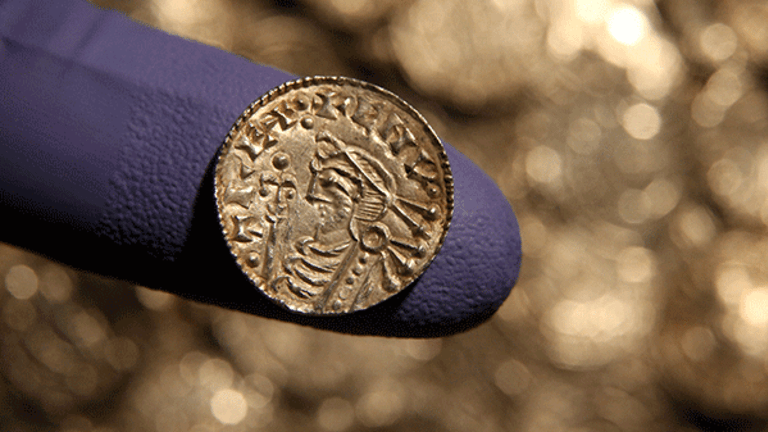 How Will the Trump Effect Impact the Rare Coin Market?
With consumer demand on the upswing, rare coin traders see upside, with more disposable income on the way in 2017.
Editors' pick: Originally published Jan. 9.
If you're into rare coins, 2017 could be both an interesting and profitable year for you and other hard currency investors.
So says the Professional Numismatists Guild, a Temecula, Calif.-based non-profit organization composed of many of the country's top rare coin and paper money experts.
The group is out with a new study that shows the rare coin market is on a big upswing heading into 2017, lifted by what it calls the "Trump Effect" on the rare coin market.
"After several years of higher prices and the spectacular sales of several legendary coin collections, the U.S. rare coin market softened in 2016," the PNG states.
That all changed after Trump won the popular vote on November 8.
"After the November elections, there was a notable increase in demand for high-quality rare coins, including those priced at $100,000 or more," said Dana Samuelson, PNG president.
The organization cites "higher disposable income" expected to benefit U.S. consumers, leading to more sales or rare coins next year.
The aggregate prices realized for U.S. coins sold at major public auctions in 2016 totaled $341,815,542, the PNG reports. That figure should bounce higher in 2017.
"In our annual survey of major numismatic auction firms, the consensus estimate is that the overall U.S. rare coin market for auctions and direct sales in 2016 was about $4 billion, not including bullion coins, such as gold, silver or platinum American Eagles, and not including sales by the United States Mint," adds Samuelson.
"Over the decades the U.S. rare coin market moves in cycles, and the long-term trend is up," adds Robert Brueggeman, PNG's executive director. "We believe 2017 will be an opportunity for astute collectors to be buying."
Samuelson sees Trump's election to he office of president as a major game-changer for the rare coin market, in ways that few coin traders may have guessed only six months ago.
"The big changes we have seen in all markets since the election, including stocks heading higher, a stronger dollar, gold and silver prices down, and rare coin sales surging, are a result of the breaking of gridlock in Washington," he explains. "People and markets are now front running the policies that the believe the new administration will enact."
Mix that with the notion that electoral uncertainty is over, and investors pretty much know where they'll steer their investable assets, and rare gold could be set for a major run in 2017.
"People often hold off making large or larger investment decisions in advance of a presidential election and then they do act once the results are known," Samuelson offers. "Consequently, the Trump Effect could also be somewhat stimulated by the releasing of some pent-up demand that built up through September and October."
Michael Wittmeyer, the CEO and founder of JM Bullion, a precious metals startup that brought in $661 million last year, agrees that higher consumer demand and more disposable income should boost coin prices, but there are potential roadblocks ahead.
"Rare coins are a hybrid investment/collector item, viewed somewhere between a painting and a generic bar of pure gold bullion," says Wittmeyer. "As disposable income increases, there is a larger pool of potential rare coin investors, which should boost demand and thus coin prices."
The counter-argument involves the rising stock market, Wittmeyer adds. "So long as equities continue to perform well and interest rates increase, there is a serious opportunity cost to allocating capital to a rare coin which pays no dividends and is relatively illiquid," he says. "If we continue to see equity markets hit all-time highs and interest rates rebound, investors may prefer to leave their capital in stocks or bonds at the expense of rare coins."
If you've got an itch to scratch in the rare coins market, Wittmeyer advises caution, at first. "Certain types of coins may presently represent a good value," he explains. "To prevent downside risk, investors should focus on coins that trade for relatively low premiums over the spot price of gold or silver, such as pre-1933 U.S. gold coins and silver dollars."
The lower the premium is, the less risk you are taking, as the coin will always be worth a minimum of the value of its precious metal content, Wittmeyer says.
"Where investors can be burnt is by purchasing an extremely high premium coin, especially if the investor is new to the market and doesn't know how to value rare coins," he says. "They may find out down the road that the actual value of the coin is substantially less than they paid."
Wittmeyer advises focusing on pre-1933 U.S. gold coins, which are currently selling at relatively low premiums, and can be had for 5% to 10% over the spot price of gold, "depending on their condition."
Other coin experts concur.
Jim Halperin, co-chairman of Heritage Auctions in Dallas, says that of all hard asset investments, rare U.S. coins are "by far" the most liquid with the least trading friction. "The market is quite robust these days, though on average, investment-quality NGC and PCGS certified U.S. coin prices are down about 30% from their most recent peak two to three years ago," Halperin says. "So now might be an opportune time for someone with the interest and disposable resources to enter the market."
Overall, though, 2017 increasingly looks like a good year for rare coins, and the people who trade them.
"The Trump Effect with cause an increase in metal prices in general, and therefore an increase in rare coin prices as well," says Collin Plume, president of Noble Gold, in Pasadena, Calif. "A rising tide does lift all boats, and the increase in demand will play a large role in this tide of money flowing into metals."
"With the upcoming increase in the cost of inflation, a large amount of people concerned about their savings and portfolios will reallocate increased portions of their wealth into the world's oldest hedge against inflation," he adds.