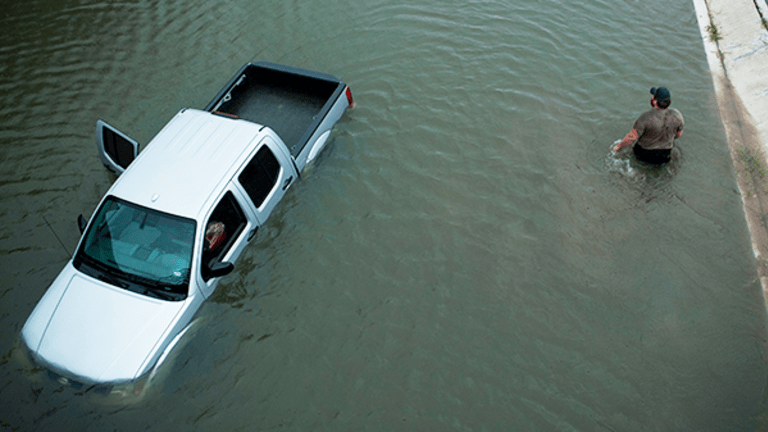 Harvey Disaster Slashes Odds of U.S. Government Being Shut: Goldman Sachs
The Wall Street firm says the odds of a government shutdown have fallen to 35% from 50%, as the storm's devastation pushes lawmakers to work together on relief funds.
Hurricane Harvey's devastation along the Texas coast has reduced the likelihood of a U.S. government shutdown next month, according to the Wall Street firm Goldman Sachs Group Inc. (GS) - Get Goldman Sachs Group, Inc. (GS) Report .
That's because lawmakers could face a backlash from allowing a partial shutdown at a time when federal relief efforts are underway, Goldman Sachs analysts wrote in a report late Tuesday. The odds of a shutdown have fallen to about 35%, from a 50% chance earlier this month, they estimated.
Some 30 people have died from Harvey and its aftermath, according to the New York Times, citing local officials. It battered coastal cities with gale-force winds and storm surge before stalling in the Houston area and dumping more than four feet of rain in some areas, causing catastrophic flooding. The storm swept back out into the Gulf of Mexico before making landfall a second time Wednesday near the Louisiana-Texas border, near some of the nation's biggest oil refineries.
"Allowing a partial government shutdown when federal relief efforts are underway would pose greater political risks than under normal circumstances, raising the probability that lawmakers will find a way to resolve disagreements," the analysts wrote.
President Donald Trump, who has vowed he's willing to risk a government shutdown if Congress doesn't appropriate funds to build a border wall with Mexico, visited the Texas coast on Tuesday to assess the rescue and recovery efforts.
Tesla's Elon Musk Thinks AI Will Be Best or Worst Thing for Humanity
Analysts say the government might have to shut down - and fall short of funds to pay its bills - if federal lawmakers don't authorize new spending and increase the nation's $19.8 trillion debt limit in September.
Earlier this month, Goldman Sachs warned clients of the growing risk of a shutdown, due to Trump's declining popularity.
The firm predicted then that Trump may try to embrace controversial positions - like the border wall - to shore up support among his core political supporters.
Two key Trump administration officials working on the debt-ceiling increase are former Goldman Sachs executives: Treasury Secretary Steven Mnuchin and National Economic Council Director Gary Cohn.
Congress will probably need to allocate new disaster-relief funds at some point in the next several weeks, the Goldman Sachs analysts wrote Tuesday.
"Congressional leaders are apt to combine this with legislation to extend federal spending authority and/or raise the debt limit if possible," the analysts wrote. "If they do, a combined package would be more likely to pass and less likely to be vetoed."
More of What's Trending on TheStreet: