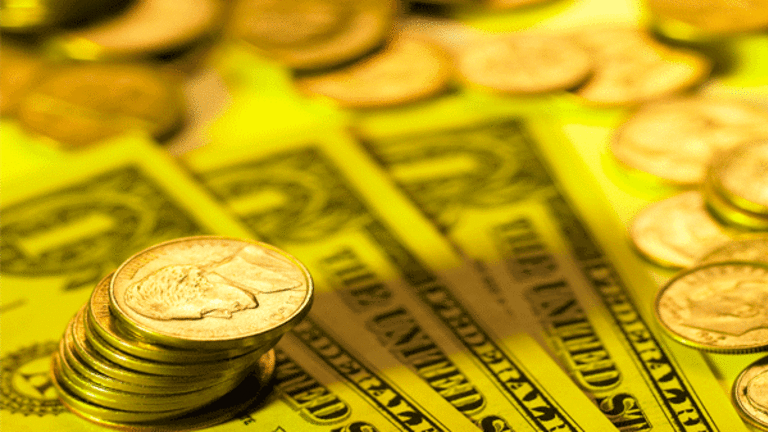 Greenback Pares Tuesday's Gains
The dollar sheds some of Tuesday's gains in overnight trading but holds near a nine-month trade-weighted peak.
By Omer Esiner of Travelex
The dollar pared some of Tuesday's gains in overnight trade but held near a nine-month trade-weighted peak.
Tuesday, the greenback benefited from the reduction of risk appetite following disappointing U.S. consumer confidence data.
Although the very weak reading of morale weighed on stocks and commodities, it did little to dent the view that the U.S. economy will likely outpace most of its major rivals in recovery. That notion was largely underscored by disappointing eurozone economic data Tuesday and confirmation overnight that Germany, the bloc's largest economy, stagnated in the final quarter of last year.
Investors also expect the
Federal Reserve
to continue normalizing monetary conditions at a faster clip than central banks abroad. That outlook will be fine-tuned later this morning when Fed Chairman Bernanke testifies before Congress. Investors will dissect the Fed chief's comments to the House Financial Services Committee for further clues on the central bank's exit strategies from its current ultra-accommodative policy stance. If Mr. Bernanke reiterates that rates will remain low for an extended period and sounds a more cautious tone on the current state of the economy, the greenback could retreat further from recent peaks.
In addition to Mr. Bernanke's 10 a.m. EST testimony, markets Wednesday morning will examine new-home sales data for January.
USD
: The greenback fell further from last week's nine-month trade-weighted peak but remains within striking distance of most of its recent highs.
Tuesday, the dollar appreciated following disappointing U.S. consumer confidence data and the subsequent drop in risk appetite.
The dollar's low yield and safe-haven status continue to support it during periods of economic and financial market uncertainty.
The dollar has also drawn significant support over recent weeks from strong U.S. economic news that has contrasted with generally disappointing figures from abroad and highlighted the outlook for America to lead in recovery.
Consequently, the dollar appears very uniquely positioned to benefit from both good U.S. economic news that bolsters the outlook for policy normalization sooner rather than later, and from time-to-time reductions in risk appetite caused by disappointing economic data.
Wednesday, investors will dissect Chairman Bernanke's comments for clues on the direction of U.S. lending rates. Mr. Bernanke will likely reiterate that last week's hike in the discount rate was merely a technical move and that broader lending rates will remain accommodative for some time. Such comments could weigh on the dollar and help revive investors' appetite for riskier assets.
EUR
: The euro recouped some of its recent losses against the greenback and the Canadian dollar overnight in what appears to be mostly positioning ahead of Fed Chairman Bernanke's testimony later Wednesday.
Investors largely ignored economic news overnight that confirmed Germany, the eurozone's largest economy stagnated in recovery in the fourth quarter of last year.
GDP data showed that improving demand for German exports contributed to GDP, while soft domestic demand and inventory liquidation kept the economy from registering any expansion.
Separate data showed that consumer confidence slipped from a revised 3.3 to 3.2 for March. The report showed that consumers remain worried about job security and the outlook for incomes.
Eurozone industrial production rose by 0.8% (month over month) in December, well above forecasts for a decline of 1.0%. While the single currency's near-term outlook may be supported by continued profit-taking and short-covering, its upside will remain severely limited by anemic economic performance and sovereign credit worries.
CAD
: The Canadian dollar fell sharply Tuesday as disappointing U.S. consumer confidence data undermined investors' sentiment. The subsequent decline in commodities like crude oil prompted investors to pare back exposure to the Canadian currency. This week's lack of domestic data has kept the loonie's direction largely dictated by external factors. However, going forward, the Canadian dollar's upward momentum should remain largely in tact.
AUD
: News that Chinese authorities are mulling fresh measures to reign in red-hot credit markets briefly undermined risk appetite and, in particular, demand for antipodean commodity currencies. China's bank regulator instructed banks to limit loans to local governments, the latest attempt to cool extensive borrowing throughout the economy.
The Australian and New Zealand currencies remain particularly vulnerable to additional steps by the Chinese to pump the brakes on their economy, which clouds the outlook for commodity demand and broader regional recovery.
Omer Esiner serves as the Senior Currency Market Analyst at Travelex, Inc. a global financial institution specializing in corporate foreign exchange services and international payment solutions. In this capacity, he monitors, analyzes and interprets the economic, financial, political and technical factors that drive the movements of more than 100 currencies for Travelex. Mr. Esiner explains the currency markets' reaction to market events to clients, employees and members of the media.
You can view his daily reports, recording briefings, and quarterly reviews posted
. As an expert in foreign exchange, Mr. Esiner is quoted regularly by the financial media including The Wall Street Journal, CNN, Dow Jones Newswires, Reuters, the Nightly Business Report, National Public Radio, among others. Based in Washington, D.C., Esiner joined Travelex in February 2000. Prior to his current position, Esiner was a currency trader for several years. Mr. Esiner holds a bachelor's degree in economics from the University of Maryland, College Park. He is fluent in Turkish and proficient in Spanish.