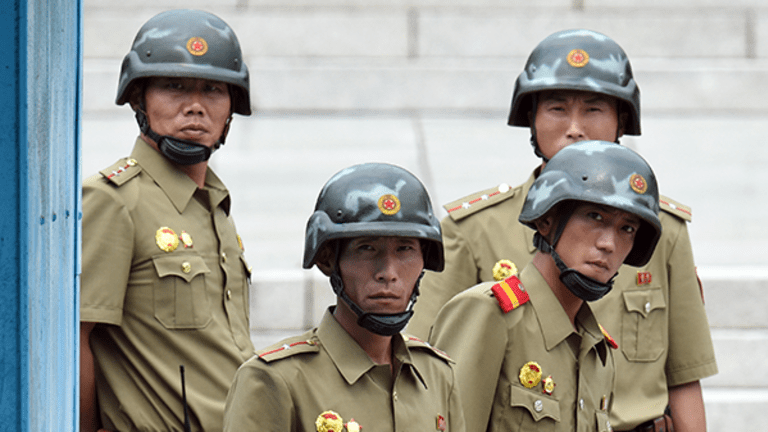 Publish date:
Gold Looks Tempting After North Korean Missile Launch: Market Recon
People seek out safety.
Get Morning Recon delivered directly to your inbox each market day. Click here to sign up.
"We live in a world where there are dangerous people, there are bad people."-- Chuch Hagel
Impetuous Child or Thoughtless by Design?
Monday was a bit quiet, don't you think? North Korea had received a bit less attention over the last couple of weeks. That's over. Time to stomp one's feet. Forcing itself back into the spotlight, North Korea launched a ballistic missile that flew over Japanese territory before finally landing in the sea. Perhaps some do not realize just how close to an act of war this actually is. Asian markets seem to have taken this in stride. European markets, U.S. equity index futures, and safe haven assets are clearly being impacted in a most significant way.
When you think about it, of course Kim Jong-un would choose a time like this to try to draw global attention. The United States, and the American president are focused on the natural disaster in Houston. The U.S. Seventh Fleet has just gone through an unplanned change of command after the embarrassing fatal accidents that were caused by unforeseen navigational problems. The news reports that I have seen do not mention that anything defensive was fired at this missile, which I find incredible. You would think that either the Japanese military, or their U.S. allies, would have at least responded. If Kim Jong-un wanted to prove that he could easily strike Japan, or even South Korea, he now knows that he could easily do so. The only deterrent at this point is the concept of mutually assured destruction -- the fact that the North Korean regime would have a zero percent chance of surviving its own offensive actions. One must first be rational to understand this.
Market reaction, away from Asia, has leaned toward severe. Gold has been trading above $1330 an ounce, after pushing through the $1300 level on Monday. We have often told you in this space that $1305 would be an accelerant to the upside, and it is indeed. However, much of this is a search for safe haven; just take a look at U.S. 10-year paper trading at yields below 2.10%, as well as the dramatically lower yields currently being given up by German 10-year bunds and U.K. 10-year gilts. We have been quite comfortable running with a 7.5% sample portfolio recommendation toward gold here at Market Recon for quite some time. My thought is that one would want to see at least one successful test of that $1305 level for the yellow metal before taking the allocation up to 10%, but that is the apparent next move at this time.
For those keeping score, that 2.5% will likely be drawn from equities. That allocation is currently held at 57.5%, while leaving debt (15%), and cash (20%) untouched. However, I am slow to make this move on a morning where one would be paying a premium for gold, while selling equities at a discount. Major domestic macro events such as PCE pricing information and the monthly employment numbers loom later this week. On top of that, we still do not know what will be the president's response to what North Korea has done. That uncertainty is likely adding to the risk-off mood permeating this morning's financial markets. If traders do feel compelled to lighten up on the net longs today, be cognizant of currency valuations. With dollar values plummeting against both the euro and the yen, there should be sustained value in large, multinational corporations.
Deflation, Aisle Six
Walmart (WMT) - Get Report , Kroger (KR) - Get Report , Aldi's, and Lidl have all been put on notice. Amazon (AMZN) - Get Report means business. We are all used to Amazon's way of doing business at this point. By the way, I jettisoned the last of my AMZN long position yesterday, as news of the drastic price cuts at Whole Foods Market (WFM) spread across the investment community. Amazon had telegraphed this move ahead of the deal even closing, so there was virtually no surprise. Still, these moves seem designed to create increased competition, not quite the utter destruction of the marketplace.
Grocers took the price moves poorly, however. The rollbacks, which according to many accounts were as much as 30% or 40% across many product lines, are obviously designed to draw long gone shoppers back in, after the Whole Foods chain has long suffered from a reputation of being grossly overpriced. There are 470 brick-and-mortar stores spread across the nation, and this is a new venture for the country's dominant e-tailer. Is the next step the actual undercutting of these competitors? That thought is out there. I intend to do some legwork today, as Walmart, Whole Foods, and Aldi all have locations nearby. Interesting.
Consumer Electronics Battleground
While Action Alerts PLUS charity portfolio holding Apple (AAPL) - Get Report was putting to sleep those rumors of production glitches that would slow down the launch of the iPhone 8, Fitbit (FIT) - Get Report was making some noise of their own. Thought those guys were gone? Not quite. Apple has scheduled an event for Sept. 12, where the firm is likely to announce the new iPhone, as well as updated versions of the iPhone 7. Less than two weeks after that if tradition is to hold firm, you'll see the those familiar lines forming up outside of the Apple store near, you.
Meanwhile, Fitbit -- which by the way is well off of the summer lows after having formed a triple bottom and even approached the 200-day simple moving average Monday -- has announced a high-end offering in the smartwatch space. The Fitbit Ionic will retail for just under $300. This product is meant to compete directly against Apple in that space. Four-day battery life will be a key feature, as will deals with both Pandora (P) , and Adidas (ADDYY) . The firm will also launch blue-tooth capable headphones alongside the watch.
Will this series of offerings head off the next iteration of Apple's smartwatch at the pass? The consumer electric giant is one year removed from the launch of its Series 2 Apple Watch, which comes with a $369 price tag. Would I buy Fitbit here? Honestly, I'd rather just stay long Apple. As for the gadgets, I will likely never have use for a smartwatch, and am always at least three generations behind on my smartphone.
Macro
08:55 - Redbook (Weekly):Last Week 3.2% y/y. We finally saw that three handle appear last week for this measure of chains store sales health. That was the best year-over-year growth seen in this space for any one week since 2015. Now, let's see if 3% growth can be sustained.
09:00 - Case-Shiller HPI (June):Expecting 5.7%, May 5.7% y/y. Expectations range all over the place for this data-point today. Consensus for the 20-city non-seasonally adjusted item, which is considered the headline print here, is really anywhere between 5.4% to 5.9%. The series has seen some softening of the pace of home price inflation in both April and May. The July housing data has been somewhat disappointing, but you must keep in mind that the pricing information runs about a month behind all of the other data.
10:00 - Consumer Confidence (August):Expecting 120.1, July 121.1. This series has remained unbelievably strong throughout the year. July was not different, as both current conditions and future expectations came in remarkably improved from already high levels. There is no reason to expect a significant amount of tailing off, as the similar advance release for the University of Michigan's Consumer Sentiment survey came in very strong on Friday.
Sarge's Trading Levels
These are my levels to watch today for where I think that the S&P 500, and the Russell 2000 might either pause or turn.
SPX: 2463, 2454, 2446, 2439, 2431, 2420
RUT: 1393, 1387, 1382, 1376, 1370, 1362
Today's Earnings Highlights (Consensus EPS Expectations)
Before the Open: (BBY) - Get Report ($0.63), (HAIN) - Get Report ($0.40)
After the Close: (HRB) - Get Report (-$0.62), (OLLI) - Get Report ($0.25)
More of What's Trending on TheStreet:
At the time of publication, Stephen Guilfoyle was long AAPL, WMT, although positions may change at any time.