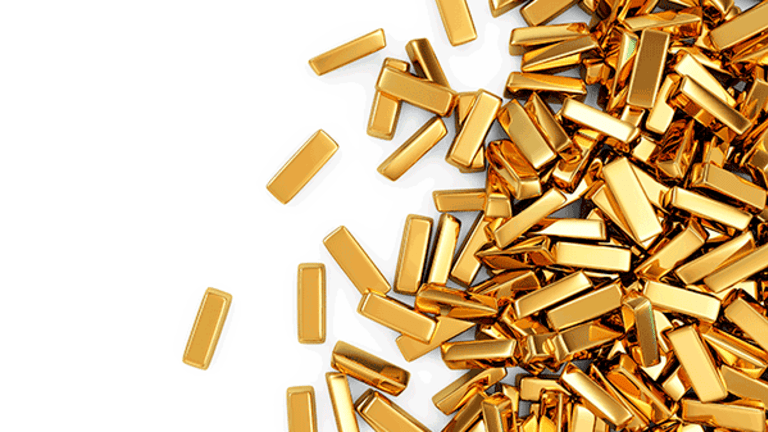 Publish date:
GDP Number Slows Gold's Momentum, but for How Long?
Gold futures are in decline, due primarily to a growing sentiment that the U.S. economy is strengthening. But uncertainty still clouds the market.
Gold futures are in decline, due primarily to a growing sentiment that the U.S. economy is strengthening. But uncertainty still clouds the market.
Gold futures are down in late October, with a stronger than expected U.S. gross domestic product number - growing 2.9% for the quarter - contributing to the precious metal's decline.
On Monday, October 31, November gold futures contracts are down to 1272.9, while December contracts are also down, to 1,276.8.
"Gold took it on the chin in a knee-jerk reaction to the first look at third-quarter GDP beating expectations -- 2.9% vs. 2.5%," said Bill Baruch, chief market strategist at Chicago-based iiTrader, in a research note last week.
Further curbing gold's performance is a stronger U.S. dollar, "which has generally kept the precious metal in check," according to MKS Group.
Baruch says the decline could be temporary, as the futures market thoroughly digests the GDP picture.
"Personal spending missed and exports potentially added 1% of GDP signaling that the number isn't as good as the headlines insist," he notes. "The momentum gathering from its knee jerk reaction low should help send prices higher into next week."
Some gold watchers say the precious metal should shake off any temporary market barriers, with underlying long-term trends working in gold investors' favor.
"The mainstream financial news media are always quick to write off gold or declare it a dead asset," says Joseph Yaffe, co-owner of Gainesville Coins in Gainesville, Fla. "The positive economic reports in the U.S. may dampen gold prices in the short-term, but going forward I don't think strong economic data in the U.S. can offset the fundamentals driving the precious metals higher. Europe remains stuck in a banking crisis and is still dealing with fallout and uncertainty from last June's Brexit vote."
Other commodities industry experts say gold's decline could hang around, as volatility increases due to a contentious U.S. presidential election, expectations of a Federal Reserve-engineered interest rate hike grow and more investors leave so-called "safe haven" sectors for higher risk market categories.
"Attempts to rally in the gold market continue to struggle," states James Moore, an analyst at Metal Bulletin. "The sell-off in the bond market also points to reduced demand for safe-haven assets while risk appetite approves. That suggests gold prices will continue to struggle in the short term."
Yet even if the American economy roars back, there's little reason to believe that central banks will be able to normalize monetary policy without hurting equity prices and other hiccups, Yaffe adds. "The better the economy does, the more pressure falls on the Fed to raise its benchmark interest rate, which markets have generally responded to with flight into safe-haven assets," he says. "Look for gold demand to actually rise as this interest-rate indecision plays out."
The last wild card for gold is next week's presidential election, which should at long last provide some clarity for global financial markets - especially gold markets.
"This is probably one of the most interesting elections that we have had for some time; a classic case of the establishment versus the maverick," states Bob Kirtley, in an October 31 research post on Gold-Eagle.com. "If we get a Clinton presidency then there will be more printing and more spending which will weigh heavily on the dollar and be supportive of gold prices."
In a note to subscribers on October 24, Gold-Eagle stated that "should Donald Trump pull it off we can expect at least a $100.00 per ounce jump in the price of gold." Kirtley says that outlook is based "on the magnitude of the uncertainty that he would bring to the markets as he is unquantifiable as a political leader."
"There could also be a big move out the markets and into cash as traders reduce their exposure to any real or imaginary risk that such a dramatic change would bestow upon us," he adds.
\