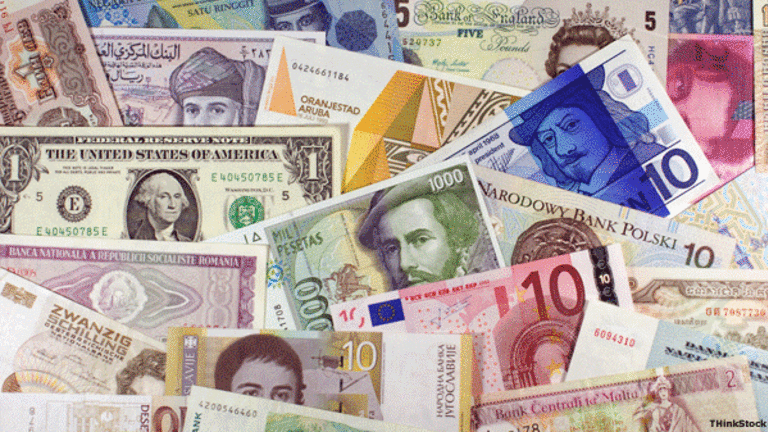 EUR-USD Lower Levels Expected
EUR-USD's broader bearishness remains for an eventual break and hold below the 1.3584/30 levels, triggering the resumption of its medium-term downtrend.
Although EUR-USD is now reversing part of its losses following its decline to a low of 1.3530 today, its broader bearishness remains for an eventual break and hold below the 1.3584/30 levels, triggering the resumption of its medium-term downtrend. Further declines through those levels should aim at the 1.3422/09 level.
Consolidative to downside weakness continues to dominate
GBP-USD's
price action, as a clear corrective recovery is yet to be seen. We see risk to the downside toward its 2010 low located at the 1.5532 level with a clearance of there exposing the 15400 level. In case of any upside recovery, the 1.5706/63 levels will come in as resistance.
EUR-JPY
remains vulnerable to the downside, weakening for the third day in a row since touching a high of 124.26 level on Feb. 10, 2010.Though currently taking back some of the mentioned losses, its outlook remains lower toward its 2010 low at 120.68 and beyond.
USD-JPY
may have reversed its Thursday losses, but as long as it trades below the 91.27/68 levels, we look for the pair to weaken toward the 0.88.54 level and then the 88.30 level. The risk to this view will be a break above the 91.27/68 levels and then exposing the 93.74 level.
AUD-USD
is now seen reversing a larger part of its Thursday gains following its failure ahead of the 0.8924 level during today's trading session. This price development has left the pair threatening further weakness toward the 0.8733 level and then its year-to-date low at 0.8576. The pair still retains its broader bearish bias.
USD-CAD
may have halted its weakness started at the 1.0779 level, but while it holds below the 1.0544/1.0706 level, we see further downside risk toward the 1.0411 level and then the 1.0219/04 levels.
Though currently reversing part of its weakness triggered off the 0.8839 level, as long as
EUR-GBP
trades below that level and the 0.8793 level, threats remain toward its 2010 low sited at 0.8601 and beyond.
Mohammed Isah is a technical strategist and head of research at FXTechstrategy.com, a technical-research Web site. He has been trading and analyzing the foreign exchange market for the past seven years. He formerly traded stocks before crossing over to the forex market, where he worked for FXInstructor LLC as a technical analyst and head of research before joining FXTechstrategy.com. He has written extensively on the forex market and technical analysis and his articles have been featured in The Technical Analyst Magazine, The Forex Journal Magazine, The International Business Times and FXstreet.com. At FXTechstrategy.com, he writes daily, weekly and long-term technical commentaries on currencies and commodities, which are offered to its clients. He also produces
for his subscribers. He provides full coverage of the forex market with specific focus on G10 currencies as well as the commodities markets, with focus on five key commodities.