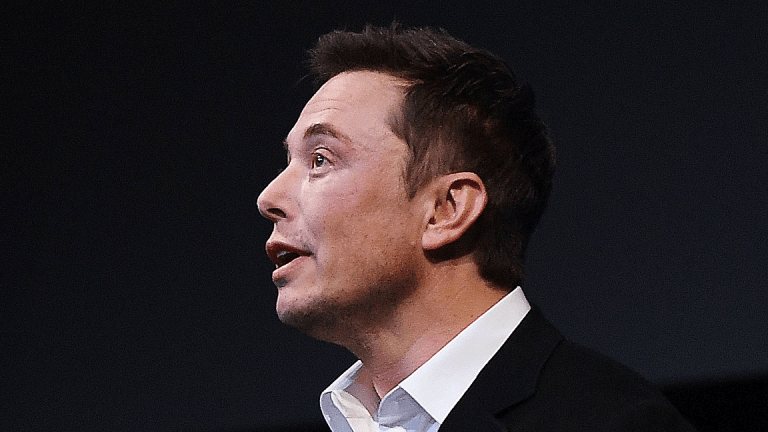 Elon Musk Quashes Rumor He Is Mr. Bitcoin
PayPal co-founder and Tesla CEO Elon Musk has debunked latest claims that he is Bitcoin creator Satoshi Nakamoto with a tweet.
PayPal (PYPL) - Get PayPal Holdings, Inc. Report co-founder and Tesla Inc.  (TSLA) - Get Tesla Inc Report  CEO Elon Musk has debunked latest claims that he is Bitcoin creator Satoshi Nakamoto with a tweet.
As Bitcoin approaches $10,000 for the first time, the million dollar question for the cryptocurrency is who is the mysterious creator Satoshi Nakamoto? 
Ex-SpaceX intern Sahil Gupta fingered Musk in a Medium blogpost that excited the Bitcoin world's rumor mill. Gupta had interned at SpaceX in 2015 and from his observations noted that Bitcoin's source code was written by someone who is a master of C++ -- a language Musk has heavily used in SpaceX.
"Elon seems to have a firm grasp of C++, insisting it be used at X.com and at SpaceX," said Gupta in his blog post.
"Experience aside, Elon is a self-taught polymath," Gupta added. "He's repeatedly innovated across fields by reading books on a subject and applying the knowledge." 
In a tweet Musk responded, "Not true. A friend sent me part of a BTC a few years, but I don't know where it is."
So Who Is Behind the Pseudonym Satoshi Nakamoto?
In October 2008, Satoshi Nakamoto published a paper describing the Bitcoin digital currency and released the Version 0.1 of Bitcoin software on Sourceforge on January 2009. To this day, nobody knows for sure who Satoshi Nakamoto is.
In the past, there have been a number of figures claiming to be Satoshi. Last year an Australian named Craig Wright claimed he is Bitcoin founder Satoshi Nakamoto. 
Whoever Satoshi Nakamotoi is, he has started a movement that seems unstoppable. In a recent interview with TheStreet, John McAfee, the founder of McAfee associates known for its antivirus software and current head of MGT Capital Investments, said the Satoshi white paper made him cry. 
"When I first read the white paper that [Bitcoin creator] Satoshi put together, I was in tears," McAfee said. "I'm serious. I am a 72-year-old man here ... When I read it having been a technologist my entire life my face was wet with tears from that fact that this man or woman or team of people had put together something which said here is the key."
As emotionally poignant as the white paper may be and as powerful as it has been in creating a digital currency movement, it is unlikely that Musk penned it -- chatter be damned.
More of What's Trending on TheStreet: