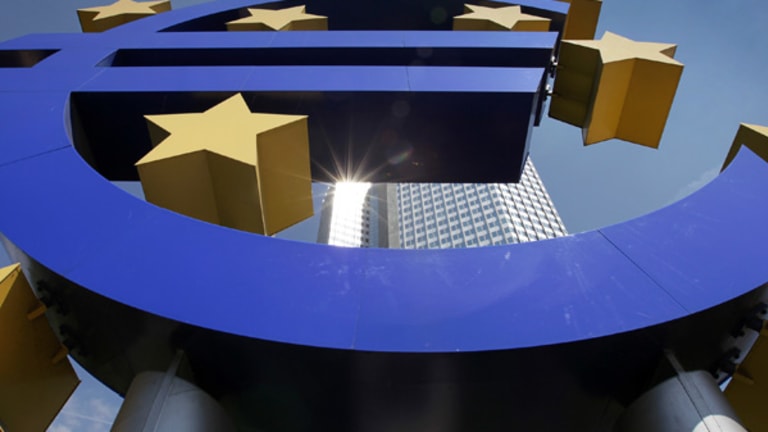 The U.S. dollar slid against the euro and its growth-sensitive counterparts in Canada and Australia on easing concerns about the condition of banks in the euro area. The European Central Bank on Wednesday issued nearly 132 billion euros in three-month funds to area banks ahead of a Thursday deadline for financial institutions to repay 442 billion euros. The ECB had lent the hundreds of billions of euro to help boost bank liquidity to encourage banks to lend.
Today's ECB tender of almost 132 billion euros over three months was far lower than the 210 billion euros many had expected, which suggested some euro zone banks might be in better shape than initially feared. Consequently, market confidence improved slightly as stocks turned higher in Europe while U.S. futures initially signaled a positive open this morning. Stocks are now mixed.
The Australian dollar recovered off yesterday's nearly 3% plunge to a two-week low against the greenback, helped in part by the reduction in investor risk aversion.
The Canadian dollar snapped back from a three-week low Tuesday against its U.S. counterpart, finding support from a pick-up in market sentiment and higher oil prices above $76 a barrel. A report on Canadian growth in April is due out this morning. Canadian markets will be closed tomorrow, July 1, for Canada Day.
Investors Wednesday will focus on U.S. data on ADP private sector employment and regional manufacturing surveys from New York and Chicago. A pick-up in market volatility could be in store for investors today, since it's the final day of the month and the last day in the second quarter, which tends to see increased positioning and book balancing.
EUR
: The euro bounced off the two-week low it had struck yesterday against the dollar on a modest reduction in worries about the health of euro zone banks. The single currency also garnered some support from a bout of profit-taking and from month-end and quarter-end flows. The bulk of the euro's overnight recovery from record lows against the Swiss franc and a 1-1/2-year low against sterling was due to an ECB auction of three-month funds that saw area banks take in far fewer funds than expected.
The ECB Wednesday issued 131.9 billion euros in three-month funds, below the 210 billion euros many had expected. The smaller-than-expected amount requested by euro area banks signaled to investors that some of the weaker institutions were in better shape than first thought. That notion helped to trigger a recovery in market sentiment which dampened demand for safety, causing the dollar and the yen to pare gains from the day before.
The single currency was little changed by a flash survey -- or first estimate -- of euro zone consumer inflation, which eased to 1.4% (y/y) in June from 1.6%(y/y). Investors had expected consumer inflation to dip to 1.5% (y/y) in June. The data was well inside the ECB's inflation target of just below 2%, which suggests that central bankers have flexibility to keep rates low to help support Europe's economic recovery.
GBP
: The British currency fell further from Monday's 7-week high against the dollar and yesterday's 18-month peak against the single currency. Profit-taking and month- and quarter-end positioning have put some downward pressure on the sterling. Still, the UK currency's weaker tone could be limited by lingering optimism that a tough budget announced last week will help slash the nation's hefty fiscal deficit, in the years ahead.
JPY
: The Japanese yen pared some of yesterday's gains when the Asian currency had soared to a four-month high against the dollar and to an 8-1/2-year peak vs. the euro. An improvement in investor sentiment helped to curb demand for safety, putting some downward pressure on the yen. Data showing Japan's PMI survey fell to 53.9 in June from 54.7 the previous month also added to the yen's softer tone.
CAD
: Canada's gross domestic product, the broadest gauge of economic growth, came out flat with a 0.0% (m/m) reading in April compared to the 0.6% (m/m) rise the month before. A decline in retail sales was the main drag on local growth. The unchanged GDP reading in April snapped seven straight months of growth. The loonie fell on weaker-than-expected data, which investors had forecast to increase 0.2% (m/m) in April.
USD
: U.S. private sector employment, as reported by ADP Employer Services, rose by a less-than-expected 13,000 in June from 57,000 in May. A gain of 60,000 jobs had been expected this month. Though not always a reliable indicator, the far weaker than expected data suggests that Friday's U.S. government report might also disappoint. The dollar actually firmed on the news as it helped to ease investor risk appetite.