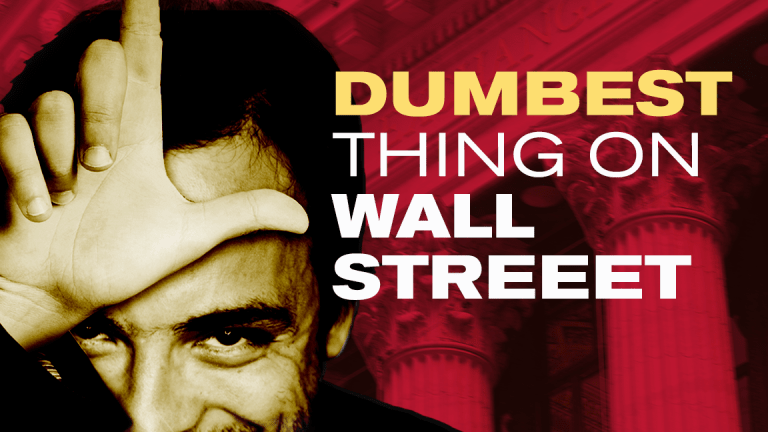 Bitcoin Naysayers: Dumbest Thing on Wall Street
This week, we're talking bitcoin. If you think you can ignore the booming cryptocurrency, you might be wrong. Here's why.
Bitcoin.
Otherwise known as the cryptocurrency that has launched 1,000 blogs. It's sometimes confusing, often misunderstood and booming in value unlike anything in recent history. But even as the digital currency becomes both more accessible and more ubiquitous, big-name investors are writing it off as a fad. That, readers, is the dumbest thing to happen on Wall Street this week.
Let the record reflect that we're not insisting anyone invests in bitcoin. With a value that just broke through $5,000 per coin, we sure can't. But we're saying that this is a revolutionary currency with the power to shape the way we think, act and invest in years to come. Eschewing it as the tender of the dark web is very 2012. If you want to avoid being the subject of next week's Dumbest Thing on Wall Street, it's time to pay attention to bitcoin.
We're looking at you, Jamie Dimon. The JPMorgan Chase & Co. (JPM) - Get JPMorgan Chase & Co. Report CEO announced on an earnings call Thursday that he's "not going to talk about bitcoin anymore." This comes after Dimon said bitcoin was a "fraud" that's "just not a real thing" and "eventually it will be closed." Dimon then talked about bitcoin on Friday. Go figure.
Crossing your arms and zipping your lips isn't going to change the fact that bitcoin will alter our finance lexicon for years to come, Mr. Dimon.
Oaktree Capital's Howard Marks said digital currencies "are not real" and are "nothing but an unfounded fad" in a memo in late July. "It is my firm view that the ability of these things to gain acceptance is just one more proof of the prevalence today of financial naivete, willing risk-taking and wishful thinking," Marks continued.
It seems that Marks' belief is that because bitcoin is derived from intangible software, it is useless. To him we would ask -- just because we can't touch a wireless internet connection, does it mean the connection isn't there? It's not blind faith for which we're asking, it's rather belief that we don't have to see things with our eyes to know they've got value.
Though Marks made those comments in the summer, the error in his ways is clearer now more than ever. While some might manipulate bitcoin with speculative intentions, it is this writer's belief that the currency will be used in the future as a medium of exchange and store of value.
Here's why.
Goldman Sachs Group Inc. (GS) - Get Goldman Sachs Group, Inc. Report  has reportedly considered how it might open a cryptocurrency trading desk. That's not something to take lightly.
With one of the most respected banks on Wall Street considering a bitcoin desk, it's clear business is changing. Goldman is known for its deep pockets, so if the bank opens the desk, it could attract major funds and important eyes.
"Institutions have to use it and they have to get involved. They don't have a choice," said Erik Finman to TheStreet, an 18-year-old bitcoin expert who's made about $1 million investing in the currency.
With its price surges, bitcoin is easily argued as a bubble. As Galaxy Investment Partners' Mike Novogratz has said, bubbles often surround the things that fundamentally change the way we do business. He thinks that's what bitcoin is, but still opened a $500 million cryptocurrency hedge fund.
"It's not in a dotcom-type bubble," said Finman. "Bitcoin moves up and down quite a bit. That's healthy and that's good."
But here's where we need to think a little deeper about bitcoin beyond whether or not it's in a bubble. It's becoming more and more likely that this cryptocurrency could rival the almighty dollar. After all, the greenback is losing purchasing power before our eyes. Could bitcoin become more the norm?
MasterCard Inc. (MA) - Get Mastercard Incorporated Class A Report CEO Ajay Banga said, "non-mandated currency is junk," according to the Economic Times. "If I pay for a bottle of water in bitcoin, one day it is two bottles for a bitcoin the other day it is 9,000 bottles. This does not work. Any currency needs stability and transparency, otherwise, you will get all the illegal activities in the world," Banga said.
It's hard to disagree with Banga's point. Something that's shot up in value so astronomically probably deserves a little attention from the federal government.
"If you're rationally looking at it, it looks good," Finman said of U.S. steps toward regulation. The U.S. has primarily made efforts to protect securities, Finman said, which is a good kind of regulation. 
Meanwhile, Japan has made bitcoin legal tender, attracting the next generation of fintech minds. The U.S. ought to pay attention to what Japan is doing instead of taking what have thus far only been tentative steps. We could attract serious brilliance to our economy by allowing fair and legal bitcoin use with standards and regulations.
Here's the crux of it: some think that regulating bitcoin will drag it down in value or even precipitate a crash. But that's not what happened in the little historical precedence we've got.
Among the currency's most impressive traits is its resiliency in spite of its volatility. After China laid down the law on cryptocurrency in September, all but putting an end to its mining and trading there, bitcoin sank to almost $3,000 in mid-September.
But in under a month, bitcoin was breaking new records past $5,000 per coin. As chatter that China might ease up some of the regulations it placed on bitcoin gets louder, it surged again Thursday.
Don't call it a comeback, but it looks like bitcoin will be part of our investing vernacular for the foreseeable future. Even if the price declines, the blockchain technology behind bitcoin will change everything.
If you can't get on board investing, that's okay. But if you bury your head in the sand and ignore the revolution at play, you might be one of the dumbest on Wall Street.
More of What's Trending on TheStreet:
Mom Was a Harley Rider ('70's), I Ride Today ('17), Will my Girls Ride Tomorrow?