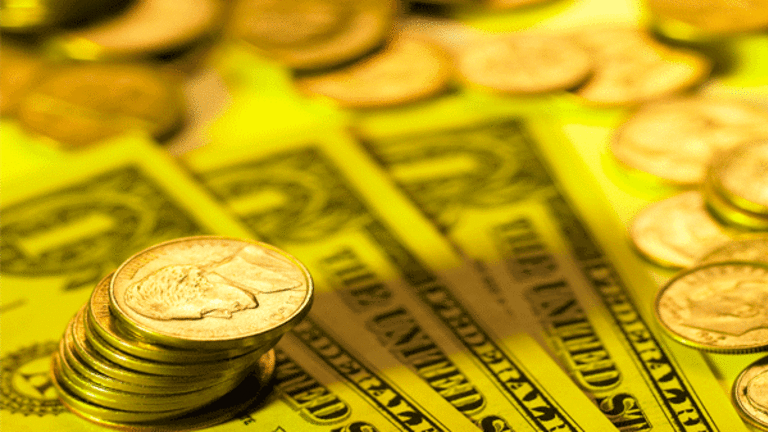 Dollar Takes Another Fall
Euros are selling for $1.4692, up from $1.4635 late Wednesday
The dollar continued its slide against the major currencies Thursday after comments from
Federal Reserve
Chairman Ben Bernanke
sparked worries of stagflation.
Euros were selling for $1.4692, up from $1.4635 late Wednesday. British pounds were buying $2.1101, up from $2.1014 at the end of the last session. Dollars were buying 112.59 Japanese yen, down from 112.78 yen previously.
"The Fed is still concerned about headline inflation, but at the same time they think the risks are pointing toward lower growth," says Ron Simpson, managing director of currency analysis at Tampa-based Action Economics.
"It's not too much of a stretch to get from that to stagflation, which generally doesn't help currencies."
Stagflation, which last afflicted the U.S. economy in the 1970s, happens when high inflation is combined with low growth. That would be a particularly knotty problem for the Fed, since inflation is best fought with tight monetary policy and high interest rates. But such medicine also tends to slow the economy further.
The last bout of stagflation was only beaten by double-digit interest rates back in the early 1980s, which in turn resulted in a recession.
Elsewhere in the currency markets, the Canadian dollar would buy $1.0792, up from $1.0774 previously. The Australian dollar was selling for 93 cents vs. 92.9 cents the previous day.
The
PowerShares DB G10 Currency Harvest
(DBV) - Get Invesco DB G10 Currency Harvest Fund Report
, which tracks the major currencies, was slipping 0.3%.
The
CurrencyShares Canadian Dollar Trust
(FXC) - Get Invesco CurrencyShares Canadian Dollar Trust Report
, was slipping 1% in recent action.
The
iPath EUR/USD Exchange Rate
(ERO)
ETF was rising 0.4%, while the
PowerShares DB US Dollar Index Bearish
(UDN) - Get Invesco DB US Dollar Index Bearish Fund Report
was sliding 0.5%.