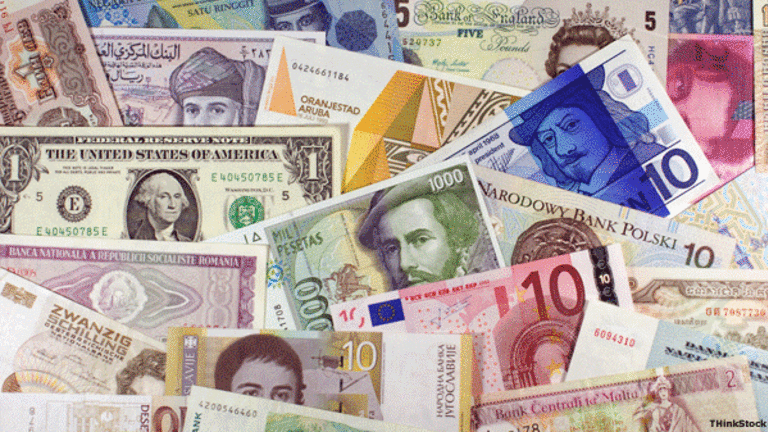 Dollar Slumps as Retail Sales Rise
Stronger-than-expected U.S. retail sales and business inventories fanned risk appetites.
NEW YORK ( TheStreet) -- Stronger-than-expected U.S. retail sales and business inventories fanned the risk appetites. Speculation that the SNB could raise rates this week and new attention on a Wall Street Journal story reporting that a U.S. investment house expects the Fed to step up their bond purchases in November has pushed the foreign currencies higher.
We have played down this possibility because:
1) The bar to more Fed action is a significant deterioration of the economy, which we did not expect after 1.6% Q2 GDP;
2) The November meeting is too soon to reach such a conclusion especially given the recent data string; and
3) The FOMC meeting in November is a day after the election, which would give it an air of political considerations.
The euro briefly poked through the $1.30 level. This is its best level since Aug. 11. The next retracement objective comes in near $1.3050. Sterling has fully recovered from its earlier drop and is recording an outside day, having traded on either side of yesterday's range. Last week's high was set near $1.5533 and that remains intact thus far.
Risk-on/risk-off the yen continues to strengthen. The dollar briefly dipped below JPY83. With Kan still PM, intervention is seen as less imminent. Market talk focuses on JPY80.
One factor that we continue to highlight in terms of the euro is how well it tracks the U.S.-German two-year spread. Last Tuesday, Germany offered 9 bp more than the U.S. That spread has widened out to 21-22 bp today and yesterday. This is the widest since early August.
Marc Chandler has been covering the global capital markets in one fashion or another for nearly 20 years, working at economic consulting firms and global investment banks. Currently, he is the chief foreign exchange strategist at Brown Brothers Harriman. Recently, Chandler was the chief currency strategist for HSBC Bank USA. He is a prolific writer and speaker and appears regularly on CNBC. In addition to being quoted in the financial press, Chandler is often a guest writer for the Financial Times. He also teaches at New York University, where he is an associate professor in the School of Continuing and Professional Studies. While Chandler cannot provide investment advice or recommendations, he appreciates your feedback;
to send him an email.