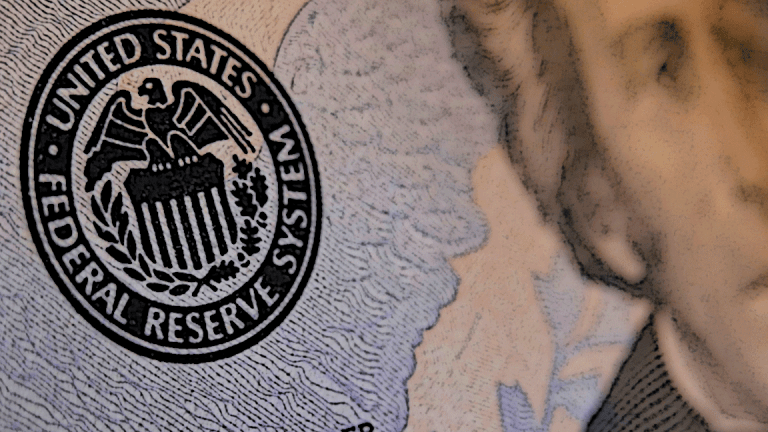 Fed Could Surprise Everyone By Raising Rates 5 Times in 2018: Deutsche Bank
Deutsche Bank analysts say a pickup in inflation and a potentially hawkish Fed could leave rates higher at the close of 2018 than most traders currently expect.
The Federal Reserve could hike interest rates as many as five times by the end of 2018, according to German lender Deutsche Bank, a faster pace than most investors currently expect.
The U.S. central bank probably will raise rates once more this year -- at a meeting later this month -- and four times in 2018, Deutsche Bank economists wrote in a report. They previously had predicted just three increases next year. The new projection echoes a similar forecast made last month by the rival Goldman Sachs Group Inc., a sign that more Wall Street analysts are bracing for a more hawkish Fed over the next 13 months. 
Five quarter-point rate hikes would put the Fed's target rate in a range of 2.25% to 2.5%. According to a Bloomberg market analysis, traders on average are handicapping just a one-in-29 chance of rates that high at year-end 2018. As recently as September, the median projection of Federal Reserve officials was for a benchmark target rate of about 2.1% at the close of next year.
"Our previous forecast was that the Fed would pause in March," the Deutsche Bank economists wrote. "Several recent developments have pushed the upside risks for 2018 up enough to warrant dropping the pause in March and moving to one rate hike at each major meeting next year."
A quicker pace of rate increases could cool a market that has seen soaring prices this year for assets of all types, from stocks to bitcoin. Goldman Sachs warned this week that a bull market across stocks, bonds and credit has left asset valuations at their highest in more than a century, signaling the likelihood of an eventual reckoning that would damp future returns, Bloomberg reported.
According to the Deutsche Bank report, inflation is rising toward 2% "ahead of schedule." The figure was 1.6% in the 12 months through October, based on the Fed's preferred measure of price increases. Economic growth and employment remain "solid."
What's more, Jerome Powell, who is President Donald Trump's pick to replace Janet Yellen as Fed chair, indicated in testimony before U.S. lawmakers this week that he had a "clear willingness to raise rates as needed," according to the report. And regional Federal Reserve bank presidents who are rotating onto the central bank's monetary-policy-setting committee are "generally more hawkish than the current slate of voters."
One caveat would be if Congress fails to pass the tax-cutting bill under consideration, the economists wrote.
When the federal government shut down briefly in October 2013, the Fed delayed a planned reduction in the pace of bond purchases that had been used to stimulate the economy.
More of What's Trending on TheStreet: