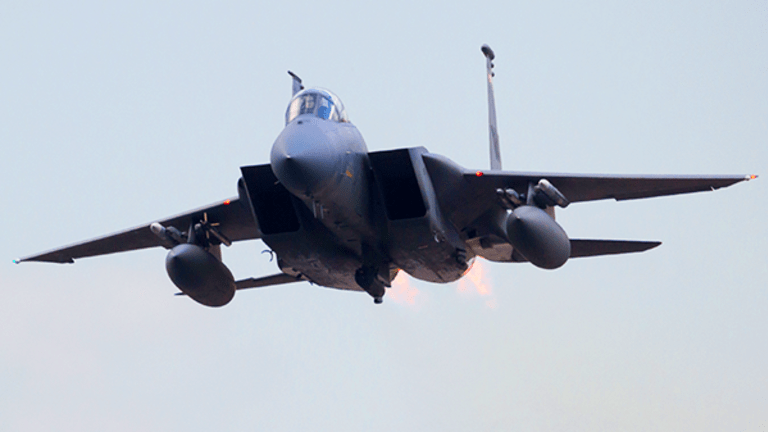 Defense Stocks to Climb Another 100,000 Feet Thanks to Trump: Market Recon
I would imagine that we'll see a pop across that space Tuesday in response to Trump's speech.
Get Morning Recon delivered directly to your inbox each market day. Visit here to sign up.
"If it is not right, do not do it; if it is not true, do not say it." -- Marcus Aurelius
Danger and Opportunity
Many folks across the nation were excited by the rare opportunity to witness a solar eclipse on Monday. Trading slowed to a crawl. That event dominated the news cycle -- that is, until the president's planned national address on Monday evening. We said days ago, in this space, that the president had to speak to the nation. He did not go about it quite the way we had hoped, but he did come across as very presidential. He stuck to his teleprompter, and he stuck to his already prepared speech, leaving little room for error. The president spoke of war.
On Monday night, President Trump announced his intention to ramp up the fight against the Taliban and other extremist forces in Afghanistan. The president wisely chose not to speak of troop levels, or military operations, but was clear when he stated "We will fight to win". The president also indicated that the U.S. would try to pressure Pakistan into a greater role in fighting terrorism, as well expand U.S. ties to India. Currently there are roughly 8,000 U.S. troops in the country, down from 100,000 six years ago. Those 8,000 serve alongside 4,600 troops from other NATO allied nations.
This is a change in direction for this president, and he acknowledged the flip-flop on policy. I have my own opinions on this policy change. They matter not, publicly. What matters to you, if you are reading me, is how to turn a buck. The defense and aerospace industry seems like the natural place to look. I would imagine that you are likely to see a pop across that space this morning in response to this speech, just as you did late yesterday when the contents of this speech started to leak.
From my own vantage point, I came into yesterday's events already long Lockheed Martin (LMT) - Get Lockheed Martin Corporation (LMT) Report , Raytheon (RTN) - Get Raytheon Company Report , and Kratos Defense (KTOS) - Get Kratos Defense & Security Solutions, Inc. Report . Other names that scream for attention would be Boeing (BA) - Get Boeing Company Report , General Dynamics (GD) - Get General Dynamics Corporation (GD) Report , and Northrup Grumman (NOC) - Get Northrop Grumman Corporation Report . News has also broken over the last few hours that BA and NOC would benefit from contracts to update the nation's intercontinental ballistic missiles, and while LMT would not be a part of that deal, the company had won a $427 million contract to provide ancillary military equipment for the F-35 Joint Strike Fighter.
Will I add to my longs today? Probably not on the bounce that I expect, but I would not mind adding if and when the names that I am already long come in just a bit. This is one area where waiting to buy additional exposure below already established net basis costs may prove difficult.
Let's not forget, outside of expanding the effort in the Afghanistan/Pakistan theater, there are still ongoing operations in Iraq, in Syria, as well as what seems like a permanently difficult evolving situation in Korea. Then there's the recent U.S. Navy's navigational problems that will require a serious look at the technology used in that space.
The bottom line is that President Trump's initial 2018 budget called for a 9% increase in defense spending. Defense as a group currently trades at a broad 20 times next year's projected earnings. The S&P 500 trades at an approximate 17 times. That 20 times could end up being low, in my humble opinion, as the intent that creates the need is surely going to be there.
The unspoken rumor is that there is a plan to increase U.S. ground troops in the country to 12,000. That's just a token show of force, and the primary role of such a small group would remain advisory in nature. The investment here will, in my opinion be in manned and unmanned aircraft. Take it from there.
Mergers and Acquisitions
WTI crude rolled back off the table yesterday, declining 2.3% to trade at $47.39 a barrel. This came after short coverings took crude higher late last week, and prior to a small pop in futures pricing this morning. Adding to this spate of volatility were comments made by Kuwaiti oil minister Essam al-Marzouq. The Kuwaiti official indicated that the OPEC meeting scheduled for this November will be a time of decision on whether to extend or simply to terminate the production cuts agreed to last year, and extended in May.
Despite what some might call obvious cheating, and suddenly slipping rig counts in the U.S., oil prices have not been able to tackle apparent levels of resistance. This is with the help of a U.S. dollar that has significantly weakened this year too. The doorway to higher prices that was once seen at $55 a barrel has gradually eroded, and now stands between $50 and $51.
There is some hope for the long and wrong crowd, however. I am sure that most of you noticed the news yesterday that French oil giant Total SA (TOT) - Get Total SA Sponsored ADR Class B Reporthad agreed to purchase the oil unit of Moeller-Maersk for a hair under $5 billion. Total would also assume $2.5 billion worth of oil related debt, pushing the commitment to $7.45 billion. There was other related news yesterday.
You may have missed news regarding Russian oil giant Rosneft. That firm, in partnership with Switzerland's Trafigura, finalized their takeover of India's debt laden Essar Oil in a $13 billion transaction. This deal was first announced back in October, and had to cut through more than its fair share of red tape in order to get done.
Has the energy space stabilized enough to trigger further consolidation across the oil and natural gas industries? Big oil has adjusted to sub $50 to some degree. Many companies are now able to generate cash. There have been more than $73 billion worth of deals in this space across North America in 2017, mostly under the radar. Shale producers, mostly small in nature, have until very recently pushed for market share, given the freezes enacted by global competition and their own lower breakeven points.
Still, many of these firms remain heavily in debt. A way for the big guys to lower their own breakeven points by assuming debt they feel that they can handle? We'll see. I have suggested getting your own longs in the energy space down to levels that do not further injure your own risk tolerance profile. I do not endorse, or rather, I will not be getting out of the space completely. Long-term investor? I'd rather the take-'em crowd showed up.
One More Thing
Gold has been flirting with the $1300 a troy ounce level. This is huge. There is expected to be significant resistance here. The purchasing of gold futures contracts by hedge funds and speculators has surged over the past month or so. I have long given you $1305 as a crucial spot for physical gold on the charts. After finding resistance at these levels in both April and June, this remains so. You all know that I have supported a 7.5% allocation toward the precious metal, and that I prefer the physical to other forms.
A take-and-hold of the $1305 level would, in my opinion, be significant, and probably indicate a reduction in expectations for U.S. currency valuations. This is the one thing that could provoke me to increase the allocation in this direction from 7.5% to 10% -- which, by the way, would be the highest it has ever been.
Meanwhile, Bitcoin looks like a gigantic bubble says one veteran forecaster. 
Macro
08:55 - Redbook (Weekly):Last Week 2.5% y/y. Same store sales across the retail space have been stronger on a year-over-year basis since the start of June. While we would really like to see a print that starts with a 3, these run of growth in the mid-2% range is a huge improvement from what we saw over the two years prior.
09:00 - FHFA HPI (June):Expecting 0.5%, May 0.4% m/m. This House Price Index comes first, but traders will not focus on this one. Traders will pay attention one week from today, when Case-Shiller goes to the tape with their data. This particular item only considers data on single family homes with mortgages backed by Freddie Mac, and Fannie Mae. This market watchers consider it representative of a narrower slice of the housing market than its competitor.
10:00 - Richmond Fed Manufacturing Index (August):Expecting 11, July 14. This is now the third regional manufacturing survey that we'll see for August. New York crushed, and Philadelphia met expectations at the headline. Both saw strength in new orders, which is precisely where growth is most necessary in any manufacturing data.
Sarge's Trading Levels
These are my levels to watch today for where I think that the S&P 500, and the Russell 2000 might either pause or turn.
SPX: 2447, 2439, 2431, 2420, 2411, 2404
RUT: 1376, 1369, 1361, 1352, 1341, 1335
Today's Earnings Highlights (Consensus EPS Expectations)
Before the Open: COTY ($0.09), DSW ($0.20), MDT ($1.08), TOL ($0.68)
After the Close: INTU ($0.17), LZB ($0.29), CRM ($0.32), ZTO ($0.94)
Get Morning Recon delivered directly to your inbox each market day. Click here to sign up for e-mail delivery of Stephen "Sarge" Guilfoyle's Morning Recon, Jim Cramer's Daily Booyah! or other great free newsletters from TheStreet.
More of What's Trending on TheStreet:
At the time of publication, Stephen Guilfoyle was long LMT, RTN, KTOS, although positions may change at any time.