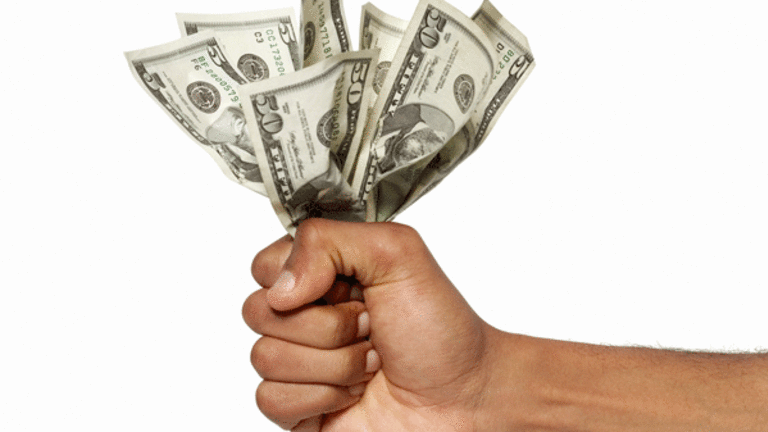 Publish date:
Currency Watch: Foreign Exchanges Little Changed After U.S. Employment Data
The currency market was waiting for the U.S. employment data.
U.S. nonfarm payrolls rose only 43,000 compared to the consensus estimate of 206,000. Unemployment rose to 4.1% from 4.0% and the U.S. pool of available workers increased to 10.18 million from 9.94 million in January. Altogether, the employment report seems very positive for equities and bonds and should be supportive for the dollar.
Immediate market reaction was muted. It will be a key test of the immediate outlook to see if this initial mixed reaction is maintained in the coming trading day.
Overseas traders tell
TheStreet.com
that they see these numbers as "giving no reason to be short the dollar." In particular, the view is that the euro will now be under increased pressure with no clear means of enhancing the currency's attractiveness to the market. Dollar/yen is expected to hold at current levels and then to strengthen as the US economic outlook seems very encouraging.
Thirty minutes after the numbers, market trading is still rather directionless. Dollar/yen is at 107.7 and the euro is quoted at $0.9653. Sterling is modestly firmer at $1.5784.
Worldwide trading in FX markets was very quiet overnight, suggesting that current levels were seen as reasonable going into the data.
The dollar/yen was virtually unchanged reflecting some concerns that the
Bank of Japan
(BOJ) would be likely to intervene in the market if the euro/yen cross-rate continued its recent decline to below 104 yen. In fact, the cross was flat overnight and now stands slightly below this key level at 103.82. Movement in this relationship will be significant and could trigger substantial volatility particularly on the downside.
The euro has also shown little movement. European traders are expecting that the U.S. bond and equity markets will set the tone for the dollar and strong performance in those markets should support the dollar. Trader sentiment seems to expect that the dollar will benefit.
Data released in Europe were of minor impact with some signs of upward price pressures in Italy and indications of slower services growth in Germany and Italy. Sentiment towards the euro remains negative and selling pressures may easily reappear.
In London trading, the pound was steady below $1.58 and remained only marginally above a seven-month low of $1.5750. Sterling is expected to be pushed around by other cross-rate movements in the event that volatility is created by today's data. Otherwise the currency is on the sidelines.
Two significant items of UK data were released. British house prices fell 0.9% in February for a year-over-year gain of 15%. The
British Retail Consortium
reported that shop prices rose 0.9% in February but were still down 0.3% over the year.
Finally the Danish crown fell to a 13 month low vs. the euro as surveys indicated Danish opposition to EMU membership is increasing.