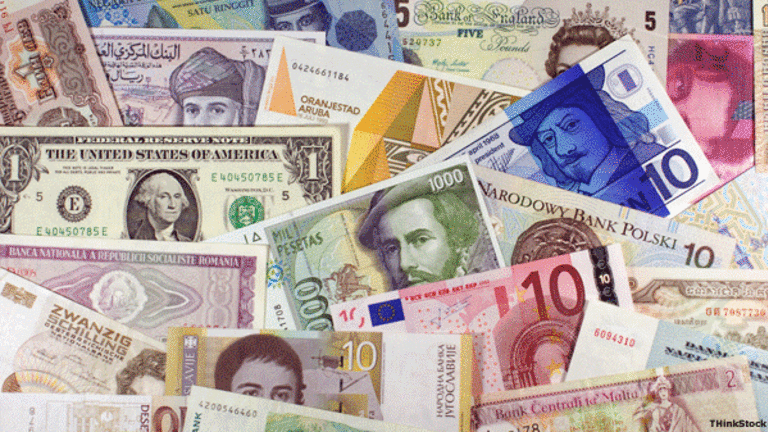 Currencies: Yen Moves Up With Investors' Optimism
The yen is gaining value today as Japanese officials provoked hopes that the Land of the Rising Sun may soon be the land of the rising currency.
The newly appointed minister of finance,
Masajuro Shiokawa
, made some comments that prompted an upward move in the value of the yen today. Shiokawa said that while he believes currency exchange rates should be determined primarily by market forces, he did not rule out intervention in support of the yen at any point in the future. Investors saw this as a rallying cry for the yen, and bought the currency, sending its value higher against both the euro and dollar.
Helping the yen to climb was the
Nikkei 225
stock market average's strong 3% gain overnight, prompted by newfound hope in the recently appointed Japanese government.
Junichiro Koizumi
became prime minister last week, and has since appointed a cabinet of prospective economic and government reformers.
The dollar dropped to 122.26 yen per dollar most recently, down from yesterday's close of 123.54 yen. The euro fell by a slightly smaller nominal amount, trading this morning for 108.79 yen per euro, having closed yesterday at 109.53 yen.
The celebration of May Day in the euro zone has left their markets quiet today with little news to instigate trade, and left the euro in a tight range. The euro traded recently for $0.8898, up a little from its last close of $0.8880.
The London markets are open today, but the British pound remained quiet, trading down marginally on the dollar. The pound was worth $1.4310 most recently, off slightly from yesterday's close of $1.4319.
The U.S. currency is mixed against the dollar bloc. The Australian dollar picked up a little value to $0.5168 from $0.5121 at yesterday's market close. The U.S. dollar was up just a bit against its Canadian counterpart, recently worth C$1.5358. The U.S. dollar closed yesterday's trading at C$1.5348.
Back to top