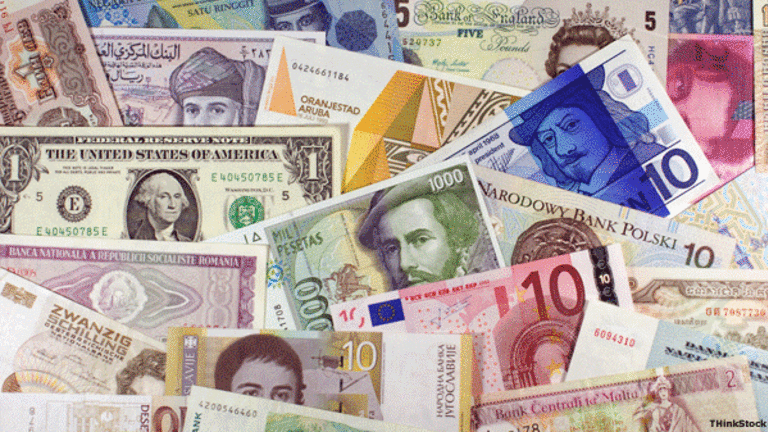 Currencies: Tokyo's Golden Week Tempering Forex Action
Overnight, forex markets remained quiet with activity in Japan slowed by the "Golden Week" holidays starting tomorrow. The dollar has steadied around the better levels seen yesterday and continues to benefit from the encouraging NAPM data released on Monday.
Dollar/yen has held close to the 109 yen level and is opening in New York at 108.70.
The euro was trading weaker at $0.9115 below last night's closing of $0.9160 and the euro/yen cross has given back some of its recent gains at 99.10, nearly one yen lower than yesterday.
European data this morning were largely supportive for the euro. The euro-zone
Purchasing Managers Index
rose to 60.7 in April from 59.3 in March. Money supply for the zone grew 6.5% in March after 6.1% in February. Traders see these data as indicating some inflationary pressure and suggesting possible interest rises to come.
Italian Prime Minister
Giuliano Amato
attributed the euro's softness to strong first-quarter growth in the U.S. "The euro's progress is against the backdrop of an extremely strong trend in the U.S. economy which is the cause of its weakness," Amato said in a speech to the Italian Senate.
"The euro has been steady against the dollar since Friday around the mid-0.91's but the environment is bearish," said Geraldine Concagh of
Allied Irish Bank
.
The currency research group at
Chase
sees long euro positions as still preventing the unit from staging any solid recovery. "Even after the sharp declines over the past few weeks, there is still this overhang of long positions," says Ian Stannard. He sees these longs as, "keeping a lid on the euro as people are looking to get out."
Dollar/Swiss franc is now edging higher again at 1.7110.
Sterling has recouped yesterday's losses and is opening at $1.5640. Euro/sterling is easier at 58.25. Traders are not clear on a possible interest rate rise on Thursday and see the arguments for and against as very finely balanced.
The Canadian dollar continues to move quietly and without any direction. Currently it is opening in New York at C$1.4770.
The Australian dollar also saw little action overnight and held within a 40 point range of its lows. After touching $0.5820 the $A is now marginally higher at $0.5855.