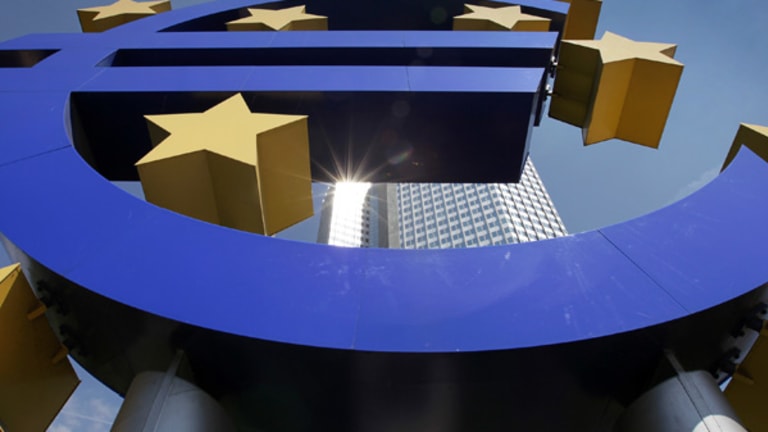 Currencies: Surprise, Surprise, ECB Finally Joins Cut-Rate Club
A surprise rate cut by the
European Central Bank
this morning boosted the euro quickly to one-week highs against the dollar before doubts set in and the European single currency fell back to fresh three-week lows.
The ECB -- the only major central bank that, before today, had not cut interest rates this year in response to the global economic slowdown -- finally joined the rest of the major economies, reducing key rates by 25 basis points to 4.5%. Members of the ECB had been saying said they wouldn't lower rates, despite strong pressure from other central banks and the
International Monetary Fund
.
ECB members denied bowing to any pressure in their press conference this morning, instead citing recent economic data as the cause for this morning's move. Yesterday, Germany released weaker-than-expected industrial production numbers. The eurozone's central bank also said it's not currently worried about inflation; previously, the bank had cited concern over rising prices as a reason not to cut rates.
The euro traded most recently for $0.8816, down from yesterday's close of $0.8856 and well off its earlier peaks of $0.8921. The euro also traded down against the yen recently, pricing for 108.01 yen per euro, down from 108.15 yen at last close.
The rate cut was "good news/bad news," according to
Credit Suisse First Boston
currency strategist Jason Bonanca. He said the good news was that a rate cut should support economic growth, but the bad news was that the ECB had been denying a need to lower rates. Now as a result, Bonanca said, investors may doubt the ECB's motivation and tactics.
After the initial peak above 89 cents by the euro, the bigger drop back down was "people resuming their criticisms of the ECB," he said.
The
Bank of England
also cut interest rates this morning by 25 basis points, a move widely expected by analysts. The timing of the BOE and ECB rate reductions shows that the U.K.'s economy may be in synch with the eurozone's, which is already raising questions about whether it's the right time for England to become part of the European single currency.
The pound fell this morning in the wake of the rate cuts, trading recently for $1.4197, down from yesterday's close of $1.4216.
The dollar and yen, out of the limelight for a day, were trading in a tight range. The dollar recently continued its multiday climb up in value against the yen, trading for 122.49 yen per dollar, up from yesterday's close of 122.19 yen.
The U.S. dollar was winning out against the rest of the dollar bloc today, albeit just slightly. The Australian dollar traded down to $0.5242 most recently, barely off yesterday's close of $0.5244. The U.S. dollar strengthened a bit against its Canadian counterpart, rising to C$1.5398 from C$1.5384 at last close.
Back to top