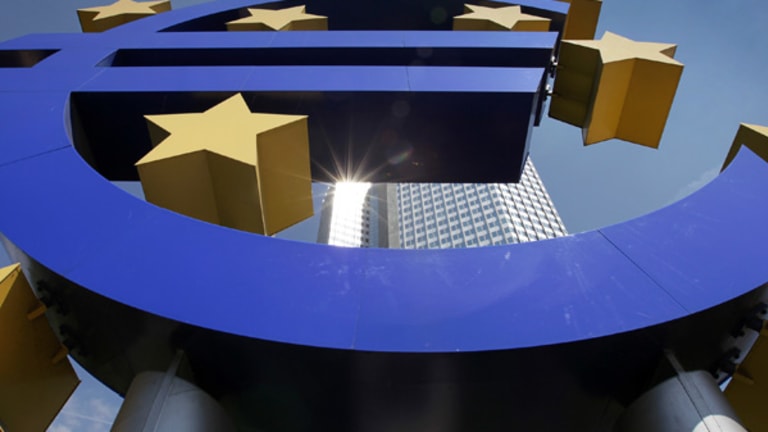 Currencies: Muted Reaction to Last Week's Numbers Marks Trading
G7 finance ministers are meeting in Switzerland but have made no clear-cut recommendations.
The forex market has remained quiet, with a muted reaction to Friday's U.S. employment report for June.
The
Group of Seven
finance ministers meeting over the weekend made no clear-cut recommendations for forex policies in major countries.
Currently a
Bank for International Settlements
meeting is underway in Basle, Switzerland.
Bank of England
Governor
Eddy George
has noted "a suggestion that the U.S. economy is beginning to moderate." He also commented that there were "clear signs of recovery in the Japanese economy."
The euro is slightly firmer this morning at $0.9515 after closing last week at $0.9470.
German Economics Minister
Werner Mueller
said that economic growth in Germany would average 3% in coming years. He also said that unemployment would fall to 3 million by the end of 2002.
Dollar/yen is opening weaker at 106.90 after touching highs of 107.90 overnight. The yen was helped by comments from
Bank of Japan
Governor
Masaru Hayami
, who suggested that conditions were now ripe to end the zero-interest-rate policy.
Machinery orders in Japan rose an unexpectedly strong 4.5% in May after 4 months of decline.
"It's most interesting to look at the yen," said Mitul Kotecha at
Credit Agricole Indosuez
. "Hayami's comments were more hawkish than expected and there's obviously a battle going on in the BOJ. There's really nothing to stop them raising rates on July 17."
The euro/yen cross rate is a little lower and is opening at 101.80.
The pound is opening unchanged at $1.5150. The euro/sterling cross rate is steady at 62.70 pence.
Output prices in the U.K. moved 0.4% higher in June, for a 2.9% year-on-year gain. "Sterling could see a little more downside," said Kotecha.
Dollar/Swiss franc is little changed at 1.6235. The euro is firmer vs. the Swiss franc at SF1.5455.
U.S. dollar/Canada remains in a narrow range and is little changed from Friday levels at C$1.4810.
The Australian dollar has edged a little higher at $0.5930, supported by expectations that the interest rate gap with the U.S. would not move as much against Australia as had been feared. The New Zealand dollar is also firmer at $0.4625.
The South African rand, aided by a strong domestic bond market, is opening firmer at 6.82.
The Mexican peso is unchanged around 9.50.
The Polish zloty is continuing to rally on the back of improved economic forecasts and is at near a two month high of 4.29 per dollar.
The Indonesian rupiah is steady at 9,280. "The South East Asian currencies remain weak and the weakness in the yen could be tied to the weaker regional currencies," said Kotecha.