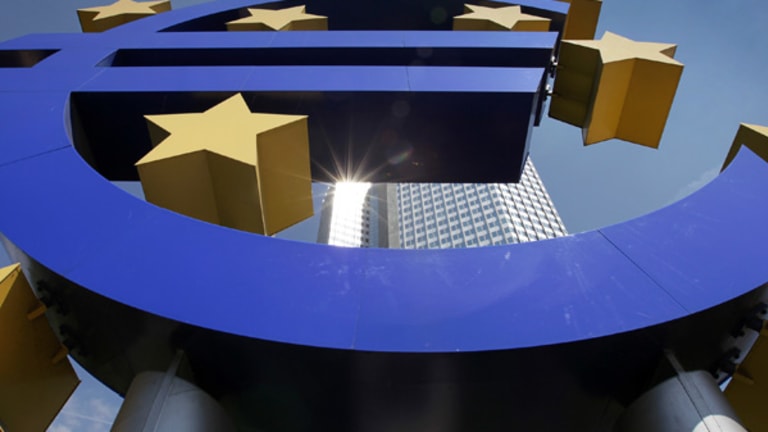 Currencies: Little Reaction in Forex Markets to Moderate U.S. Data
The PPI and retail sales numbers square with the growing expectation that the Fed won't hike in August.
Trading has been calm overnight ahead of today's Producer Price Index ( definition | chart | source ) and retail sales ( definition | chart | source ).
PPI for June rose by 0.6%, the core rate fell 0.1%.
Retail sales for June were up by 0.5%, with the core rate up 0.2%.
The numbers were in line with expectation and there was little immediate reaction in currency markets. "I think that it doesn't really change the picture," said Ryan Shea of
Bank One
in London. "There has been a lot of talk of pushing the next
Fed move until after August."
Overnight the euro has drifted lower to $0.9330, continuing its soft tone of the past two days.
Surprisingly, the euro was not helped by news that the upper house of the German parliament voted in favor of tax reforms which are expected to boost growth and employment.
" Even today, the German tax break didn't really help the euro," said Shea. "I think that's wrong. The tax break should help the euro." He believes that structural changes like this German reform program are positive for Europe and should support the currency.
Italian industrial output was up 2.2% in May, for an annual rise of 6.7%.
The yen has edged higher after slipping back to 108.40 at the overnight lows the currency is now opening at 107.95.
Corporate bankruptcies in Japan rose 32.2% in the first half of this year, the highest total for this period for 15 years.
"The dollar is doing pretty well, even against the yen, even with people expecting a Japanese rate rise," said Shea.
The euro/yen cross has again weakened and is in sight of the key 100 yen/ euro level. Currently the cross is opening at 100.75.
The pound has moved lower to open at $1.4990 after last night's close at $1.5025. Euro/sterling is little changed at 62.20 pence.
Technical traders now see the pound as likely to head lower after breaking support at $1.5060.
After an erratic couple of trading sessions, dollar/Swiss franc is opening firmer at 1.6585 and the euro/Swiss franc is weaker at SF1.5480.
Swiss producer prices for June were up 0.1%, for a year-over-year increase of 2.9%.
U.S. dollar/Canada is somewhat firmer at C$1.4840.
The Australian dollar made some effort to recover overnight but was unable to hold better levels and is once again at recent lows around $0.5845
The New Zealand dollar is unchanged at $0.4595.
The South African rand is firm, but off its best levels at 6.85.
The Polish zloty is lower at 4.33/dollar as an important budget announcement is scheduled for later today. The zloty is expected to be supported by major privatization inflows in the coming weeks.
The Mexican peso and Indonesian rupiah are relatively steady at 9.44 and 9475 to the dollar respectively.